Two men arrested over incident on busy street in Swedish capital which police are treating as act of terrorism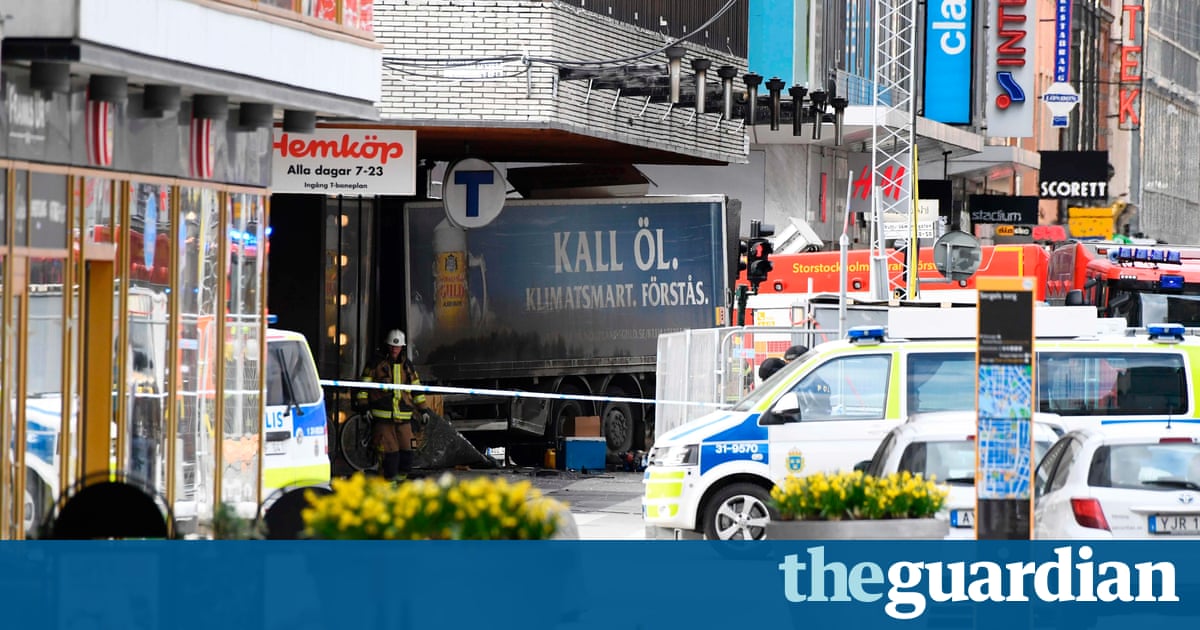 Four people died and 15 were injured after a truck drove into pedestrians on Stockholms busiest shopping street and crashed into a department store, in what police were treating as an act of terrorism.
Sweden has been attacked. Everything points to a terrorist act, the Swedish prime minister, Stefan Lfven, said shortly after the tragedy on Friday afternoon.
Stockholm was swiftly locked down as armed police cleared the area and launched a manhunt for the suspected driver. Central streets and railway stations were evacuated and warnings were broadcast urging people to flee.
A man was arrested on Friday night after a police operation in Mrsta, a suburb of Stockholm near Arlanda airport. However police could not confirm that the arrested man was suspected of involvement in the attack. They said he resembled the man they were looking for, and he had acted suspiciously. They announced on Saturday that he had been put under prolonged arrest. A second man, linked to the first, was arrested later in the northern suburb Hjulsta, according to the Swedish public broadcaster SVT.
However, the driver of the truck that killed 4 and injured 15 is still at large, police said. Officers had also questioned two others, but they were not suspected of any crime.
Read more: www.theguardian.com