As the neighborhood floods with tech workers and new wealth, its homeless population keeps rising and a political battle is raging over what to do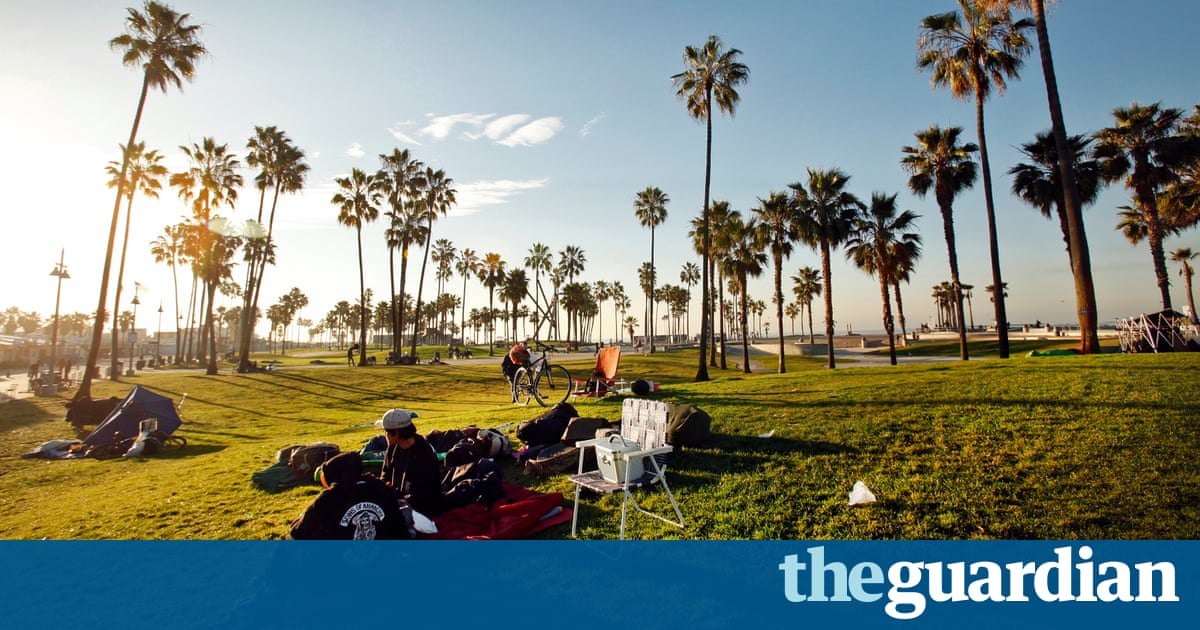 Supported by
About this content
It is less than a hundred yards from the hipster restaurants, cafes, and giant street art installations of Main Street in Venice, California, to a straggly line of industrial warehouses and storage facilities where a homeless encampment has sprawled over an entire city block.
Tents and shopping carts filled with clothing and possessions obstruct sidewalks and parking spaces along 3rd Street and Rose Avenue and prompt unceasing complaints from nearby residents as well as stares of amazement from tourists. The encampment, home to people with nowhere else to go, is a constant reminder that all is not well in one of the fastest gentrifying neighborhoods in North America.
Venice is the quintessential southern Calfornia beach community, an edgy, artsy pocket of the city of Los Angeles where industry, poverty and creativity have always found a way to coexist. But it is also ground zero in a battle in which an unprecedented official effort to fight homelessness across Los Angeles is being met with growing skepticism, impatience, and, at times, outright hostility.
At public meetings, people are openly calling homeless residents lepers and likening Venice to Baghdad. Local elections being held tomorrow pit a popular incumbent city councilman, Mike Bonin, who has championed efforts to build new low-income housing and provide services to homeless people including showers, bathroom and storage space, against an energetic underdog, Mark Ryavec, who thinks the situation is spiraling out of control.
We see snowbirds in their RVs and young people from all over treat Venice as the campground of America, Ryavec charged. I want to provide a bus fare to send them home, because theres no future for these people here.
The future certainly seems to belong to a new wave of highly paid tech workers, many of them working for Google or Snap, who have flooded into Venice now often nicknamed Silicon Beach and pushed rents and house prices through the roof.
Industrial warehouses have been transformed into luxury condos and shabby-chic restaurants. Abbot Kinney Boulevard, once a relative backwater where local restaurants struggled to obtain liquor licenses, has become one of the trendiest streets in the country, where coffee shops offer $6 lattes and tables at the hottest dinner spots are booked out weeks in advance. Meanwhile, the homeless population keeps rising its close to 1,000 people, by some estimates, and almost 30,000 across the city of LA as a whole.
It is this stark contrast of extreme wealth and growing poverty that has pushed city and county leaders to take unprecedented action. After decades of doing little more than moving homeless people around and offering services so they dont starve or freeze to death, the political class is making the case that ending homelessness is both a moral and an economic imperative.
Read more: www.theguardian.com