Stephen Colbert and Trevor Noah discussed the Trump administrations expulsion of 60 Russian diplomats and John Bolton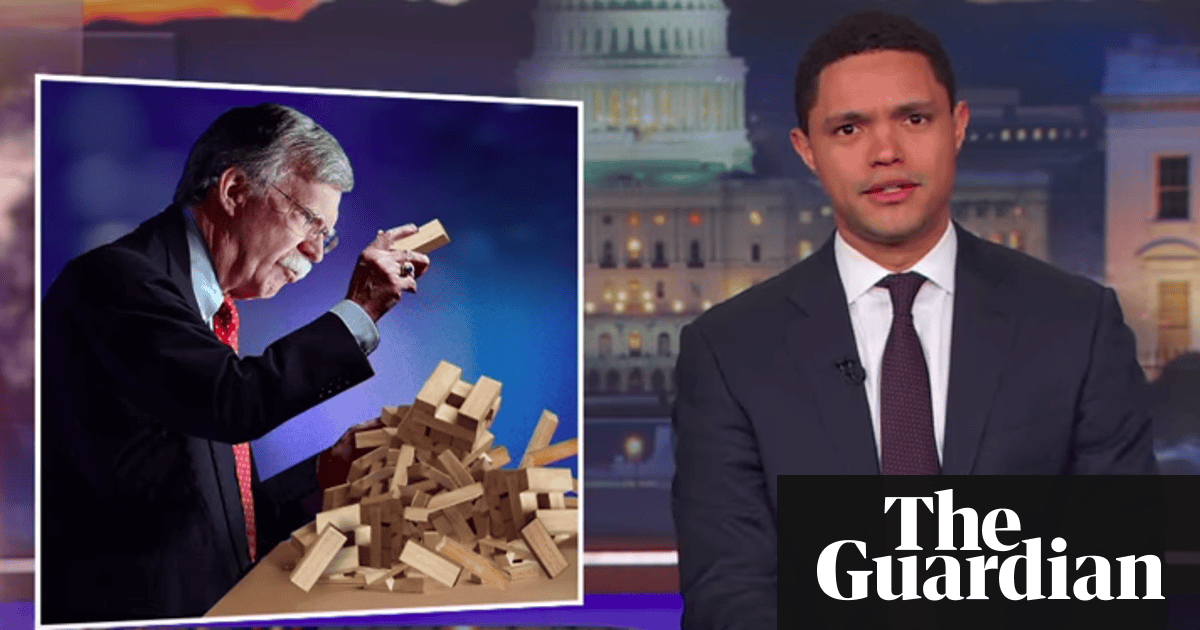 Late-night hosts on Tuesday addressed the expulsion of Russian diplomats from the US and John Bolton's appointment as Trump's national security adviser.
Stephen Colbert: 'A fish filet wrapped in a hundred-rouble bill'
"We all know Donald Trump loves to trash-talk people," Stephen Colbert began. "But strangely, he has never said one bad thing about Vladimir Putin."
"In fact, last week, Trump called Putin to congratulate him on winning a shady election in which Putin was really the only candidate," the host continued, citing a Washington Post report detailing Trump's call with the Russian president. "He congratulated him despite the fact that his advisers gave him notes in all capital letters stating 'DO NOT CONGRATULATE.'"
Colbert then explained that, despite Trump and Putin's chummy relationship, the US joined more than 20 other countries this week in expelling 60 Russian diplomats from the country in retaliation for the Kremlin's 4 March poisoning of a former Russian spy and his daughter in the UK.
"It turns out all these Russians were identified as intelligence agents and their expulsion has lead to the closure of the Russian consulate in Seattle," explained Colbert, before moving on to the latest from Trump's legal battle with porn star Stormy Daniels.
"The president has a brilliant new defense," the host said, referencing another article in the Post. "He's telling people that Stormy Daniels isn't his type. What? She's a buxom blonde. She couldn't be more his type if she was a fish filet wrapped in a hundred-rouble bill."
"But evidently, the scandal is starting to affect Trump's reputation in Washington," Colbert said, showing a CNN interview in which one pundit said Trump's come to be known around Washington as "Spanky".
"I think that's a wonderful thing but, in all seriousness, we should show some respect," Colbert replied. "It's President Spanky."
Trevor Noah: 'Bolton's been on the Cap'n Crunch box for 40 years'
Trevor Noah discussed John Bolton, the former UN ambassador who replaced HR McMaster as Trump's national security adviser last week.
"Recently we saw another major personnel shakeup in the Trump administration," Noah began. "HR McMaster is out, and he's been replaced by Geppetto cosplayer John Bolton."
Noah then noted that Bolton is Trump's third national security adviser in just over a year. "One more," Noah joked, "and Trump gets the fifth one free."
"If Bolton looks familiar to you, it may be because he's been on the Cap'n Crunch Box for over 40 years," the host quipped, noting that Bolton also makes regular appearances on Fox News. "Bolton is more than just another Fox pundit, right?"
Noah explained that Bolton has served in three republican administrations, most recently as George W Bush's recess appointee as ambassador to the United Nations.
Noah went on: "But don't be thrown of by his title as diplomat, because while Bolton may look like a harmless model-train enthusiast, he's developed a notorious rep as a guy who really wants to bomb everyone."
Noah then referred to multiple clips of Bolton on Fox News, and op-eds he's penned for various newspapers, in which he called a preemptive strike on North Korea "perfectly legitimate" and advocated bombing Iran, saying "the earlier you strike the more damage you can do".
"Damn. I think that's a horrible strategy for keeping peace in the world," Noah said. "Although it is a great strategy for tackling an all-you-can-eat buffet."
"Here's the best example of how war horny John Bolton is: he's still defending the one war everyone agrees was a terrible idea," the host explained, showing Bolton calling the Iraq war and the overthrow of Saddam Hussein a "resounding success".
Finally, Noah brought up the fact that Bolton's behavior in past government jobs has been sharply criticized, as he's reported to have chased a female staffer around a hotel room and thrown staplers at employees.
"So, congratulations, John Bolton, on your new position as national security adviser," Noah said. "Although, if you think about it, you would have probably had a better chance of Trump listening to you if you just stayed on Fox News."
Read more: www.theguardian.com