Donald Trumps new communications director started his job with a foul-mouthed rant, his chief of staff is out and Republicans struggled on healthcare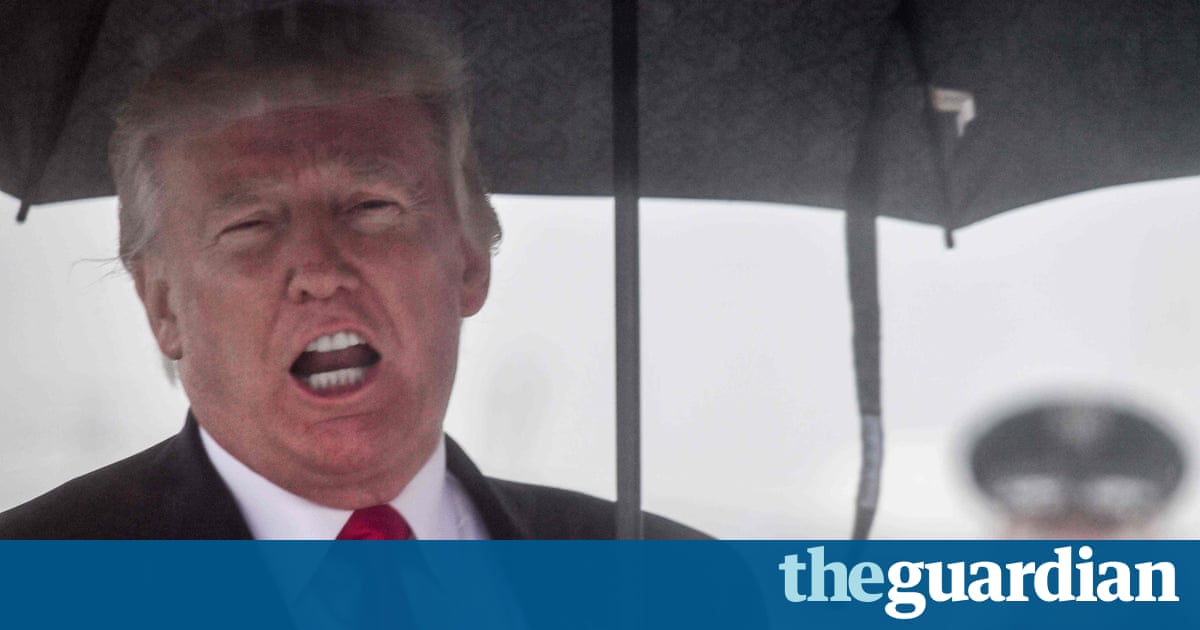 As the Republicans blundered towards failure in their attempt to undo the Affordable Care Act (ACA), Donald Trump made a series of unprecedented attacks on his attorney general while his Mini-Me communications director, Anthony Scaramucci, showed the tact and subtlety of a bull on its first day on staff in a china shop.
Last weekend
It was a typical Saturday morning for Trump. The president tweeted out attacks on the Amazon Washington Post (the paper is owned by Amazon CEO Jeff Bezos) and the Failing New York Times; trumpeted what he called his complete power to pardon; and railed against btes noires Hillary Clinton, James Comey, Obamacare, leaks and fake news. He had kind words for his outgoing media chief, Sean Spicer, a wonderful person with a bright future, and the man whose appointment precipitated Spicers resignation, Scaramucci, who had already got himself into trouble over less than positive comments about Trump back in 2015.
In all fairness to Anthony Scaramucci, the president pronounced, he wanted to endorse me 1st, before the Republican Primaries started, but didnt think I was running! Scaramucci, nicknamed the Mooch, announced he would delete all old tweets that contradicted his new bosss policies. The only views that mattered now were Trumps, he said. Reuters reported, meanwhile, that investigators examining money laundering accusations against Trumps former campaign manager Paul Manafort hoped to push him to cooperate with their probe into possible collusion between Trumps campaign and Moscow. Congressmen from both parties announced that they had agreed a sweeping package of sanctions to punish Russia for meddling in the presidential election, setting up an awkward decision for the president about whether to sign it. The bill would mandate a congressional review if Trump attempted to ease or end the sanctions.
Then Scaramucci confirmed that Trump remained unconvinced Russia was responsible for hacking the election, saying the president felt those making that case (presumably including the US intelligence agencies) were trying to undermine the legitimacy of his victory and that the president believed that if the Russians actually hacked this situation and spilled out those emails, you would have never seen it, you would have never had any evidence of them. He also contradicted Trump lawyer Jay Sekolows claims that the presidents team had not been discussing his power to pardon.He said that he doesnt have to be pardoned, nobody around him has to be pardoned, he was just making the statement about the power of pardon, the Mooch explained.
Monday
Jared Kushner, Trumps son-in-law and key adviser, pre-empted his eagerly awaited behind-closed-doors appearance before the Senate intelligence committee by releasing a statement claiming he was innocent of collusion with Russia.Using lawyerly phrasing, he also stated: I have not relied on Russian funds to finance my business activities in the private sector. The Guardian reported that Kushner secured a multimillion-dollar Manhattan real estate deal with a Soviet-born oligarch whose company was cited in a major New York money laundering case now being investigated by members of Congress.
Kushner also denied media reports that he tried to set up a secret back channel to Moscow during the transition period, although his explanation sounded very much like he had tried to set up a secret back channel to Moscow. Trump, meanwhile, followed up his criticism of Sessions decision to recuse himself from the Russia investigation with a tweet calling the attorney general beleaguered, despite the fact the main person beleaguering him was the president himself.Trump ended the day with a speech to the Boy Scout Jamboree in West Virginia which was bizarre and inappropriate even by his own standards. Among other remarks, the president said of segregationist builder William Levitt: He went out and bought a big yacht and he had a very interesting life. I wont go any more than that because youre Boy Scouts, Im not going to tell you what he did should I tell you? Should I tell you? Oh, youre Boy Scouts, but you know life, you know life. So, look at you, who would think this is the Boy Scouts, right?
Tuesday

Trump took his attacks on Sessions up a notch, calling his attorney general VERY weak and criticising him for not having investigated supposed crimes committed by Clinton. He told a press conference at the White House that he was disappointed in Sessions for recusing himself, and refused to say whether he thought the AG should stay in his job: Time will tell.
South Carolina senator Lindsey Graham, one of Trumps most vocal Republican critics, called the comments highly inappropriate and said they risked undermining the rule of law, but for good measure Trump also accused the acting head of the FBI of being compromised by a donation to his wife from an ally of Clinton (although Trump managed to claim the donation was from Clinton herself).
Kushner spent a second day with congressional investigators discussing Russia, this time with the House intelligence committee. Trump said he had done very well and implied sarcastically that his 11-year-old son Barron would be next in the spotlight.
John McCain returned from brain surgery to the Senate to cast a vote to begin debate on repeal of Obamacare although divided Republican senators still had not agreed on exactly what plan they would put to the vote and one replacement bill failed that night. Later, at a campaign-style rally in Ohio, Trump returned to the alarming American carnage-style rhetoric of his inauguration speech, warning that immigrant gangs take a young, beautiful girl, 16, 15, and others, and they slice them and dice them with a knife because they want them to go through excruciating pain before they die a use of language some commentators put down to the liberating influence of Scaramucci.
Wednesday

Trump opened with a series of tweets announcing a dramatic reversal of Obamas opening up of the military to transgender troops. Claiming he had consulted my generals and military experts, the president said the US would not allow transgender people to serve in any capacity and blamed the disruption and tremendous medical costs involved. Experts estimate medical care for people transitioning costs roughly $2.4-4m a year out of a $6bn budget for medical care for active members of the armed forces.
The Pentagon appeared to have been caught off guard while the White House did not know whether those currently serving would now be thrown out.
Spokeswoman Sarah Huckabee Sanders defended the president more generally by employing the words of a nine-year-old boy, who she said had sent Trump a sympathetic letter telling him: I dont know why people dont like you.
Scaramucci, who in retrospect was just warming up, compared the Republicans fight to overthrow Obamas healthcare reforms to Lincolns battle against slavery and implied that (then) White House chief of staff Reince Priebus had been leaking against him. Parents of Boy Scouts criticised Trump for his speech on Monday, while Senate Republicans continued to try to find a healthcare bill they could agree on, rejecting a version that would have repealed major pieces of Obamas reforms without a replacement.
Thursday

Defense chiefs pushed back against Trumps attempt to ban transgender people from the military, saying the policy would not be overturned until they received formal direction to do so, in a rebuke to Trumps attempt to run the government and military via Twitter.
The head of the Boy Scouts apologised for Trumps speech, lamenting the political rhetoric that was inserted into the jamboree. But White House spokeswoman Sarah Huckabee Sanders maintained loyally: I saw nothing but roughly 40,000 to 45,000 Boy Scouts cheering the president on throughout his remarks and I think they were pretty excited that he was there.
Scaramucci said he and Priebus were brothers like Cain and Abel. In the Book of Genesis, God favours Abel so Cain kills him. Whether Priebus found this analogy reassuring is unclear but that night, as the Senate settled in for a long evening of votes on various healthcare plans, it emerged that the Mooch had told a New Yorker reporter Priebus a fucking paranoid schizophrenic who would be asked to resign and added that he, Scaramucci, was not like Trumps chief strategist Steve Bannon because Im not trying to suck my own cock. The foul-mouthed rant was unusual enough to prompt even the usually prudish New York Times to print his remarks in full.
In other fratricidal news, Sessions said constant attacks by Trump were kind of hurtful, but said he would serve as long as president wanted him to.
Friday
Early on Friday morning, McCain stunned his fellow Republicans and humiliated Trump by joining serial refuseniks Lisa Murkowski and Susan Collins in voting down the final attempt (for now at least) at repealing parts of the ACA in the Senate. The move seemed to cap seven years of futile attempts by the GOP to undo Obamas signature legislation, which extended healthcare to more than 20 million people, and demonstrated both the congressional GOPs division and ill-discipline and Trumps inability to use his office to bring them into line.
In the long term, however, failure might have been the best option for Trump, who will not have to face the millions who would have lost healthcare under the various proposed House and Senate plans at the ballot box in 2020.In Long Island, in a speech to law enforcement, the president appeared to advocate rougher treatment of people in police custody, drawing cheers when he said: You can take the hand off. On a related trip to El Salvador, Sessions said he hoped his efforts to fight gang violence would help him mend fences with Trump. Time will tell.
It told against Priebus. At an inconvenient hour for newspapers going to press, shortly before 5pm on a summer Friday, Trump finally tweeted the doleful news: erstwhile homeland security secretary John Kelly, one of three generals in Trumps cabinet, was the new White House chief of staff. Trump expressed his thanks to Priebus in a tweet, of course.
Sign up for the Minute: the day in US politics, condensed
Read more: www.theguardian.com