Jack Jones and Marcel Williams filed new motion with US supreme court to stop planned lethal injections that would be first double execution in over 16 years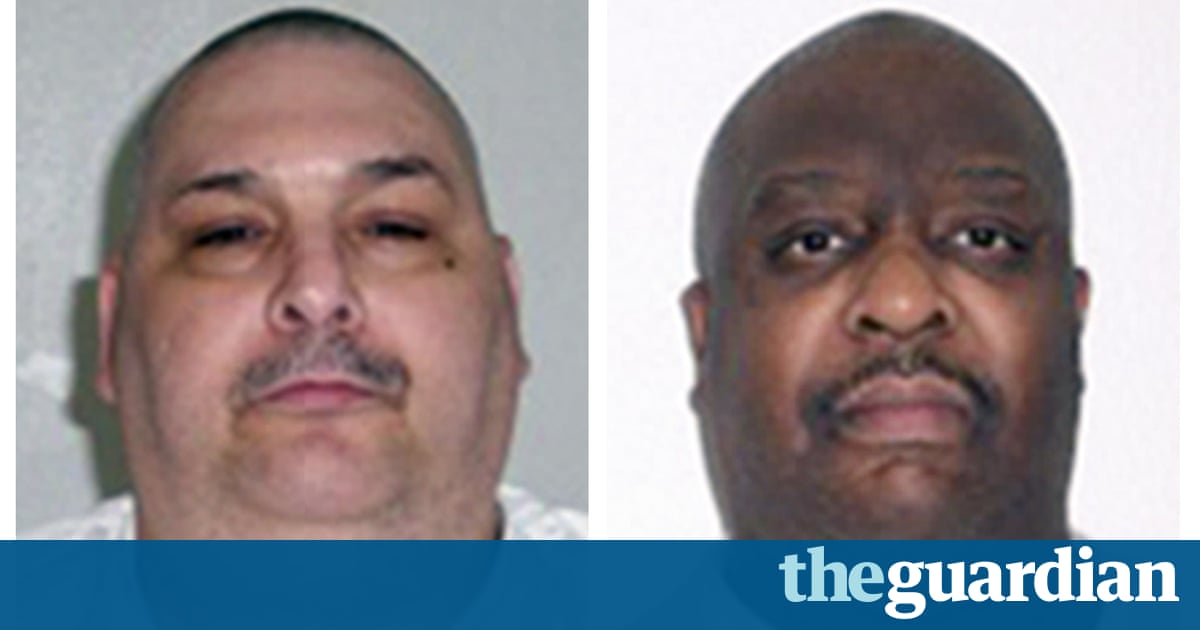 The Arkansas supreme court has denied stays of execution to two men scheduled for execution by lethal injection Monday evening, potentially clearing the path for the first double execution in more than 16 years. One of the inmates, Jack Jones,filed a new motion for a stay with US supreme court Monday afternoon.
If the US supreme court does not halt the proceedings, Jones and Marcel Williams are set to die in what would be the second and third executions in Arkansas this month. The last state to put more than one inmate to death on the same day was Texas, which executed two people in August 2000.
The state supreme court decision is just the latest in a string of legal setbacks for the inmates. A federal judge on Friday rejected their request to stop the executions over their health concerns. Two federal judges ruled against the inmates in separate cases on Sunday.
One denied a stay of execution to Williams, saying that the eighth circuit court of appeals had jurisdiction in the case. Another federal judge denied the inmates request for changes to the rules for witnesses to view the executions.
After the setback in a lower court, both inmates on Sunday asked the appeals court to halt their executions based on their poor health.
Lawyers for Jones say he suffers from diabetes and is on insulin, has high blood pressure, neuropathy and had one leg amputated below the knee. He is on heavy doses of drugs they say could prevent the lethal injection sedative midazolam from working and lead to a tortuous death.
Williamss lawyers say he weighs 400lb and it will be difficult to find a vein for lethal injunction, so the drugs are unlikely to work as intended.
Arkansas set an aggressive plan to execute several inmates before one of its lethal injection drugs expires at the end of April.
Ledell Lee was executed last week in the first use of capital punishment in Arkansas since 2005. The Republican governor, Asa Hutchinson, originally scheduled four double executions over an 11-day period in April.
The eight executions would have been the most by a state in such a short period since the US supreme court reinstated the death penalty in 1976. The state said the executions needed to be carried out before its supply of the sedative midazolam expires on 30 April.
Courts have blocked four of the eight scheduled executions. A supplier of one of the drugs used has sued the state, claiming it was misled over the sale of its product.
Williams was sent to death row for the 1994 rape and killing of 22-year-old Stacy Errickson, whom he kidnapped from a gas station in central Arkansas. Authorities said he abducted and raped two other women before he was arrested over Erricksons death. Williams admitted responsibility to the state parole board last month.
I wish I could take it back, but I cant, he said.
Jones was given the death penalty for the 1995 rape and killing of Mary Phillips. He strangled her with the cord to a coffee pot. In a letter earlier this month, Jones said he was ready to be killed by the state.
I forgive my executioners; somebody has to do it, wrote Jones, who had a leg amputated in prison because of diabetes and uses a wheelchair.
The letter, which his attorney read aloud at his clemency hearing, went on to say: I shall not ask to be forgiven, for I havent the right.
The Associated Press contributed to this report
Read more: www.theguardian.com