In the downtime between movies, Tom Hanks has written his first collection of short stories. He talks books, regrets, Hollywood egos and fat astronauts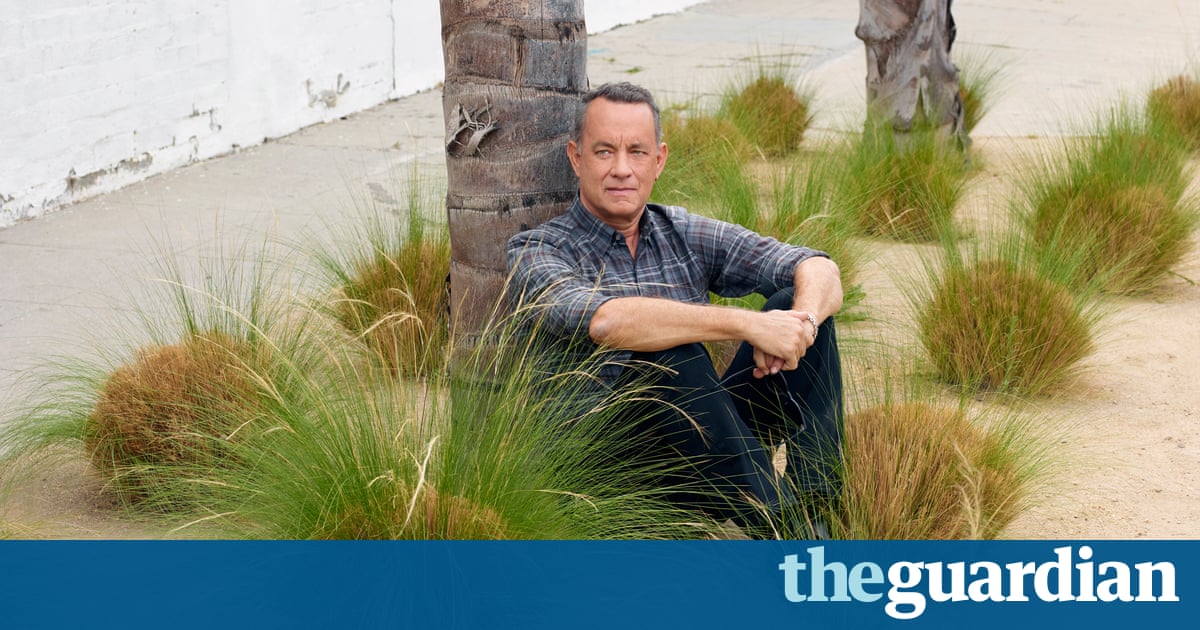 "This is odd," Tom Hanks says with a shake of his shoulders, the international sign of limbering up. We are in a photographer's studio in LA, a setting that is as familiar to Hanks as the reason for our meeting is strange. He has written a collection of short stories called Uncommon Type and, balanced on the edge of the sofa, is exploring the novelty of giving an interview without "talking points from the studio". Hanks-the-actor is cushioned; Hanks-the-author is not, and after humbly asking what other writers I've interviewed recently (Salman Rushdie, Martin Amis) barks with incredulous laughter. "Oh, shit," he says.
For those of us who came of age in the late 1980s, Hanks has been around as long as we've been going to movies, and at 61 he is bizarrely unchanged: hair marginally greyer, face slightly fuller, but otherwise still Hanks, the boyish energy and cheerful cadences recognisable from three decades on screen. He often starts sentences with "Look, I get it", or rather, "I-I-I get it", the mild stutter synonymous with his brand of almost cartoonish affability. "Look, I get it," he says, pushing his black spectacles up the bridge of his nose, hippy beads slack at his wrist. "I'm a famous guy and I wrote a book and all that, but the reality is, how much does a collection of short stories really warrant attention?"
This is classic Hanks, appearing to break the fourth wall of his celebrity to let us all in; and if he has survived these years in the spotlight relatively intact, it is through a combination of good luck and this kind of strategy. Hanks gives every impression of being sincere, but I get the feeling he is also rather wily about his famous good humour. As he must know by now, it can make it hard to see anything else.
All of which makes Uncommon Type, a set of 17 stories written over many years in the downtime between movies, a more interesting production than it might otherwise have been. There are some good lines and some ambitious themes, but it is mainly of interest as an extension of Hanks the actor; a way of decoding the appeal that has made him worth an estimated $350m. His success as an actor relies less on any of the showier A-list attributes than on what one thinks of as a peculiarly American decency: the urbanity of his Walt Disney in Saving Mr Banks, the quiet heroism of Captain Phillips, the integrity of all those romantic leads – most notably as Sam, the widower in Sleepless In Seattle – in the 1990s, in which he appeared not only as the good guy, but as the good guy with solid self-awareness. He might exude large measures of "aw, shucks" bashfulness, but Hanks has just the right amount of ironic reserve – the suggestion of some darker humour in check – to make the shine on his performance that much brighter.
And, of course, the warmth. On the page, as on screen, Hanks is, simply, a lovely person to be around. His characters in Uncommon Type are families disintegrating or coming together, mismatched couples, immigrants looking for a first foothold in New York, people at the point of crisis who tack more towards humour than gloom. In the story Go See Costas, which he based on the real-life tale of his father-in-law Al Wilson's arrival in the US from Greece, a penniless immigrant tries to score work at a diner. In the opening story, Three Exhausting Weeks, a dating couple size each other up via a lot of perky dialogue. In Who's Who, an aspiring actor who once gazed dumbfounded at the crowds in New York and asked herself "Where is everyone going?" comes to the realisation that "Everyone was going everywhere", one of the best open-ended lines of the book.
"I just kept asking questions," Hanks says. "Like, 'Well, how long should they be?' My editor would say, 'Well, however long they are.' 'OK, how many do you want?' 'Well, you know, 15 would be good.'" It turns out Hanks has almost no vanity as a writer. "Look," he says, "in my day job I provide the raw material and someone else makes all the decisions; the order, the editing, the lighting. So I don't have any problems with someone coming in saying, 'I think it should be like this.' About six stories in, my editor said, 'You're always writing about people who are stumbling upon somebody, that becomes part of their world.' I thought, I guess I am. Son of a gun."
The best story by a mile is A Special Weekend, which chronicles 48 hours in the life of a boy called Kenny, shuttling between divorced parents. Hanks' own parents split up when he was very young and he was raised mainly by his father, a jobbing cook, and a series of stepmothers. In the story, Hanks captures the child's-eye view of the world with pitch-perfect accuracy, integrating the slow external movement of time with the vast internal journeys children make at that age, and as a writing project it nails perhaps the hardest thing of all: a story in which nothing and everything happens.
Read more: www.theguardian.com