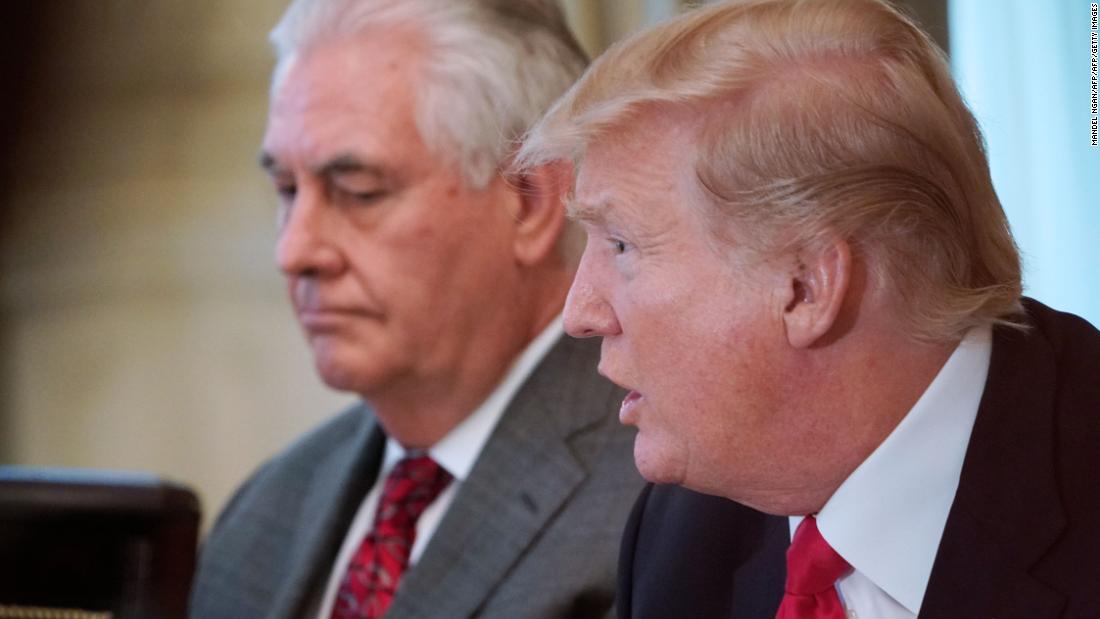 Washington (CNN)Former Secretary of State Rex Tillerson quietly met with the top Democrat and Republican on the House Foreign Affairs Committee Tuesday for an interview that focused primarily on his time in the Trump administration, a congressional aide with direct knowledge of the discussion confirmed to CNN.
What is clear, however, is that Tillerson's trip to Capitol Hill came as a surprise to many in Washington, including to some members of the House Foreign Affairs Committee.
Several members of the House panel did not know about the interview until after it was first reported by
The Daily Beast
, according to a Republican lawmaker and an aide to a Democrat on the committee.
In a December 2018 interview with CBS News, Tillerson called President Trump "undisciplined."
"When the President would say, 'Here's what I want to do and here's how I want to do it.' And I'd have to say to him, 'Well Mr. President, I understand what you want to do, but you can't do it that way. It violates the law. It violates treaty,'" he said at the time.
Tuesday's meeting comes as House Democrats seek to use their power as the majority party to conduct various oversight investigations into Trump's financial dealings and foreign policy decisions.
Specifically, Democratic lawmakers have expressed interest in learning more about Trump's meetings with Russian President Vladimir Putin — and signaled they would like to know more about specific interactions between the two leaders that occurred during Tillerson's tenure at the State Department.
In January, CNN confirmed that after a 2017 meeting with Putin in Hamburg, Germany, Trump took the interpreter's notes and told him not to share anything about the discussion with anyone else, according to a former State Department official who was in Hamburg when the meeting took place.
Senior White House and State officials who work on Russian issues asked for notes on the meeting and did not get them, the source said.
Another former State Department official said that Tillerson did not provide a readout of the meeting to US ambassadors in the region at the time. The source said that "Tillerson played stuff pretty close to his chest" with all meetings and this one was no different.
Engel, a New York Democrat, previously told CNN that his panel would work with the House Intelligence Committee to get the interpreter's notes and lawmakers have discussed the possibility of
issuing a subpena
for those records.
Read more: www.cnn.com