Atlantics biggest ever storm brings death and devastation the great British beer rip-off and how the aristocracy has kept its vice-like grip on wealth and power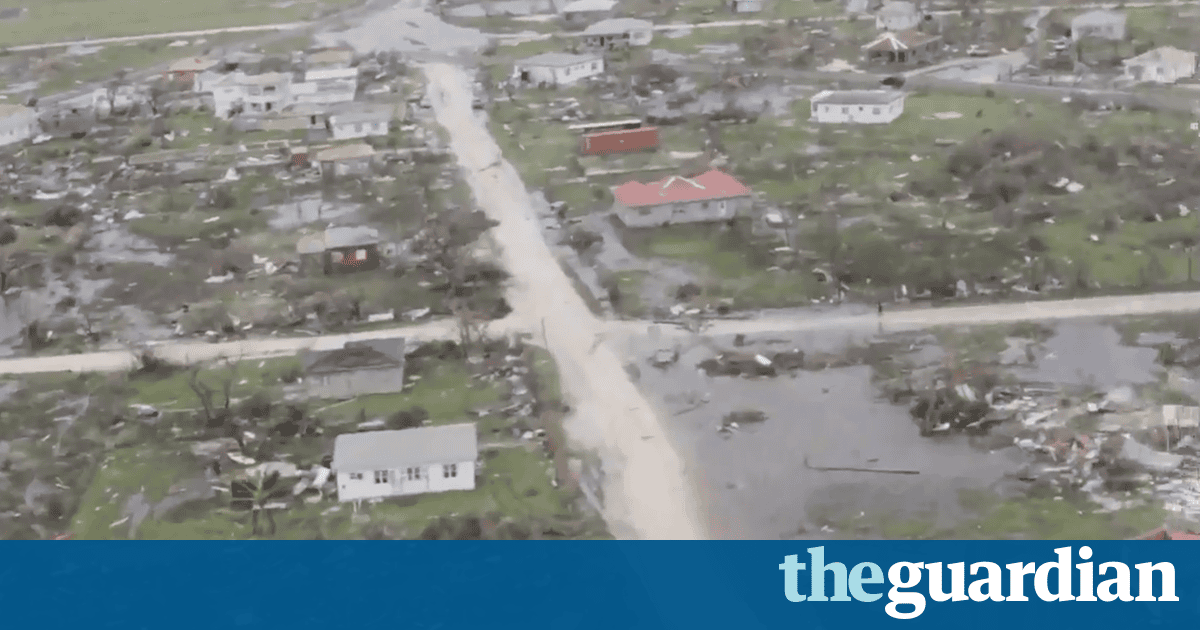 Top story: Mega-storm carves destructive path
Good morning – it's Warren Murray with the news from near and far.
Hurricane Irma has left a trail of destruction through the Caribbean. The emergency is continuing and so is our live coverage. Tiny nation-states and territories such as Antigua and Barbuda have been among the worst affected thus far by the most powerful storm ever recorded in the Atlantic Ocean.
There has been massive property destruction on the island of Barbuda, while St Martin and St Barthélemy have also been heavily battered. Multiple fatalities have been reported – at least six people died in the French part of St Martin, local officials said. In Puerto Rico 965,000 people were left without power and nearly 50,000 without water.
Irma is heading towards the US mainland and authorities have warned it could strike southern Florida by Sunday afternoon. There are evacuation orders in Miami-Dade county. Donald Trump declared a state of emergency in Florida, Puerto Rico and the US Virgin Islands. Hurricane Jose has also formed in the open Atlantic, and Hurricane Katia in the Gulf off the coast of Mexico. Jose posed no immediate threat to land at time of writing, according to forecasters, but Katia may threaten the coast of Mexico where officials have issued a hurricane watch.
---
'See what happens' – South Korea has commenced the full deployment of the controversial Thaad missile defence system amid protests, while China has held air warfare exercises off the Korean peninsula as tensions continue to simmer following the North's nuclear test. The White House says Donald Trump is ready to invoke sanctions against any country that trades with Kim Jong-un's regime if the UN security fails to take action. Trump said after a phone call with Xi Jinping, the president of China – North Korea's biggest trading partner – that "we will not be putting up with what's happening in North Korea". Asked if he was considering military action against the North, Trump said: "Certainly that's not our first choice, but we will see what happens."
As if Asia wasn't already tense enough, India's army chief has warned of the potential for simultaneous war with China and Pakistan after his country was involved in a tense 10-week standoff over disputed Himalayan territory. General Bipin Rawat said that situation could still snowball into a conflict with China that Pakistan would be able to exploit. "We have to be prepared … warfare lies within the realm of reality," Rawat said.
---
The Brexit leaks – Fallout continues after the Guardian's exclusive revelations about government Brexit policy papers. This morning we are reporting on leaked documents that show the deep divide between the negotiating positions of the EU and Britain. According to these latest files, Brussels is soon to publish five combative position papers – including one that demands Britain solve the problem of the Irish border, and others setting out demands for protecting EU goods, companies and data. The leaks come a day after the Guardian obtained a draft memo setting out a hardline British position on post-Brexit EU migration that has been heavily criticised as "completely confused", "economically illiterate" and "catastrophic" for industry – as well as causing deep alarm among EU citizens living and working in the UK.
---
'Atrocity' – Spain's government is furious after the regional parliament in Catalonia voted to stage an independence referendum. Perennial separatist agitations came to a head in Barcelona when the ruling pro-sovereignty coalition pushed through legislation by 72 votes to 52 to hold the plebiscite on 1 October. Opposition lawmakers walked out of the chamber. Spain's central government is going to the constitutional court seeking to have the parliament's vote annulled, and public prosecutors are filing charges against the Catalan speaker for allowing it. Courts have previously banned moves towards Catalan independence as unconstitutional.
---
Surrey pint is UK's dearest – London has lost its dubious mantle as the most expensive place to buy a beer. In affluent Surrey, where house prices are double the national average, a pint now costs £4.40, which is 20p more than you will pay in the capital. It is the first time this has happened since 1982. Fiona Stapley, editor of the Good Pub Guide 2018, said the ranking may be skewed slightly by the guide featuring so many smaller, local boozers – making London seem "cheaper" than it really is. London and Surrey are the only two areas officially in the guide's rip-off category. Herefordshire and Yorkshire are the cheapest at £3.31 for a pint, followed closely by Shropshire.
---
Load of flannel – At the Guardian Morning Briefing, we are dedicated to tackling the big issues facing the world. Today's conundrum crying out for some peer-reviewed science: how often to wash your pyjamas. There are actual people who do it every day ("neurotics") and some who almost never ("mingers"). Professor Sally Bloomfield, from the International Scientific Forum on Home Hygiene, says the longer you leave it, the more your risk spreading your personal crop of bacteria and viruses to someone else or, errm, parts of your own body where they might be unwelcome. For most households, says Bloomfield, once a week should be adequate – though her own admission to sleeping in the nuddy may throw her credentials into some doubt.
Lunchtime read: Why the aristocracy are still in charge
While the majority of hereditary peers have been excluded from the House of Lords, the rich, landed and powerful have plenty of other ways to maintain their dominion, writes Chris Bryant.
Read more: www.theguardian.com