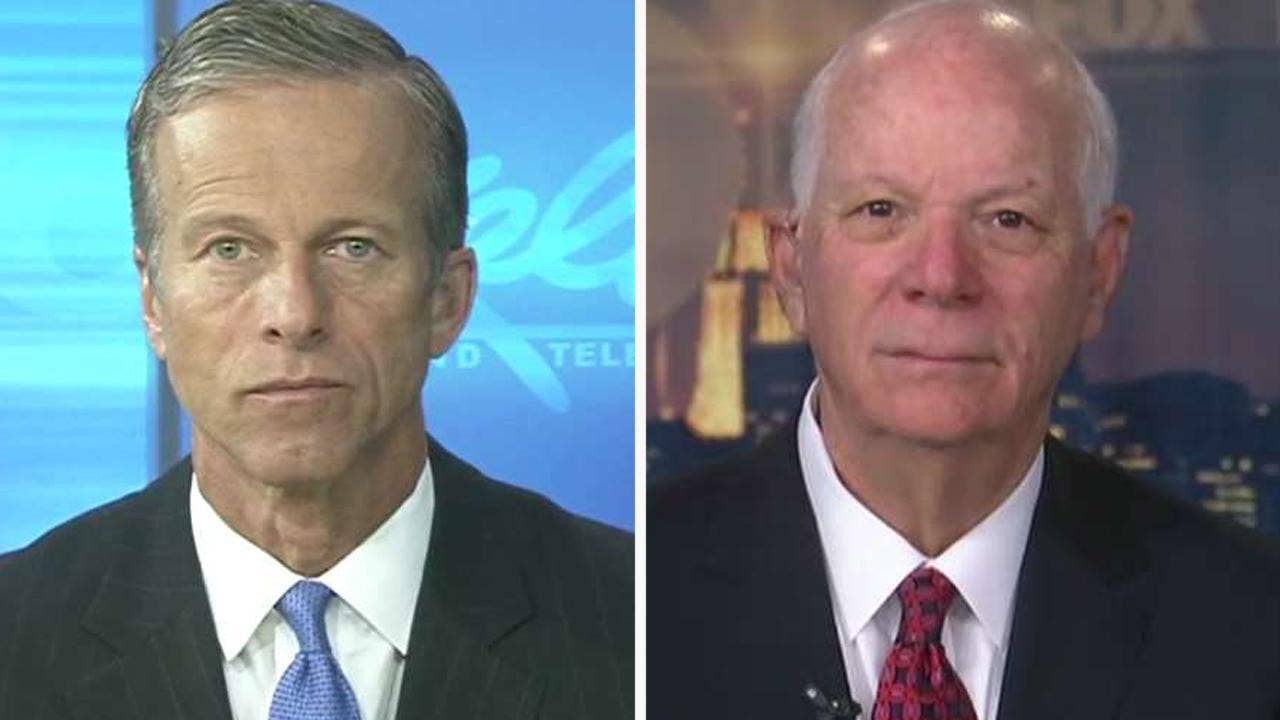 Sen. John Thune said Sunday he thinks President Trump will sign a bipartisan House and Senate measure to impose sweeping sanctions on Russia and that Senate Majority Leader Mitch McConnell this week will finally hold a vote on overhauling ObamaCare.
This is a bill that will go to the presidents desk, and he should sign it into law, Thune, R-S.D., a member of GOP Senate leadership, told Fox News Sunday. The administration will come to the conclusion that Congress has: We need to sanction Russia for meddling in the election. Its in the presidents best interest.
Thune spoke after House and Senate negotiators said Saturday that they had agreed on a sanctions package, imposed because of Russia meddling in the 2016 White House race and for its military actions in Syria and neighboring Ukraine.
The Senate voted overwhelmingly this spring in support of its measure. The congressional negotiations agreed, despite the House making changes to the Senate bill, including rolling the Russian sanctions into a bill that includes sanctions on Iran and North Korea.
The House is set on Tuesday to formally introduce its measure.
Another major sticking point was the measures congressional review, which could be used if Trump attempted to veto or ease or end the sanctions against Moscow, considering the presidents push for warmer relations with Russian President Vladimir Putin.
The negotiators from both parties opted to keep the sanctions review due to wariness over the relationship between Trump and Putin.
Maryland Sen. Ben Cardin, the top Democrat on the Senate Foreign Relations Committee, told Fox News Sunday that Congress would override a Trump veto.
New White House Communications Director Anthony Scaramucci told CNN's "State of the Union" that he didn't know whether Trump would sign the sanctions bill.
On the effort in the GOP-led Senate to overhaul ObamaCare, Thune said McConnell will hold a vote this week to open debate on the measure.
McConnell, R-Ky., has failed twice this summer, and since Trump became president, to open debate on an overhaul measure. He failed on the first overhaul measure and on a new, revised one.
McConnell needs support from at least 50 of the chambers 52 GOP senators, with Vice President Pence casting the deciding vote.
Thune suggested McConnell is still working on a strategy for putting the measure to a vote. But he vowed that congressional Republicans, as promised to voters, will fully repeal and replace ObamaCare, the 2010 health care law struggling under rising insurance rates while offering Americans fewer policy options.
We are going to vote to repeal and replace, he said. Its not a question of if, but a question of when. ObamaCare is in a death spiral."
Cardin, like other Democrats, called for a bipartisan effort, including hearings to fix ObamaCare, not repeal it.
The Associated Press contributed to this report.
Read more: www.foxnews.com