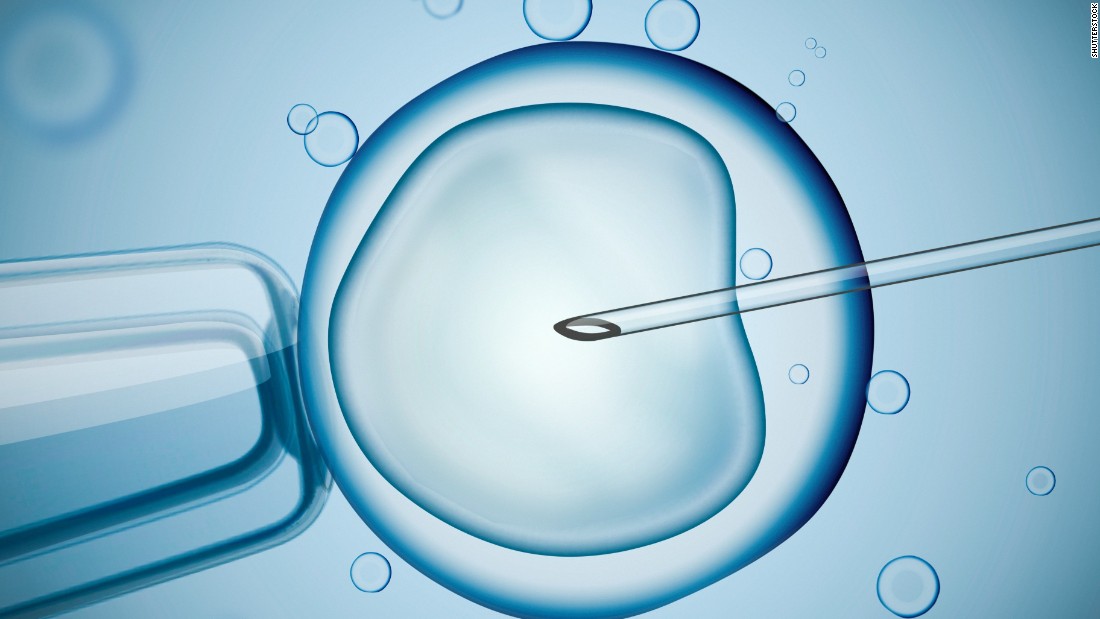 (CNN)The UK's fertility regulator has given the green light to a treatment that will make it possible for babies to be made from two women and a man. The new advancement in in vitro fertilization, developed by doctors in Newcastle, is intended to prevent children being born with certain fatal genetic diseases.
The first child to be born in the UK through the new method could arrive by the end of 2017.
The procedure will allow the donation of mitochondria, which provides energy for cells, to mothers with mutations within the DNA of their own mitochondria so they do not pass the mutations on to their child.
Mitochondria are small structures found in our cells that generate the cellular energy used to power every part of our bodies.
Mitochondria have their own DNA, which controls only mitochondrial function and energy production.
This is separate from our "nuclear DNA," which makes us who we are and determines appearance and personality.
(Source: Wellcome Trust)
Replacing your mitochondria
Known as "mitochondrial donation," the IVF technique involves replacing faulty mitochondria inherited from the mother with the healthy mitochondria of another woman.
Most of a cell's genetic material, or DNA, is contained within the nucleus, but a very small amount (less than 1%) is found in the mitochondria.
This mitochondrial DNA is inherited only from the mother through her eggs.
If the mother's mitochondrial DNA is faulty, it is possible that she may pass on a number of rare but very serious mitochondrial diseases, including muscle weakness, diabetes, heart problems, epilepsy and stroke-like episodes. In serious cases, they can lead to death.
A historic decision
"Today's historic decision means that parents at very high risk of having a child with a life-threatening mitochondrial disease may soon have the chance of a healthy, genetically related child," said Sally Cheshire, Human Fertilization and Embryology Authority chairwoman. "This is life-changing for those families."
An expert panel reviewed the development, safety and efficacy of these techniques over five years and four reports, she added, saying the authority feels that "now it is the right time to carefully introduce this new treatment in the limited circumstances recommended by the panel."
Moving forward has been approved, but caution is still recommended.
The use of this reproductive technology was originally intended to prevent
Leigh syndrome,
a severe neurological condition that affects at least one in 40,000 newborns.
The mother in this historic case previously had four pregnancy losses and had given birth to two children, one of whom survived less than a year and another who lived only six years, both due to this syndrome.
For religious reasons, the mother wanted to use a technique that would not require the destruction of a fertilized egg. A team of doctors, led by Dr. John Zhang, founder of the New Hope Fertility Center in New York City, went to Mexico to perform the procedure, as it is not licensed in the US.
But the UK may now see many babies being born through the method in the coming years.
"Mitochondrial donation offers a real opportunity to cure a class of potentially devastating inherited conditions and will bring hope to hundreds of affected families in the UK," said Dr. Dagan Wells, associate professor at the NIHR Biomedical Research Centre at the University of Oxford. "Research teams, such as those of Professors Herbert and Turnbull in Newcastle, have done sterling work to assess safety of methods for replacing defective mitochondria, and their research has provided much reassurance in that regard.
"The HFEA's decision to allow clinics to apply for permission to perform mitochondrial donation finally opens the way to begin using this technology for the benefit of families that have faced much heartbreak and hardship as a result of carrying a mitochondrial disorder."
"This marks a momentous and historic step, and we hope families next year will begin their journey to eradicate these genetic diseases," added Dr. Adam Balen, chairman of the British Fertility Society. "Clinics will now need to apply for a license, and the regulator will grant them, taking into account each application extremely carefully."
Read more: www.cnn.com