Nearly ever school in Detroit remains closed in second day of sickout, as teachers protest districts inability to pay over the summer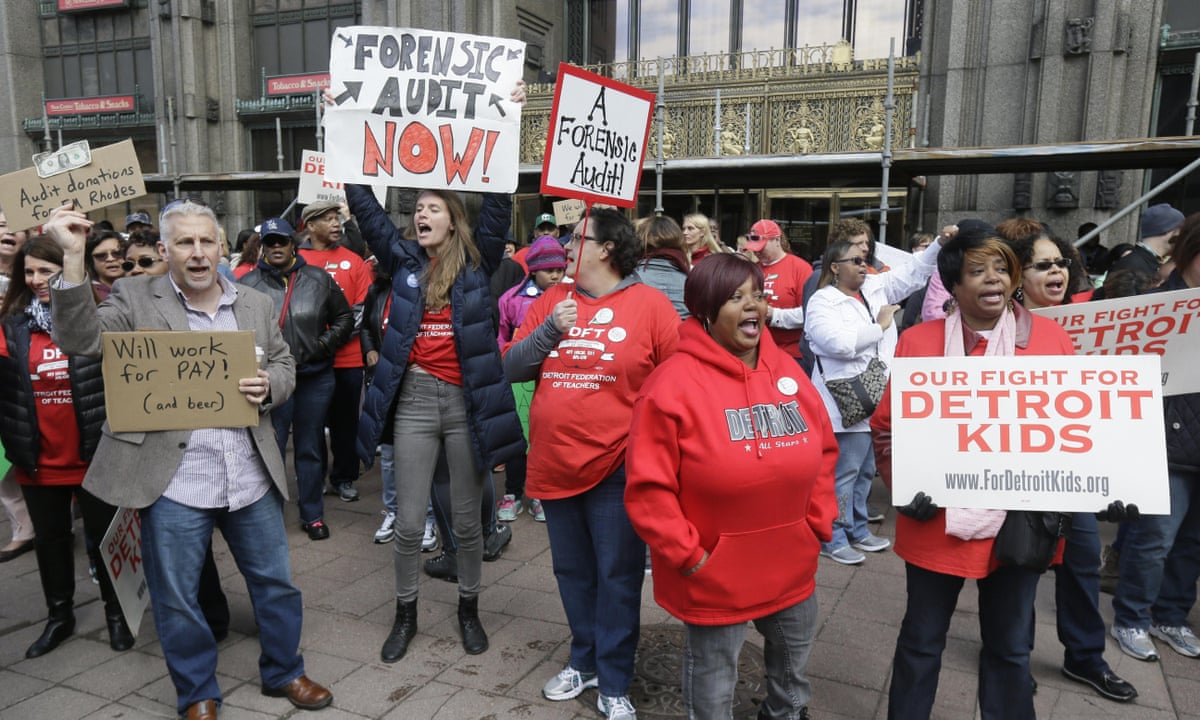 Nearly every school in Detroit was closed for the second straight day on Tuesday, once again causing more than 45,000 students to miss class because of a funding crisis that has put the city at odds with teachers.
The Detroit Teachers Federation called for a mass sickout after the school districts management announced over the weekend that it would not be able to pay teachers in the summer.
Union leaders met with district leadership on Monday but did not reach an agreement. That night, the union said teachers were not expected to return to work. We do not work for free and therefore we do not expect you to report to school tomorrow, the union wrote.
Of Detroits 97 public schools, only three were open on Tuesday morning.
Teachers instead picketed outside the school district headquarters, chanting: No pay, no work and enough is enough.
Though most school districts in the US are run by local governments, the state took over the Detroit school district because of financial difficulties in 2009. A series of emergency managers have headed the district in the seven years since.
And that record is reflective of larger economic troubles facing the former industrial powerhouse, which became the biggest American city to file for bankruptcy in July 2013. Though car manufacturers such as General Motors, long associated with the city, returned to making a profit after a government bailout prompted by the 2008 financial crisis, much of the region remains mired in unemployment and mismanagement.
Judge Steven Rhodes, who approved the citys post-bankruptcy reorganization plan in 2014, was appointed the school districts emergency manager in March. He succeeded Darnell Earley, who resigned in February amid criticism over his central role in the Flint water crisis.
Read more: www.theguardian.com