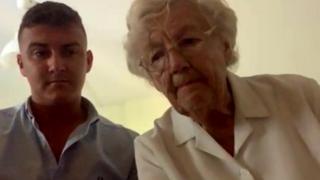 Thomas Cook customers have told the BBC of their fears over unpaid hotel bills, cancelled trip-ups and being stranded abroad following the collapse of the tour operator in the early hours of Monday morning.
For one British household on holiday in Cyprus, the firm's failure entails a bridal marred by uncertainty, and worries over vital medication.
Grandmother Mary Nichols, 87, has a heart condition and only enough medication to last until Wednesday – the day her prescription runs out.
Grandson Matt Walker, 23, paid Thomas Cook about PS1, 100 by debit card for flights and hotel accommodation for Ms Nichols and his mother Sarah, 53, so they could attend his brother's wedding in Paphos on Tuesday.
But the family's excitement has turned to fears they could be stranded, after staff at the Kefalonitis hotel apartments said Thomas Cook had not yet paid for their stay.