The DxtER, designed to resemble the diagnostic tool from , can identify 34 illnesses, including diabetes, atrial fibrillation, and pneumonia, using a suite of Bluetooth sensors connected to a tablet.
1.  Scan
A user opens the shoebox-size DxtER kit and launches an app on the tablet. The app talks her through which sensors to apply—chest patch, finger probe, spirometer, or combination thermometer-stethoscope—using an automated dialogue.
2.  Diagnose
Within moments of collecting data, the app returns a diagnosis or indicates that it didn't detect any illness.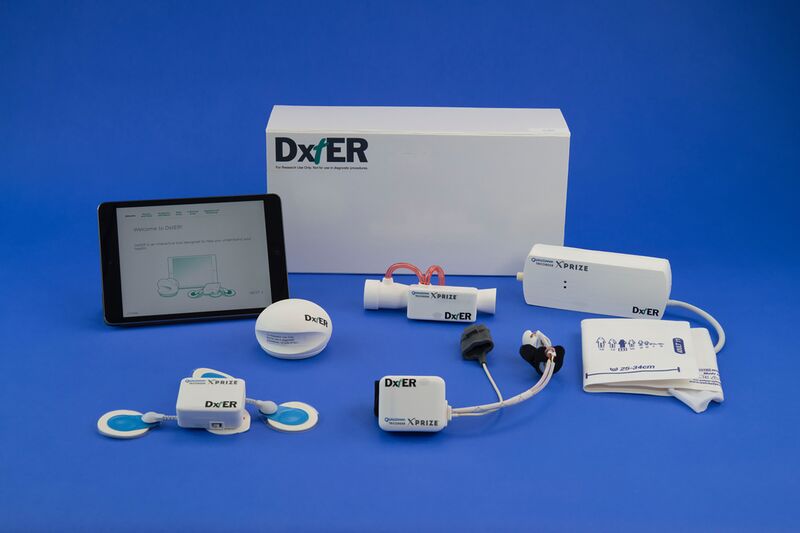 Origin
Harris, a practicing emergency room doctor and mechanical engineer, formed Basil Leaf with his siblings and friends in 2012 to compete for the Qualcomm Tricorder XPrize, awarded in 2017.
Funding
Basil Leaf won the XPrize—and $2.6 million—by most accurately diagnosing patients in trials at the University of California at San Diego.
Commercialization
The Harris team is prepping DxtER for the U.S. Food and Drug Administration approval process.
Price
The XPrize Foundation has negotiated a deal with Lowe's Cos. to put the tricorder on store shelves. Estimated retail price: $200 or less.
Next Steps
Basil Leaf is working on DxtER upgrades that will enable it to use the same hardware to diagnose as many as 75 conditions, including respiratory illnesses and a wider range of cardiac ailments. Grant Campany, senior director of the Qualcomm Tricorder XPrize, says the team's real-world diagnostic experience gave it the winning edge. "The perspective that Basil brought to the table," he says, "was unique." 
Read more: www.bloomberg.com