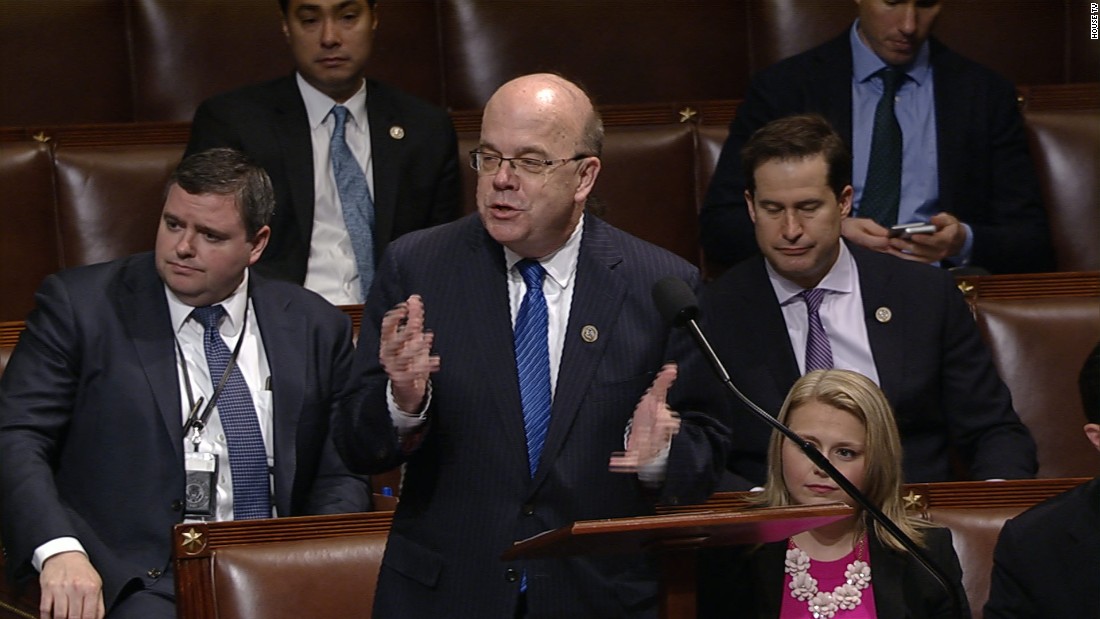 (CNN)A liberal think tank says hundreds of thousands of Americans would be left without coverage under the so-called Upton amendment, the Republican plan to cover Americans with pre-existing conditions under the health care overhaul passed on Thursday.
GOP Reps. Fred Upton and Billy Long proposed an amendment that would add $8 billion over five years to fund high-risk pools and go toward patients with pre-existing conditions in states that seek waivers under the Republican legislation. The legislation already included $130 billion in the fund.
But the Center for American Progress, a DC-based progressive think tank, said the amendment would only help cover 76,000 enrollees, a small fraction of the 130 million Americans with pre-existing conditions.
"House Republican leaders have been presenting the latest Affordable Health Care Act plan as a deal: In exchange for moderate Republicans in the House backing (an earlier revision to the legislation), they sink more money into high-risk pools. But as often happens in trade-offs, there would be winners and losers,"
wrote
the center's health economist, Emily Gee, and vice president Topher Spiro. "Even if the Upton amendment wins votes, the staggeringly large funding gap could leave many Americans with pre-existing conditions stranded outside the high-risk pool without affordable options for coverage."
Before the Upton amendment, the center produced data stating that even with the invisible risk pool, premium surcharges for a 40-year-old with selected health conditions would be pricey. The group has not released data on these points since the amendment was introduced earlier this week, but CAP spokesperson Devon Kearns told CNN Thursday that the amendment "does next to nothing to reduce these costs."
According to the center's data, a person with metastic cancer would have a surcharge of $140,510 while a person with lung, brain or other severe cancers would have a surcharge of $71,880. An enrollee with breast, kidney or colorectal cancer would have a $28,230 surcharge.
The surcharge for a person with diabetes without complications would be $5,510, while someone with major depressive and bipolar disorders would have a $8,370 surcharge.
The Republican Party's seven-year quest to repeal Obamacare faced its ultimate test on Thursday, when the House voted on a bill that would dismantle the pillars of the Affordable Care Act and make sweeping changes to the nation's health care system. The bill passed the House and now heads to the Senate.
CAP argues that the Upton amendment is "bad policy" because the $130 billion of funding already in the Affordable Health Care Act would be insufficient for even a small high-risk pool. If about 5% of current enrollees needed coverage through the high-risk pools, more than 800,000 people with high-cost health conditions would be left without affordable health coverage.
"The AHCA would need to provide a total of $327 billion to offer moderately subsidized high-risk pool coverage for those 1.5 million people," Gee and Spiro wrote. "The current version of the Affordable Health Care Act falls $200 billion short of that, and the $8 billion promised to House Republican moderates would fill in just 4% of the funding gap."
Read more: www.cnn.com