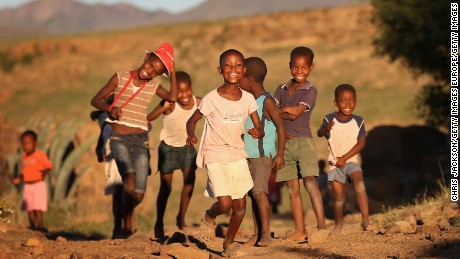 (CNN)In South Africa, a rare group of children unknowingly find themselves resistant to the effects of HIV.
Even without antiretroviral treatment, they will never develop AIDS, or so scientists believe.
Unlike adults and other children who succumb to the virus if not treated — enabling it to attack their immune cells and weakening their immunity to disease — these kids harbor huge amounts of HIV within their blood but remain unscathed.
In fact, they're healthy.
The only reason doctors discovered these children, known as HIV non-progressors, is because their blood is routinely tested, as their mothers had the virus, and they were most likely infected in the womb. This mode of transmission is itself now rare, as it is standard practice around the world for pregnant women to be tested and treated for HIV to avoid infecting their children, known as prevention of mother-to-child transmission.
"It's difficult for the virus to get into (them), so they remain relatively unscathed," said Goulder.
And it gets more detailed, as the team also thinks it has cracked why the virus can't enter.
Non-progressors have lower levels of a receptor protein called CCR5, which sits on the surface of CD4 T-cells. This is where HIV particles attach to enter and destroy the cells, so fewer of these means fewer viruses getting in. The technique is the same as seen in monkeys, such as sooty mangabeys, which have natural protection against the monkey version of HIV, known as Simian Immunodeficiency Virus.
"Both sooty mangabeys and (child) non-progressors can replace any CD4 cells, as the number of long-lived cells that die is low," said Goulder.
This defense method, in which HIV is left floating in the body, unable to infect its target cells, is unique.
Child non-progressors represent just 5% to 10% of children infected with HIV, and others infected when young experience quite the opposite effect, with a much faster progression to AIDS than any adult. They have a 60% death rate within two years if they are not on treatment, according to Goulder, whereas adults would have 10 years, on average, before the onset of AIDS and 11 years before death.
There are some adults who are naturally immune to AIDS, known as elite controllers, but they represent just 0.3% of adults infected with HIV, and their approach to control is pretty much the opposite. "These adults achieve being disease-free by mounting a very strong (immune) response against the virus," Goulder said. Essentially, they bombard and attack to get what they need.
But in kids, Goulder has now showed that the right way to go is to avoid getting an immune response, by "not picking a fight with a virus that you're going to lose," he said.
This could bring a whole new approach to HIV control.
Mimicking the monkeys
"(Scientists) used to say, 'If only humans can be like monkeys, then HIV wouldn't be a problem,' " said
Robin Shattock
, professor of mucosal infection and immunity at Imperial College London, who was not involved in the study. "And now, here are these children."
Tell us your story
We love to hear from our audience. Follow @CNNHealth on Twitter and Facebook for the latest health news and let us know what we're missing.
Shattock is leading the European AIDS Vaccine Initiative
(EAVI2020
) and looking into ways to prevent HIV disease progression."(We) don't want to treat people for life," he said.
Since it was discovered in 1996, antiretroviral treatment has had a huge impact on the HIV epidemic, with current combination therapies resulting in viral levels that are undetectable in most, and studies showing they can reduce sexual transmission by 96%. So researchers dare not suggest another method of treatment — at least, not yet.
"We want to find a way to eliminate the virus and cure people, but this is a pretty tough call," Shattock said. "If you can protect these central (T-cells), you might be able to achieve long-term remission. … The question is, how can you convert someone into a non-progressor?"
Shattock believes this new finding provides a different avenue to reach this goal. "This shows that humans have found an alternative way to cope with HIV infection," he said, warning that a lot more understanding is needed to even start going down this road.
"There's a lot to follow up on," he said. "(But) this gives a biological road map to start to verify the science."
Read more: www.cnn.com