Prime minister says UK takes a different approach but defends invitation despite growing outrage over US travel ban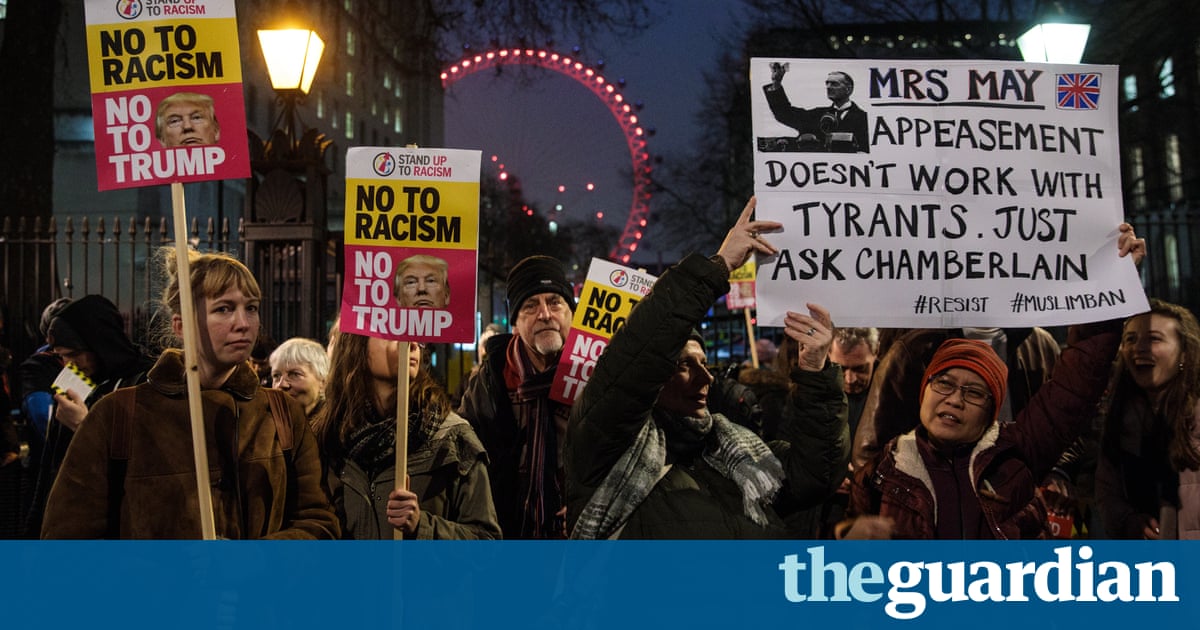 Theresa May defended the decision to invite Donald Trump on a state visit as thousands of protesters took to the streets across the UK and more than 1.5 million people signed a petition to try to stop the trip from going ahead.
The prime minister made the briefest of responses to the domestic uproar over the US presidents attempt to ban travellers from seven Muslim-majority countries, insisting that the UK takes a different approach.
Addressing the issue during a joint press conference with the Irish taoiseach, Enda Kenny, May stood by the red carpet invitation she had made during her meeting with Trump in the White House on Friday.
The United States is a close ally of the United Kingdom. We work together across many areas of mutual interest and we have that special relationship between us, she said. I have issued that invitation for a state visit for President Trump to the United Kingdom and that invitation stands.
However, she refused to go further and criticise her American counterpart despite mass condemnation of his decision to bar nationals from Iraq, Syria, Iran, Libya, Somalia, Sudan and Yemen for 90 days. At the same press conference, Kenny voiced disagreement with the executive order announced by Trump.
The comments came as Downing street advisers did not deny claims that May had been informed about Trumps plans to impose the travel ban when she met the president.
Thousands took to the streets in cities across the UK, including Manchester, Cardiff, Glasgow, Edinburgh and in London. Crowds gathered just metres from the gates of Downing Street, chanting: Shame on May.
The Labour leader, Jeremy Corbyn, wrote to the prime minister to urge her to listen to more than a million Britons who had called on her to cancel the state visit, in which Trump could address both houses of parliament. This world defeated segregation, we defeated apartheid and we will defeat this nasty policy created to sow division and hatred, he said. His invite should be withdrawn until the executive orders are gone and every element of them repealed.
Some shadow cabinet members joined protestors, including Diane Abbott, the shadow home secretary.
Earlier, Boris Johnson, the foreign secretary, warned MPs not to demonise Trump or compare him to Adolf Hitler in a statement on the escalating row.
Johnson told parliament that British passport holders with dual nationalities would now not be affected by the US travel ban after further conversations with senior figures within the White House.
Following confusion caused by a US embassy notice telling UK dual nationals from the affected countries not to travel to the US, he said: Im able to provide the following clarification: the general principle is that all British passport holders remain welcome to travel to the US.
Read more: www.theguardian.com