Many progressives trade in stereotypes about Kansas with childlike pride, writes Sarah Smarsh. But to use geography to separate the righteous from the scourge is dangerously simplistic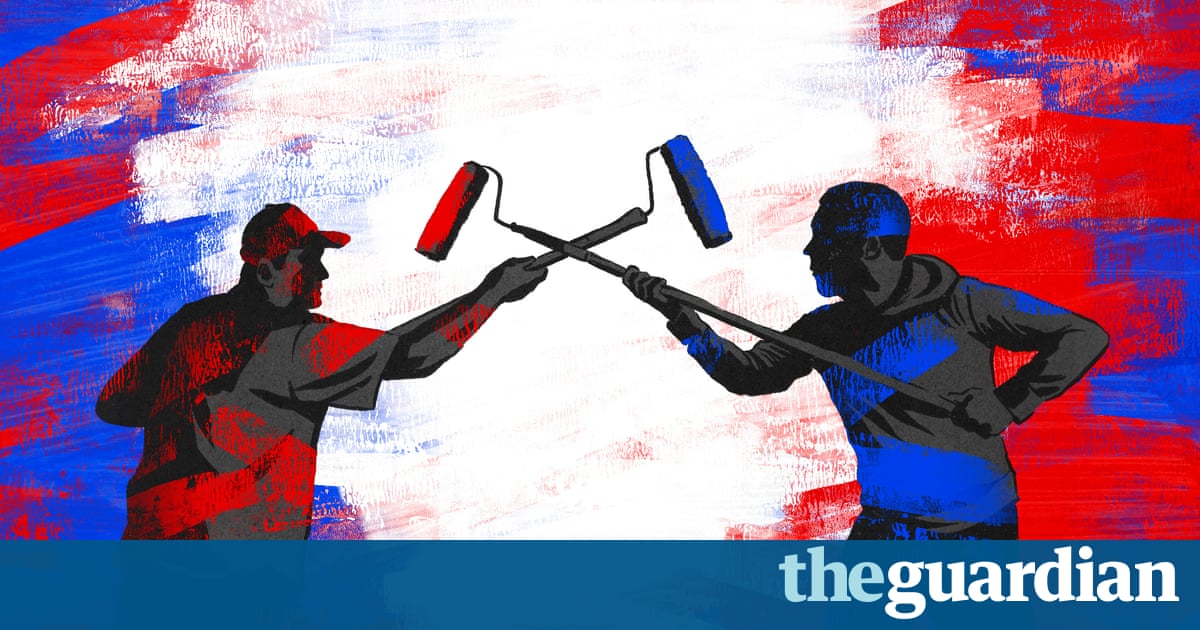 The division that threatens to split this country in two is not between red and blue states, or between rural and urban areas it is between the way we discuss politics and the realities of American lives, none of which fit into tidy categories. Contrary to popular narratives, you can be a progressive populist, a wealthy and college-educated Trump supporter, a rural laborer of color, a provincial urbanite, an open-minded midwesterner.
And, as first-time Democratic political candidate James Thompson proved this month in Kansas, you can give conservative Republicans a run for their money as an army veteran, a rifle-owning marksman, and a civil rights attorney who has fought on behalf of black victims of police brutality. Whose first college major was theater, and who named his daughter Liberty.
All at once. In a red state.
When conservative congressman Mike Pompeo vacated his Kansas seat to head the CIA earlier this year, conventional political wisdom said the special election to replace him was in the bag for the Republican state treasurer, Ron Estes. The district had gone for Trump by 27 points and is home to Koch Industries, the global, $100bn conservative moneybag whose famous family routes hundreds of millions of dollars to conservative candidates across the country.
But a small band of prairie progressives saw something else: Kansas Democrats had picked up 13 seats in the state legislature in 2016, while moderate Republicans had unseated conservatives.
They saw people angry at far-right governor Sam Brownbacks destruction of the state economy. They saw racially diverse Wichita. They saw the same people who twice elected previous governor Kathleen Sebelius, who went on to design the Affordable Care Act as Obamas health secretary. They saw a state where socialist Bernie Sanders won the 2016 Democratic caucus. They saw a district that had, perhaps, gone for Trump less because they agreed with him than because he was a wrecking ball who had acknowledged their existence.
Thompson, who has lived in Kansas for 20 years, saw it too. His grassroots campaign quickly aligned itself with post-Trump resistance movements while focusing on jobs, education and veteran issues.
The underdogs canvassed to such effect that Republicans put an estimated $150,000 toward heading them off with an abortion-themed smear TV ad and robo-calls from Trump and Mike Pence. Ted Cruz went to Kansas to rally the base. The president bleated an Estes endorsement on Twitter for good measure.
Democrats, well the day before the election, they paid for some calls.
They were investing in Georgias sixth congressional district (which soon would be a two-point miss for the Democratic challenger) but not in Kansas a poor use of resources according to strategists, apparently. Even the partys state organization refused to pony up $20,000 for a mailer.
On the homestretch, it was liberal blog Daily Kos that drummed up close to $250,000 in personal donations for Thompson from across the country. Our Revolution, the organizational offshoot of Bernie Sanders presidential run, endorsed the campaign as well.
Ultimately, for the scrappy, local progressives who energized southern Kansans across party lines, it was victory in loss: Thompson came within seven points of winning a US House seat that has been held by Republicans for a quarter of a century. He also turned Sedgwick County, the states most populous area, blue for the first time since 1996. Such a swing would unseat Republican representatives in more than 100 districts.
James Thompson, or how to destroy a pundits stereotype
Read more: www.theguardian.com