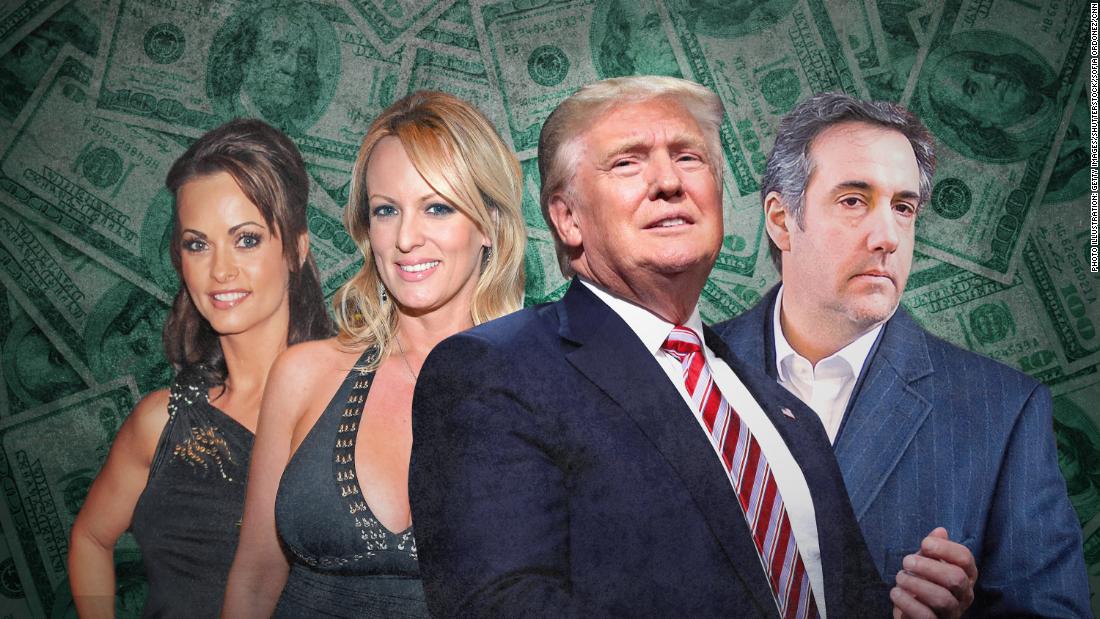 (CNN)On Thursday we learned that the National Enquirer's parent company American Media Inc. reportedly paid a doorman at Donald Trump's old building to ensure he not speak about the rumor that the then-real estate mogul had fathered a child out of wedlock. The CEO of that parent company is a close personal friend of President Trump.
"This establishes a pattern now," said Ronan Farrow, the reporter who broke the news of the latest payoff — it's not clear when in 2015 it occurred or whether Trump was officially a candidate —
in the pages of the New Yorker
.
He's right.
Consider what we now know:
Michael Cohen, President Trump's longtime personal attorney, set up a shell company in Delaware three weeks before the 2016 election. Ten days later, he directed a $130,000 payment to porn star Stormy Daniels in exchange for her silence about an alleged affair with Trump in the mid-2000s. Cohen has insisted he used his own money to make the payment — taking out a home equity line of credit to do so — and that he did so without any promise or expectation that the president or anyone in his orbit would pay him back. Trump has said he knew nothing of the payment.
Karen McDougal, a former Playboy Playmate, was paid $150,000 by American Media Inc. — the company that owns the National Enquirer — in exchange for her story of a 10-month affair with Trump in the 2000s. The Enquirer never ran that story — a move known as "catch and kill" in the media industry. McDougal has filed suit against AMI, alleging that they bought her story with the intent of burying it.
AMI issued a statement categorically denying that the payments it was involved in had anything to do with Trump or Cohen or that there was any sort of partnership between Pecker, the company and the campaign. "These claims are reckless, unsubstantiated, and false," according to the statement.
But it doesn't take a genius to see the similarities here. In all three instances, Trump allies (Cohen in the case of Stormy Daniels; and AMI, which is run by his friend David Pecker, in the case of McDougal and the doorman) sought to snuff out a story that painted Trump's personal life in a negative manner.
What we don't know is what role — if any — Trump himself played in these specific instances or any other episodes we don't yet know about.
Trump has denied knowing about the Daniels' payment. He has said nothing — at least as far as I can find — about the payment to McDougal and the alleged payment to the doorman. Trump has denied he engaged in any affair with McDougal.
It is of course possible that Trump knew nothing — even in the abstract — of this pattern of payments. That Pecker and Cohen acted entirely independently, spending their own money to silence allegations that the president has said are untrue.
But we now have a pattern of behavior here on the part of two people who are very close to the President. When allegations/rumors/whispers emerge regarding Trump's personal life, those two men used the tools at their disposal — money, hush agreements, catch/kill — to ensure those stories never see the light of day.
What that means is that it is no longer practicable for this White House to dismiss, say, Cohen's payment as a one-off of which they knew nothing. This is a three-off. If it's a coincidence, it's one hell of a coincidence. And — spoiler alert — it's no coincidence.
Now. I'll leave it up to lawyers and campaign finance experts as to whether any agreements have not been fully met or whether any of these payoffs amount to an in-kind contribution to Trump's campaign.
And, I'll absolutely agree that very few people who voted for Trump did so unaware of his complicated personal life. (Just 33% in the
2016 exit poll
said they believed Trump was "honest and trustworthy.")
But, none of that means that this White House – and this President — should feel able to entirely ignore the pattern of behavior exhibited by AMI and Cohen. No one disputes Cohen and AMI's CEO are — and have long been — close to Trump. That Cohen and AMI have engaged in these behaviors — with the end result silencing those who accused Trump of engaging in extramarital affairs before the campaign — is something the White House should address.
This is not private citizen Donald Trump we are talking about. This is President of the United States Donald Trump. That's a big difference.
Read more: www.cnn.com