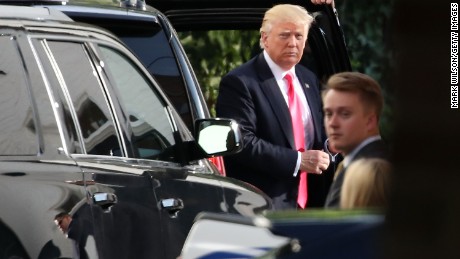 Cleveland (CNN)Ahead of next week's Republican National Convention, some in the GOP are still struggling with a simple question: Who is @realDonaldTrump?
His ideological flexibility over the past several decades, his frequent diversions from party dogma, and the weekly — if not daily — zigzags of his campaign, continue to haunt many members of the party as they head to the convention in Cleveland.
Trump's unknowability has come into sharp focus in these rocky last two months as he has attempted to right his campaign after a shakeup and quell a potential delegate revolt in Cleveland. Behind his celebrity-fueled candidacy and his crowd-stirring performances, many rank-and-file Republicans say they find it difficult to gauge whether Trump has a core belief system that qualifies him to carry the mantle of Republican nominee.
For example, at an Iowa forum last year, Trump said he didn't think he'd ever asked God for forgiveness; but after meeting with Trump in June, social conservative leader James Dobson said he believed that Trump had found Christ and become a born-again Christian. Similarly, after months of calling for a highly controversial travel ban on Muslims entering the U.S., Trump softened his position to say it should apply to "people coming from terror states." He has campaigned as a social conservative but calls himself a champion of the LGBT community. And he's taken a strong line on Israel only to spend the past week embroiled in controversy over whether a tweet posted under his name was anti-Semitic.
In a nod to how difficult it is to define his ideology, Trump told conservative talk radio host Mike Gallagher in a late June interview that sometimes it's almost like "I'm running against two parties." At a rally that week in Pennsylvania, he framed his campaign as a revolt against the status quo.
"If we're going to deliver real change, we're going to have to reject the campaign of fear and intimidation being pushed by powerful corporations, media elites, and powerful dynasties," Trump said. "The people who rigged the system for their benefit will do anything and say anything to keep things exactly as they are."
Stuart Spencer, Ronald Reagan's longtime consultant, said that in his lifetime, he has never seen a nominee — Democrat or Republican — run a campaign so utterly devoid of a policy core.
"His policy is 'us versus them, and every week he finds a new 'them,'" Spencer said. "He reads the audience well; he sees the anger. His strategic position is this: people are mad, I'm going to where they're mad, and I'm going to back them up."
Trump's one time primary rival, South Carolina Sen. Lindsey Graham, put it another way: "His core principle is self-promotion. And when he gets his back to the wall, he becomes impulsive and dangerous," Graham said. "There's not many places he won't go."
A senior Trump campaign official said the dissenting voices who are still having trouble trusting Trump on ideology are not representative of the party as a whole, pointing to his sweep of the GOP primaries.
"The party had gotten away from where the grassroots are on issues like trade, jobs, immigration and destroying ISIS," the official said. "On those four issues, Trump is in line with where the people are."
Trump's rhetorical swerves as he tries to position himself for the general election have been dizzying.
One week Trump was the nativist firebrand insisting that the Mexican heritage of an Indiana judge should disqualify him from overseeing the Trump University case. The next week, he was renewing his call for a Muslim travel ban after the Orlando nightclub shooting.
But the following week, after ousting his campaign manager, he suddenly embraced the role of the teleprompter-coached candidate with a gentler tone said he only wants admit people to the United States who "share our values and love our people."
Trump has also provided plenty of fodder for opponents over the past year by taking stances on the campaign trail that at times seem like moving targets.
When he initially refused to disavow white nationalists who were supporting his campaign, he said it was because he didn't hear the question — despite the fact that he repeated it in his response.
More recently, Trump has been mired in controversy over a tweet from his account bearing Hillary Clinton's image, a background of cash and an image of a red Star of David.
In an unusual move for Trump's campaign, his son-in-law Jared Kushner stepped forward to vouch for Trump's character with a statement that did not address the tone of the real estate mogul's campaign, but said he was "an incredibly loving and tolerant person" who does not "at all subscribe to any racist or anti-semitic thinking."
But instead of letting the controversy die down, Trump plunged back in a few days later, lashing out at the "lying" media and insisting he should have kept the tweet up, because it could have been any star — including a sheriff's star or one featured on a sticker book for the Disney movie "Frozen."
Bedrock social conservatives have long been skeptical about the metamorphosis of Trump's position on abortion. But he muddied the waters even further when he told Chris Matthews in March that there should be "some form of punishment" for a woman who has an abortion. He withdrew that statement within hours — saying he meant that if the practice were outlawed, doctors should be punished.
And then there was his confusing statement about his stance on guns in schools where he seemed to contradict himself within the course of two sentences: "I don't want to have guns in classrooms, although in some cases teachers should have guns in classrooms, frankly," he said during a May interview with "Fox & Friends."
Unifying behind Trump
Polls show that a majority of Republicans support Trump's candidacy and want the party to unify behind his candidacy. (Though loyalty to Trump at times appears to be sliding — with 74% of Republicans saying they support Trump over Clinton in a late June Fox News poll compared to 82% in May).
Still, Trump's supporters view his willingness to change his mind as a strength — a sign of his authenticity and the notion that he is not beholden to anyone. That is a particularly powerful sentiment in a year when there is so much anger at the political establishment.
But for delegates like Kendal Unruh of Colorado, who is leading a crusade to prevent Trump from becoming the nominee, his campaign is a daily affront to everything the Republican Party stands for.
"He doesn't know what we stand for. He doesn't even know what he's supposed to be running on," said Unruh, who will serve on the Rules Committee at the convention. "Another day rolls by and there's another violation of our party's platform."
"He doesn't have any guiding principles in his life beyond making money and raising his brand name, which he does very well and which is why he ran for president," said Unruh, a party activist who supported Ted Cruz. "He's going to make decisions based upon whatever is most advantageous to him."
Trump rejects that kind of criticism and explains his ideological shifts by citing the example of Reagan, who he has noted was a "somewhat liberal Democrat" who became "a fairly conservative Republican."
But the objection among many Republicans opposing Trump is not just his well-documented shifts on abortion, his embrace of protectionist trade policies, his vow not to touch entitlement programs like Social Security, or his past support for Eminent Domain — all of which are at odds with the Republican agenda.
Rather, it is the sheer unpredictability of his casual pronouncements on a broad array of policy questions: from the proposed Muslim ban, to whether Japan should have nuclear weapons, or his suggestion that he would be open to racial profiling to help identify terrorists.
"When you're a populist, you don't really have an ideology: there is no philosophical basis for what Trump believes in," said Saul Anuzis, a Michigan delegate who has not decided who he will support at the convention.
"People like the bravado, people like the non-establishment aspects of his candidacy — that he's going to shake things up," Anuzis said. "But I could tell you 99% of the time where Ted Cruz was on an issue. I could tell you 99% of the time where Rand Paul would be on any issue. I could even tell you 95% of the time where Jeb Bush would be on most issues. You knew where they were coming from. You can't say that about Donald Trump."
"He was a populist liberal; he's a populist conservative today," Anuzis continued. "We're all wondering where he is going to be tomorrow."
Executive power
Republicans not yet supporting Trump are also troubled by what they see as his broad view of executive power. That is a particular affront after eight years of President Obama, because so many in the GOP believe the President has stretched the limits of presidential power with his executive actions on gun control and immigration.
Trump, at various points in the campaign, has suggested that he would unilaterally "open up the libel laws" to make it easier to sue the press, and that he might be able to bypass congress to enforce a ban on some Muslims entering the country or impose other aspects of his immigration proposals.
In a January interview on NBC's 'Meet the Press," Trump said Obama had "led the way" with his executive orders and made it clear that he was willing to use them: "I'm going to use them much better," he told NBC's Chuck Todd in the vague fashion that has been a hallmark of his campaign. "They're going to serve a much better purpose than what's he's done."
Trump's rise to the pinnacle of Republican Party power has come at a time of ideological struggle within the party — from the fights between the 'tea party' ranks and the leaders of congress, to the dissatisfaction within the libertarian wing of the party.
Because of that many Republican leaders had hoped a 2016 nominee would emerge who could unify those different strands of the party to restore a strengthened Republican coalition.
Instead they ended up with Trump, who answers to no one, and at one point threatened to run his campaign without the assistance of the Republican party apparatus if leaders continued to challenge him.
"He's testing the tear strength of the coalition on a regular basis," said Dave Carney, a New Hampshire-based Republican strategist. "You have the evangelical constituency, which is uneasy and waiting to hear and see where he really is on the issues that are important to them. Then there's the separate, but overlapping constituency of the pro-life community that is also paying attention closely."
Trump's attacks on NATO have unnerved the wing of the party most concerned about foreign policy and projecting American strength, Carney noted, while those in the coalition for smaller government are still waiting to hear his agenda on those topics.
"You can't pigeonhole him," Carney said. "But issues still matter to people. In order to be successful, you've got to get your base in check before you can build on to it."
Carney said the convention will give Trump a chance to reassure the base with the party platform and a vice presidential candidate. "All these things can put people at ease and get them excited about his candidacy," he said.
But the GOP nominee clearly still has a long way to go before he convincing the party faithful that he would be true to their principles in the White House.
Read more: www.cnn.com