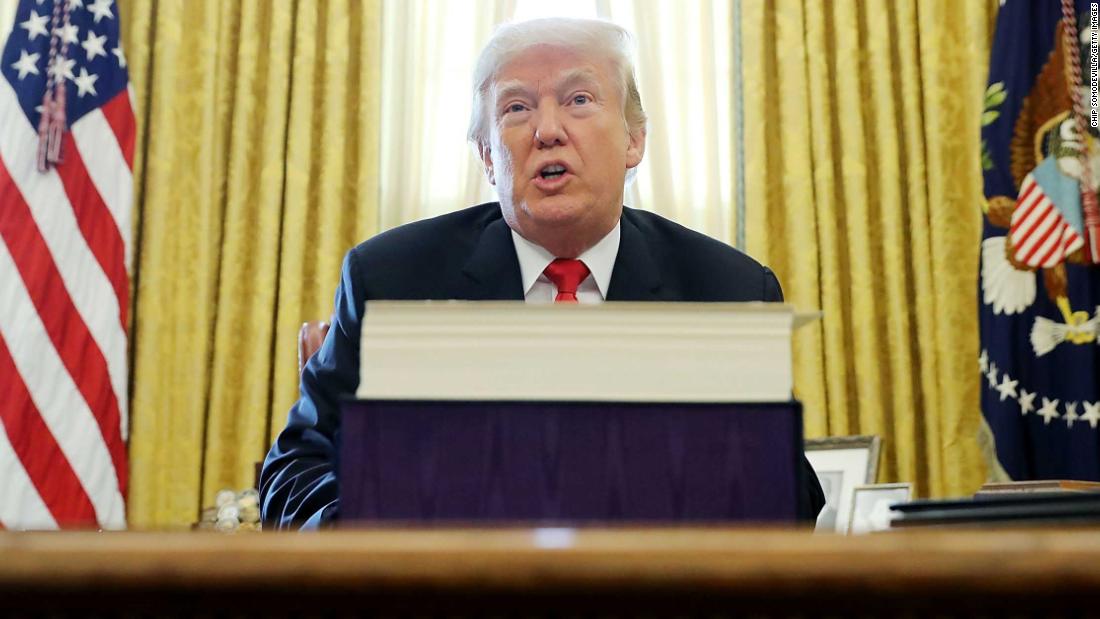 (CNN)"Remarkable." "Terrifying." "Eye-popping." "Scary." "Astonishing."
That's a lot of superlatives — and not the good kind. And it raises a question that I think sits at the heart of how to effectively cover Trump: If everything is the biggest, worst, most stunning thing ever, then how can anything actually accurately be described that way?
After all, if someone asks you what your favorite album in history is and you name 15 albums, you devalue each of them. You can't have two bests.
(The best album, for what it's worth, is "Revolver" by The Beatles.)
Or two worsts. The whole point of superlatives is that there is only one thing that they accurately describe. And if you overuse them, you run the risk of making them mean less or, in the worst-case scenario, mean nothing at all.
Which brings me to Trump.
Take a look at the past two weeks alone:
There's more, but you get the idea.
Any ONE of those events would have been potentially defining in past presidencies. If you feel like you're constantly bombarded with Trump news daily, that's because there is a fire hose of stuff coming out of the White House every single day that Washington — and the United States — has never seen before.

If any past president had acted the way Trump acted beside Putin or said what Trump said at the VFW convention, it would have been shocking and surreal. Because prior to Trump, past presidents all acted — generally speaking –in a consistent way. They were measured in their public statements. They were careful in matters of international diplomacy. They were committed, again, generally speaking, to taking the high road. That doesn't mean presidents before Trump acted perfectly presidential all the time. They did not. But, they always had in their mind what "being presidential" meant.

Trump ran a campaign expressly rejecting the idea of being presidential. While he repeatedly promised on the campaign trail that he could be "so presidential" if and when he wanted to be, he never seemed to find a time to do it. Eventually, Trump abandoned the idea altogether, rejecting it as a trope of the boring status quo that he was running to blow up.

He proclaimed

: "My use of social media is not Presidential – it's MODERN DAY PRESIDENTIAL. Make America Great Again!"
When compared against the norms of past presidential behavior then, Trump, on an almost daily basis, says and does things that are by definition abnormal, odd and ahistorical. It's sort of his thing.
And on and on it goes. Days after day. Week after week. Month after month.
But, if you, like me, try to document just how not-normal how Trump conceives of the presidency and what he is aiming to do with it is, there is, because of human nature, a tendency to reach some level of outrage fatigue. Again, if Trump does nine things in a week that are outrageous by the standards of any past president, then no single one of them seems all that outrageous. Our collective minds tend to get used to whatever our circumstances are. What seemed remarkably abnormal in the first weeks of Trump's presidency are now accepted — or tolerated — in many circles as just Trump being Trump.
The issue: What's the alternative? Cover Trump without noting the (many) times in which what he says and does are clear breaks with what past presidents said and did? That's, of course, an option. But to my mind, it does a disservice to the reader (or viewer). Trump's presidency is distinctly not normal. To cover it as though it is misses the point — again, whether you like what he doing or hate it.
I've spent lots and lots of time trying to puzzle out how to accurately reflect Trump's not-normalness while not simply falling back on hyperbole for the sake of hyperbole. I don't have a clear answer. For my part, I am going to assiduously attempt to make sure only to bring out the heavy-hitter adjectives — "best," "worst," etc. — when they are truly deserved. That is a judgment call and not everyone will agree.
Trump is a different president than George W. Bush, Barack Obama, or anyone who had held the office before.
Pretending that he's not misses the entire premise of his presidency.
Read more: www.cnn.com