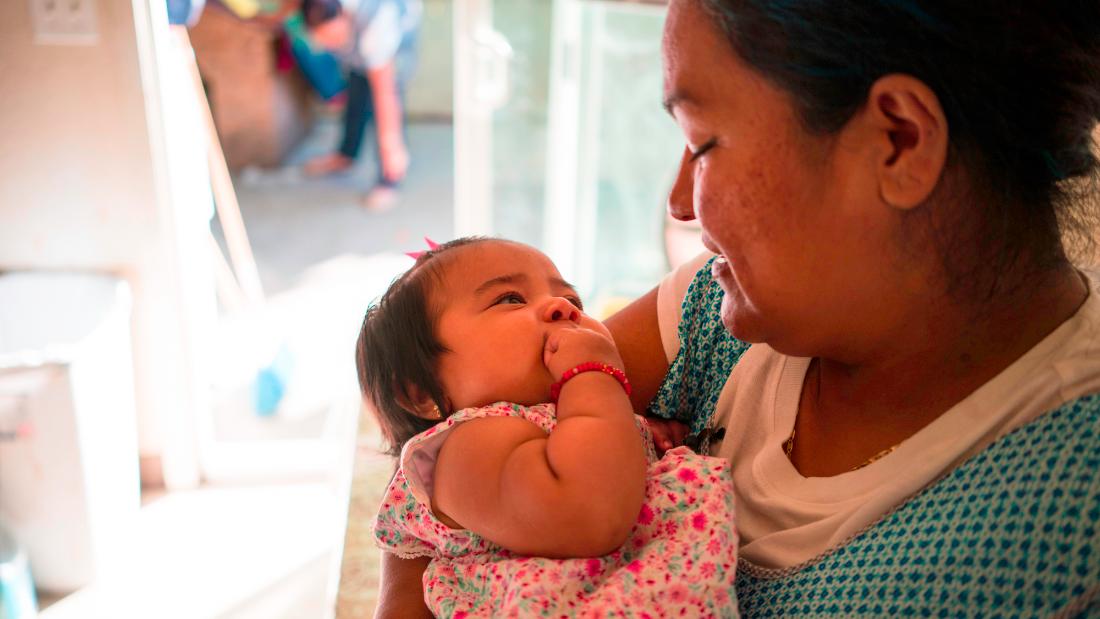 (CNN)She became a doctor to serve communities like the one she grew up in. Her patient suffered a high-risk pregnancy and faced a serious complication.
The experiences of these two women, doctor and patient, shed light on the state of maternal health care impacting immigrant women in the United States.
Earlier this year, the patient's blood pressure inched higher and higher. Her pregnant body felt "strange and different," and obstetrician Dr. Cristina Gamboa became increasingly concerned.
"Preeclampsia is one of the leading causes of maternal death and timely diagnosis is important," Gamboa said.
The blood pressure-raising stress seen in Gamboa's patient during her pregnancy has become an increasingly common trend that Gamboa has seen at Salud Para La Gente, which has centers in California's Santa Cruz and Monterey counties.
She has seen increased stress specifically among pregnant patients who happen to be Mexican immigrants in the United States. Among the patients at Salud Para La Genta in Watsonville, about 40% are farmworkers and 92% are Hispanic, said Gamboa, who herself grew up in a farming town and belongs to an immigrant family.
While several factors can drive stress — such as employment status, social instability or preexisting health conditions — one additional factor in recent years for immigrant women has been America's political climate, Gamboa said.
The stress that some mothers face can make them at higher risk for depression and anxiety, which potentially can impact the baby's health too, Gamboa said.
"We screen all of our moms for depression in pregnancy, regardless of immigration status, so we do find that more of our more recently immigrant moms have a higher rate of depression and other mood disorders of pregnancy," she said. "The time that we live in and the administration that governs us, I see it affecting patients."
Gamboa's patient, whom CNN has agreed to keep anonymous for her safety, experienced that high-risk pregnancy earlier this year due to preeclampsia, gestational diabetes, and a history of two previous cesarean sections.
"Sometimes you wake up in the middle of the night, at two in the morning — supposedly in the last weeks of pregnancy is when you should be most relaxed, most calm — that ICE is here, ICE is there, sometimes I'm even scared to go to the doctors," said the patient, who works picking strawberries.
"During the entire pregnancy, seven or eight months back, I never had high blood pressure, never — because before I made my payments, I paid my phone bill, my insurance, everything. I didn't have any stress," she said. "But when I couldn't do it anymore, it became a huge weight on me. A lot of stress, it was too much."
The scientific literature remains unclear on exactly how a woman's immigration status may impact the health of her pregnancy or childbirth. More research is needed to determine whether immigrant women in the US have higher or lower rates of pregnancy complications than US-born women, Gamboa said.
"Not all immigrants are the same. The country of origin, the time of duration that an immigrant has been in the United States, has been shown to be correlated with certain health outcomes," she said. "Because every immigrant is different, the literature to clearly describe immigration disparities in maternal health is still lacking, and so there's limitations to small population sizes and demographic characteristics."
While research into maternal health disparities seen among immigrant populations appears to be lacking, one disparity remains obvious: access to health care.
"Studies have shown later entry to prenatal care and/or no care at all for pregnant women who have more recently migrated to our country," Gamboa said.
"They've also been shown to have a higher rate of preterm birth, which could be linked to the limited access in care or other factors," she said.
"Another important thing to highlight is that the social context that immigrant women live in can deeply impacthealth outcomes," she said. "An immigrant recently arrived may have limited or no social support system, limited transportation, limited language abilities and cultural barriers that may not allow them to access the health care system the way someone else would if they'd been here for their whole life or are English speakers."
Gamboa added that, due to the fear of having their immigration status exposed, some women might not access the health resources available to them, which also could put a pregnancy at risk.
Gamboa's patient knows the cost of care all too well.
After arriving in California nine years ago, she tried to have another child but had difficulty getting pregnant. She discussed her fertility concerns with Gamboa and underwent some medical exams. To her surprise, her exams showed that she had her tubes tied in a procedure that must have been done in Mexico, she said, without her knowledge.
"When I had my last baby, my boy who is now 13, I had him in Mexico. It was a C-section, I would say, 'All this pain is normal, it's because of the surgery.' So I went back to inquire at the hospital to see my file, to see what had happened, but there was no file. It seemed like I hadn't given birth there, my baby hadn't been born there," the patient said in the documentary.
The patient had the procedure reversed, but "no health insurance, nor Medi-Cal would cover the procedure. The surgery costs about $10,000. So I looked online and found a clinic that charged me $5,800, but it was traumatizing," she said in the documentary.
The paper also noted that ACOG "supports a basic health care package for all women, without regard to immigration status, and helps achieve this by promoting universal access to health insurance for all individuals in the United States and advocating for the elimination of barriers to existing federal programs, including Medicaid."
Some Americans and organizations, however, don't share that position — making the argument that since undocumented immigrants may have broken the law coming to the country, it may not be fair for them to access the same health care services as those who migrated legally.
For Gamboa's patient, she fled Mexico to escape the violence in her community.
"In Mexico, there had been a lot of violence. So it's better to just get away from it all. And we walked for two nights … passing through the mountains," the patient said in the documentary.
"In fact, someone from immigration shot at us, but thank God the bullets didn't reach one of us. But every sacrifice is worth it," she said. "I would like for my children to not end up like me, picking in the fields, that they have a degree, to have a better future for themselves. More than anything, as parents, we always want the best for our children."
Medical student Rom Rahimian didn't work with Gamboa or her patient, but he has seen several pregnant women who made similar journeys across the border, seeking a new and safer life
One patient in Arizona will forever be lodged in his memory, he said.
Border patrol agents brought the young woman in due to concerns that she was going into early labor. As her small frame rested in the hospital bed, Rahimian noticed fear in her eyes while an agent stood next to her in the medical exam room.
"It was just such a profound case. I mean, this poor woman just came straight in from coming across the Arizona border," Rahimian said.
"I don't want to discount the cooperation that was received from ICE and the shelter … I really just want the best for all patients," he said. "I believe that every man, woman and child has the right to a good, to a healthy verdant life, where they're free of fear, and they can live healthfully and meet their maximum potential. And I think it's still possible for us as Americans to get back on the side of right."
Gamboa said that there is hope for the future of immigrants' health if we are willing to discuss and create solutions for addressing disparities in health care.
"The most important thing for people to know and to recognize is that immigrant women are women and expecting mothers just like anyone else," she said. "They want the same thing for their child, they want the same thing for themselves — to be healthy, and to thrive — and the biggest risk to immigrant women is that the limitations to having access to care and/or having fear navigating through the health care system will have detrimental effects on not just the family but as a society."
Read more: www.cnn.com