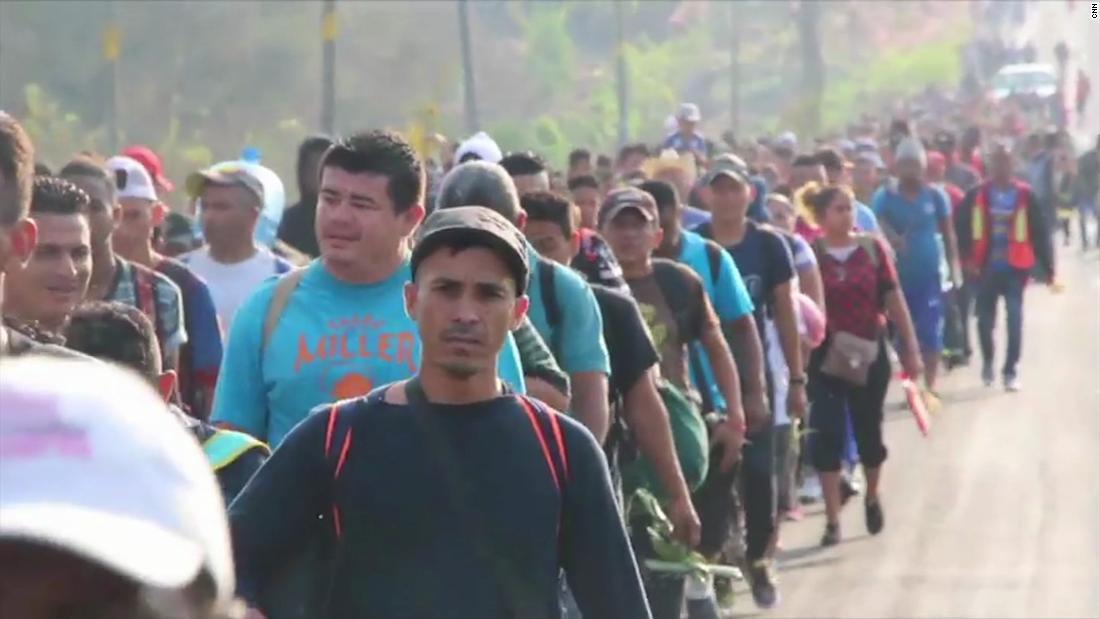 (CNN)On Thursday morning, President Donald Trump tweeted this: "The Caravan is largely broken up thanks to the strong immigration laws of Mexico and their willingness to use them so as not to cause a giant scene at our Border. Because of the Trump Administrations actions, Border crossings are at a still UNACCEPTABLE 46 year low. Stop drugs!"
To explain that all, I reached out to CNN's
Leyla Santiago, who is in Mexico and covering the caravan. Our conversation, conducted via email and lightly edited for flow, is below.
Cillizza: What is the status of the caravan currently?
Santiago: The caravan is heading to the state of Puebla in Mexico. Puebla is about two hours south of Mexico City, and about seven hours northwest of where the caravan has been camped out for days in Oaxaca.
Santiago: No. The caravan is one of many annual marches called Via Crucis in Mexico. These pilgrimages have become so symbolic, that many use that to take a stand on issues like immigration. They typically start off with a lot of people, and participants drop off at different points along the route.
This particular Via Cruz, organized by Pueblo Sin Fronteras (The People Without Borders), is now in its eighth year of the annual caravan and is made up of mostly Central Americans.
The organizers have said all along they would travel north in unity to Mexico City, and SOME will try to make it to the US/Mexico border to seek asylum. Last year, organizers tell me about 150 people made it to the border. This year, they project about 200 will get to the US/Mexico border. So yes, the caravan is diminishing in numbers and the group will disperse. But that happens every year. It's not a Trump effect.
That said, participants and organizers tell me they fear Trump. Some of the participants have decided to stay in Mexico as a result.
Cillizza: Do organizers feel like they accomplished their mission? If not, why not?
Santiago: One of the organizers told me he didn't expect to get such attention, but added that [the caravan is] meeting the goal of raising awareness of the conditions many are fleeing in Central America. The majority of participants are from El Salvador, Guatemala and Honduras. Those I've talked to tell me they are fleeing violence, political corruption and poverty.
When I asked some of them about Trump's tweet about the caravan, they argued they are NOT a dangerous caravan. The group includes women, children and men. They tell me they are not looking to harm anyone, they just want a better life for their families.
Cillizza: Will this sort of caravan happen again? In 2018? Beyond that?
Santiago: Organizers have not said. I'd say it's likely but not sure if they will have bigger or smaller group next year.
Cillizza: Finish this sentence: "By focusing so much attention on the caravan, Donald Trump did ____________." Now, explain.
Santiago: By focusing so much attention on the caravan, Donald Trump has scared some, and emboldened others.
One caravan participant, Erasmo, told me he left Honduras because of threats from gangs, and nothing can stop him at the US/Mexico border, not even the US National Guard.
Trump has also created more tensions in an already-complicated relationship between the US and Mexico. [Of Trump's move to position National Guard troops at the border], Mexico's Foreign Ministry has said: "In all of its communications on the topic, the Mexican government has stated to the US government that if the announced deployment of the National Guard results in the militarization of the border, it would seriously damage the bilateral relationship."
Read more: www.cnn.com