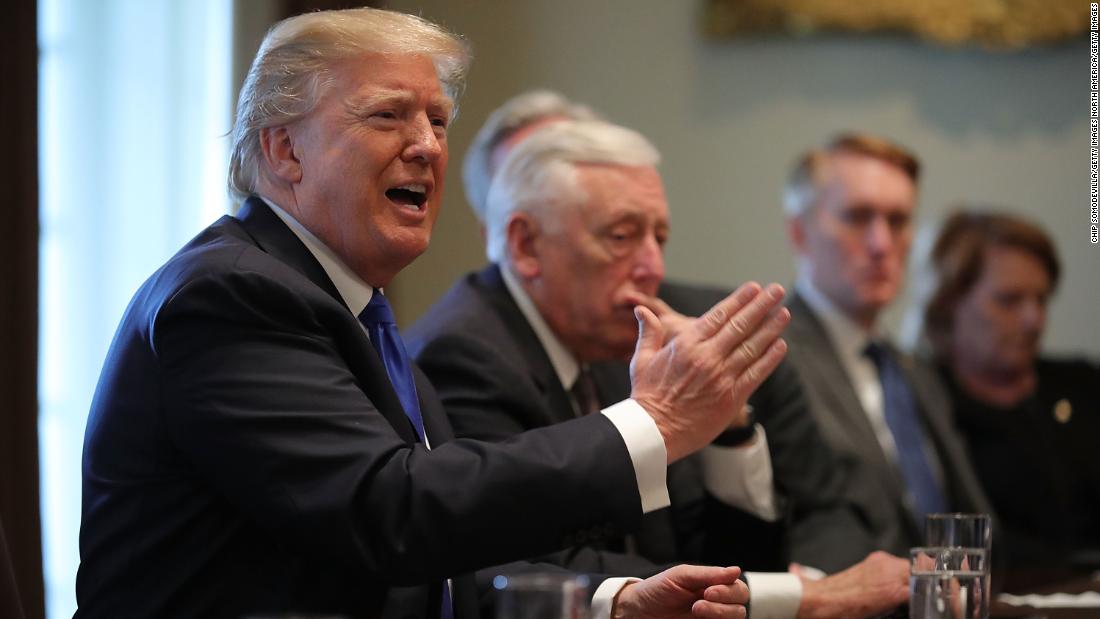 (CNN)During an hourlong performance Tuesday at a table crowded with lawmakers — let's call it The President Show — Donald Trump appeared determined to prove two things. The first was obvious: After much speculation about his temperament, inspired by the dark portrait painted in the book "Fire and Fury," he no doubt wanted to show himself to be an executive in command of the issues and fit to govern. The second was that he is a good man with a warm heart.
In truth, in the role of executive, Trump should get three out of five stars because he spoke calmly and didn't insult anyone.
However he showed little understanding of the immigration issues he was supposed to discuss and seemed to abandon his own bargaining position. He even embraced the role of a figurehead who would do whatever Congress dictates as he promised that, if "this group and others from the Senate, from the House, comes back with an agreement, I'm signing it."
Trump's turn in the role as good-hearted man was marked by lines like, "Truly, it should be a bill of love, and we can do that." He was referring to devising a plan that would protect from deportation 800,000 young immigrants who live under the Deferred Action for Childhood Arrivals (DACA) program.
The word "love", as voiced by Donald Trump, has a strange tone. It's like listening to a first-day student repeat after the instructor in a foreign language class. You recognize the words, but not the feeling behind them.
He sounded similarly off-key last autumn when he talked about how he "loved" Puerto Rico when he visited after Hurricane Maria. In fact he met few actual victims of the storm and his administration's response to the island's needs lacked the energy (read "love") shown for the people of Texas and Florida in similar circumstances.
Altogether, Trump's attempt at self-revealing comments, whether he's voicing the love in his heart for some people, or his hatred for others, like protesters and members of the press, depict a man whose emotional declarations seem manipulative, staged, and hollow.
His most authentic expressions of feeling seem to come when he's angry or mocking. In those moments, it's easy to hear that he means what he says. However when he tries to show warmth, he is far less convincing and his motivations are transparent.
When he visited the CIA at the start of his presidency Trump was trying to repair the damage done as he denigrated intelligence agencies and faced the prospect of trying to carry out policy with a bureaucracy he had savaged. His expressions of concern for the DACA "dreamers" comes as much of America worries about the fate of these young people and their deportation looms as a remarkable act of heartlessness.
Trump came alive when asked about Oprah's potential, saying, "I know her very well. You know I did one of her last shows. She had Donald Trump — this is before politics — her last week. And she had Donald Trump and my family. It was very nice. No, I like Oprah. I don't think she's going to run. I don't think she's going to run. I know her very well."
What Trump knows about Oprah is that after decades of a five-days-a-week national talk show and dozens of movie and TV roles that resonated with feeling, Oprah, one of the most famous women in the world, is known for her authenticity and warmth. No one has revealed his or her heart to greater effect and, along the way, she has made emotional honesty possible for public figures.
Recall Oprah talking about her trouble in childhood, her struggles in love, or even her effort to manage her weight and you are recalling the deeds of a woman who taught America how to speak from the heart. In the process, she demonstrated that her own heart is full, strong, and open in ways that Trump cannot match. The President surely understands the power of Oprah's emotional authenticity and it was this understanding that prompted his own effort to show warmth toward the DACA dreamers.
The trouble for Trump is that he has spent a lifetime showing the world that love and compassion are not his strengths. Whether he was trying to evict people from an apartment building he bought in New York or encouraging people to rough up protesters at his rally, Trump has shown that his true emotional nature is cold, not warm, cramped, not expansive.
With Oprah and her abundant love looming on the political horizon, Trump seems to have intuited that he needs to show a little kindness himself. If he wants the audience, or rather, the country, to buy his performance, he'll need to cultivate some of the real thing.
Read more: www.cnn.com