A meeting this week with Mexican President Enrique Pea Nieto only led to more confusion about the Republican nominees immigration plans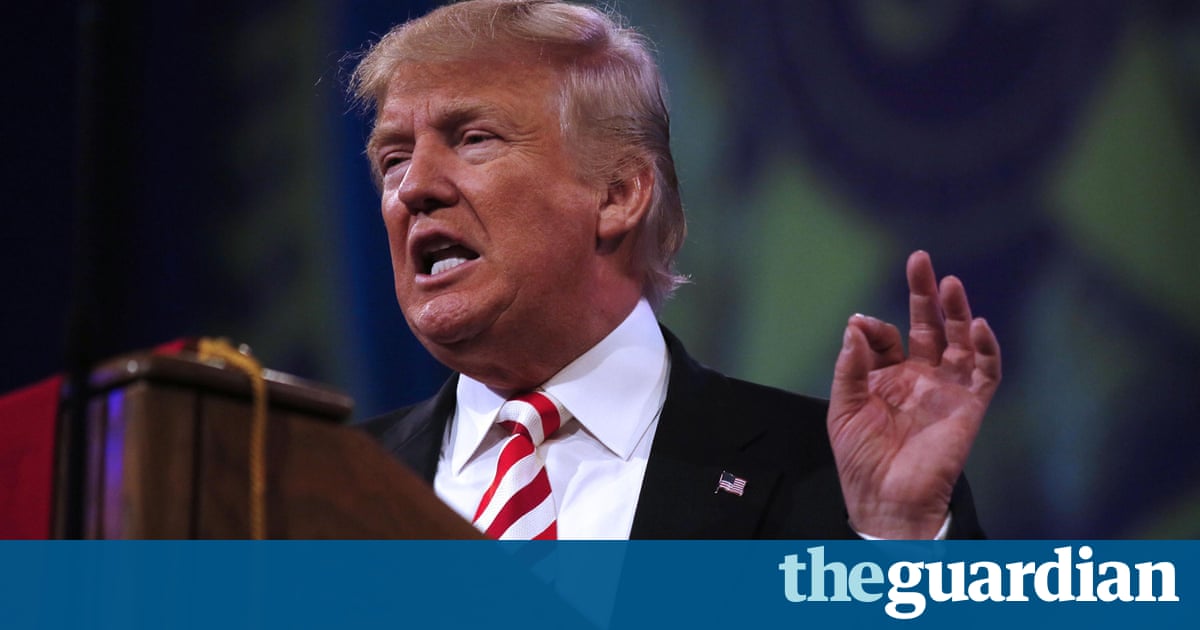 We did discuss the wall. We didnt discuss payment of the wall. Thatll be for a later date. 31 August, Mexico City
Mexican president Enrique Pea Nieto directly contradicted Trumps account of their meeting on Wednesday, writing on Twitter: At the start of the conversation with Donald Trump I made it clear that Mexico will not pay for the wall.
Trumps campaign later said the meeting was not a negotiation, meaning its possible neither man is lying and that payment for a wall was never discussed at length, though it was apparently at least raised by Pea Nieto.
Illegal immigration costs our country more than $113bn a year. 31 August, Phoenix
Trumps figure comes from a 2013 report by the Federation for American Immigration Report (Fair), a group that advocates for drastic cuts to even legal immigration and has been called a hate group by the Southern Poverty Law Center. Trump misstated the reports net estimate, which was actually $99bn including tax revenues.
The report explains its estimate by saying there are 13 million undocumented people, and includes children of migrants in that figure including 3.4 million children born to immigrant parents in the US, who are citizens merely descended from immigrants, like most Americans and Trump himself. The Fair report then tabulates $29bn in costs to the federal government and $84bn to state and local governments, mostly in education costs and medical expenses.
The Heritage Foundation, another conservative group, estimated that undocumented immigrants cost the US about $85bn in benefits in 2010. Government estimates from the 1990s put the number far lower, from about $12bn to $22bn to account for about five million immigrants. A 2007 analysis by the nonpartisan Congressional Budget Office concluded that the cost of migrants is most likely modest to government at any level, but that its hard to make any clear estimate.
Our government has no idea. It could be three million, it could be 30 million [people in the US without immigration papers]. They have no idea. 31 August, Phoenix
The government has a fairly strong idea about how many people are in the US without legal authorization. Using data from the Census, Department of Homeland Security, Office of Refugee Resettlement and surveys and analysis from Mexico and Latin American countries, the DHS and nonpartisan Pew Research have each been able to estimate the number, and arrived at similar figures in recent years: around 11.3 to 11.5 million people. The margin of error for these figures is generally around a million people at most, not 20 million as Trump says.
Pew and the DHS both try to account for deaths, under-counted groups, arrivals and departures, and have adjusted their calculations based on decades worth of research. Both have found that net migration has stabilized in recent years, and that more unauthorized Mexicans are leaving the US than entering it.
President Obama and Hillary Clinton have engaged in gross dereliction of duty by surrendering the safety of the American people to open borders. 31 August, Phoenix
The US has no open borders, though Trump appears to be using the word to denigrate Barack Obamas support for immigration reform and protection for some undocumented people from deportation. But Obama has deported a record more than 2.5 million people since he took office, including a record 438,421 people in 2013, and increased Border Patrol staff to a record 21,444 agents in 2011; his policy could not reasonably be described as amnesty or open borders.
Clinton supports reform to let people pass background checks and pay back taxes in order to stay in the US, and she supports Obamas executive actions to shield some migrants, such as people who were brought to the US as children. Like Obama, she supports the deportation for people with criminal records.
Hillary Clinton has pledged amnesty in her first 100 days, and her plan will provide Obamacare, social security and Medicare for illegal immigrants. 31 August, Phoenix
Clinton has not pledged amnesty: she has promised an immigration reform plan that would let people gradually become citizens after background checks and back taxes. She has not specified many details of the plan, but the Senates bipartisan plan, killed in 2013 by House Republicans, outlined a 13-year path to citizenship that would likely serve as Clintons model.
She also supports Barack Obamas programs for deferred action for some migrants, called Daca and Dapa (the latter is pending review in the courts). She has proposed expanding Obamas healthcare act to cover migrants regardless of immigration status, but not providing them with social security or Medicare unless they achieve some form of legal status. They could, for instance, become eligible under Daca, which would also require proof of 10 years work history, paid taxes, and reaching retirement age.
Her plan [is] to bring in 620,000 new refugees from Syria and that region over a short period of time. 31 August, Phoenix
Trump has borrowed this figure from an ally, Senator Jeff Sessions of Alabama, who claims Clinton would continue to grant asylum to 55,000 Syrian refugees every year in addition to 100,000 refugees from the Middle East in general. Clinton has called for allowing 55,000 refugees from Syria for one year, and has not proposed yearly asylum for 155,000 Middle East refugees for her term.
Countless innocent American lives have been stolen because our politicians have failed in their duty to secure our borders and enforce our laws. 31 August, Phoenix
A 2011 report from the Government Accountability Office found that illegal immigrants and other non-citizens, in our prisons and jails together, had around 25,000 homicide arrests to their names. 31 August, Phoenix
Trumps dual claims about immigrants and crime are misleading for what they dont say: context of what years hes talking about, and about what those figures actually say about crime in the US.
The 2011 report counts 25,064 homicide arrests of undocumented people, across Arizona, California, Florida, New York and Texas, but it spans six years and that figure amounts to only 1% of almost three million arrests detailed in the study. More than 500,000 arrests were for immigration offenses (18%), more than 500,000 for drug offenses (17%) and more than 400,00 for traffic violations (14%).
For context, 4,813 people were killed in police-related deaths in those six years, according to the Bureau of Justice Statistics, and there were more than 15,000 homicides each of those years in the US.
Other independent reports give more context about noncitizen crime. A 2012 Congressional Research Service report, tracking citizen and non-citizen crimes from 2001 to 2010, found that in that decade only about 0.5% of sentenced non-citizens were convicted of violent crimes, while about 5.2% of sentenced citizens were convicted for violent crimes. A separate 2014 report by the US Sentencing Commission noted distinctions in some of the 2013 figures, noting 67% of noncitizen offenders broke immigration law, and 17% were drug offenders.
Read more: www.theguardian.com