The long read: It has never been easy to win as an immigration lawyer but now the government is trying to make it impossible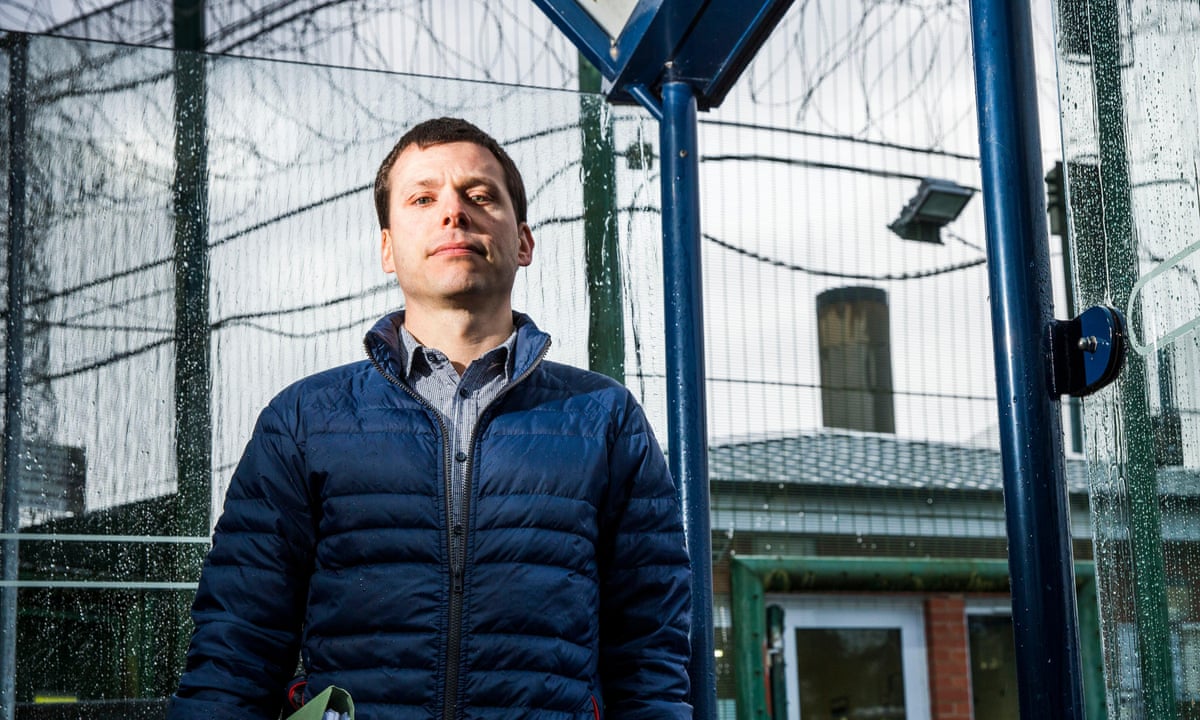 Two or three times a month, Tom Giles says goodbye to his wife and three children at their home in Abingdon, and drives north, through Oxfordshire, to Campsfield House immigration detention centre. This is Tory heartland rich fields, manicured villages, 4x4s. Campsfield sits at the end of a long country lane, opposite Oxford airports private jets and training planes. On the constituency map it is perched at the end of a Tory promontory: David Camerons Witney constituency flows down one side, Boris Johnsons former fiefdom of Henley down the other.
It is nearly 9am by the time Giles, a slight man with a gap between his teeth and a bright-eyed, youthful energy, presents himself at security. He places everything but a notebook and a pen in a locker, then is led through a series of locked doors to a small high-windowed room along a corridor lined with similarly small high-windowed rooms. He sits down at a desk, checks the handsets in front of him, finds a blank page in his notebook, and waits for his first client.
Over the next five hours, Giles sees a series of detainees for up to 30 minutes each. The men often wear standard-issue blue tracksuits and flip-flops because they were apprehended in the street and served with deportation orders, or taken from their homes at dawn and not allowed to pack their clothes, or arrived at a port with nothing. Some of them came to the UK to study and overstayed, others have lived and worked here for years. Others, exhausted after arduous journeys from Syria, Eritrea, Somalia, Afghanistan, Libya or Iraq, have been here for a few days.
Giless job, as a legal aid immigration solicitor, is to work out if a person has a legal right to stay in the UK, and if so, to try his hardest to make that possible in a legal environment that is becoming more hostile by the day. As each prisoner explains his circumstances, Giles listens, asks questions. Often he has to pick up one of the handsets, gesturing to the man before him to do the same, and they speak through an interpreter. Giles says he will do what he can, he will do his best. Increasingly, he has to say that he is sorry, there is nothing he can do.
Its just sad, Giles said after one of these sessions. Very sad. On a human, compassionate level we can all see why he should be allowed to stay. But theres also whats legally possible, and the two are not the same.
Spending time with Giles makes it clear that the space for what is legally possible has been aggressively and deliberately narrowed through a series of decisions all but invisible to most British citizens.
When MPs voted, last October, to give the immigration bill 2015-16, currently going through parliament, a second reading, Alistair Carmichael, the Liberal Democrat spokesman, protested that there had already been seven immigration bills in the last eight years and 45,000 changes to the immigration rules since Theresa May became home secretary in 2010. Specialist lawyers such as Giles, who argue that even they can barely keep up, also point to the fact that in 2013, the coalition government cut the legal aid budget by between 350m and 450m per year. At the same time it limited availability of financial help for immigration cases only to persons seeking asylum, victims of domestic violence and those in immigration detention centres seeking bail. This means that anyone applying to remain in this country, on any basis apart from asylum or domestic violence be it length of residency, a job offer, investment, marriage or family must be able to afford a lawyer (and the rapidly increasing visa application fees) or navigate a near-impenetrable system unaided.
Since the Immigration Act 1971 came into force, any migrant caught without the correct papers has been subject to removal from the UK. However, to those for whom it is politically expedient to be seen to be tough on foreigners, this is apparently not enough. The 2015-16 bill, the first since the Tories achieved their majority, received its third reading in the House of Lords on 12 April. The bill is striking for the range and ingenuity of its criminalisation of those who fall foul of the ever-shifting rules: working illegally or hiring illegal workers; renting accommodation while illegal or renting accommodation to someone who might be illegal; driving or having a bank account while illegal all would carry the possibility of substantial fines or even prison sentences. The government would be given the power to seize the earnings of illegal workers under the Proceeds of Crime Act 2002. The bill would allow immigration officers to search homes and people and to seize payslips, timesheets and nationality documents. It would also allow police officers who stop vehicles to check immigration status, and proposes that employers who want to hire non-European migrants would have to pay an immigration skills charge to do so. More than one observer Doreen Lawrence among them has pointed out that some of the powers in the immigration bill, specifically right-to-rent and the right to ask motorists for immigration papers, are effectively permission to discriminate on the basis of colour.
In this already difficult arena, Giles specialises in defending some of the most difficult and unpopular cases of all: those subject to deportation, and foreign nationals imprisoned in British jails. And he is very good at it. Partly because he will take up cases others will not, and keeps fighting them even when repeatedly knocked back, a significant number of Giless cases have gone up to the highest courts in the country and entered the law books as having proved important points of principle, about rights of appeal, for instance, or who should, under the new dispensation, be allowed legal aid.
In a few months timeGiles will go to the supreme court with a case that tests one of the most sweeping measures in the new bill: deport first, appeal later, which allows the government to deport people even if they are in the middle of a legal appeal. It is currently applied only to prisoners in the criminal justice system who also happen to be foreign (they may well be legally here), and since July 2014, have automatically been deported at the end of their sentences. The new bill reiterates a Tory manifesto pledge, that deport first, appeal later should extend much further and apply to all migrants, except for refugees.
Because this proposal was in the Tory manifesto it is not subject to amendment in the Commons or the Lords. The only way to fight it is in the courts, which means that if Giless supreme court challenge is successful, the consequences would reach throughout the immigration system.
---
Giles is a partner at Turpin Miller,a legal aid firm in east Oxford. When we met at his office last summer, there was a heatwave and on the top floor it was hot overwhelmingly, enervatingly hot. Open windows and fans made little difference. Already scrappy pot plants struggled not to collapse altogether. Giles sat among files files on the floor, files in cardboard boxes, files in cabinets lining the walls. Its a fight with paper! he said. I actually did tidy up in your honour.
Most of the files were opened after he met detainees at Campsfield, or after calls directly to the office, or, quite often, after meeting prisoners at HMP Huntercombe, a prison that houses only foreign offenders. Giles often gets the feeling no one comes to see them other than the Home Office. On visit after visit he sees how bravado battles with vulnerability, extreme tension with politeness, self-harm with hours in the gym. A number of my clients have been or are on suicide watch. In my experience the numbers have increased, Giles said.
In the past, he used to explain human rights appeals to clients as a set of scales, with the offence on one side and everything else family and private life, length of residency, legal status, good behaviour weighed up on the other. But the scales just dont exist anymore. Now theres only one outcome: not just a decision to deport, but a pursuit of that to the bitter end.
Read more: www.theguardian.com