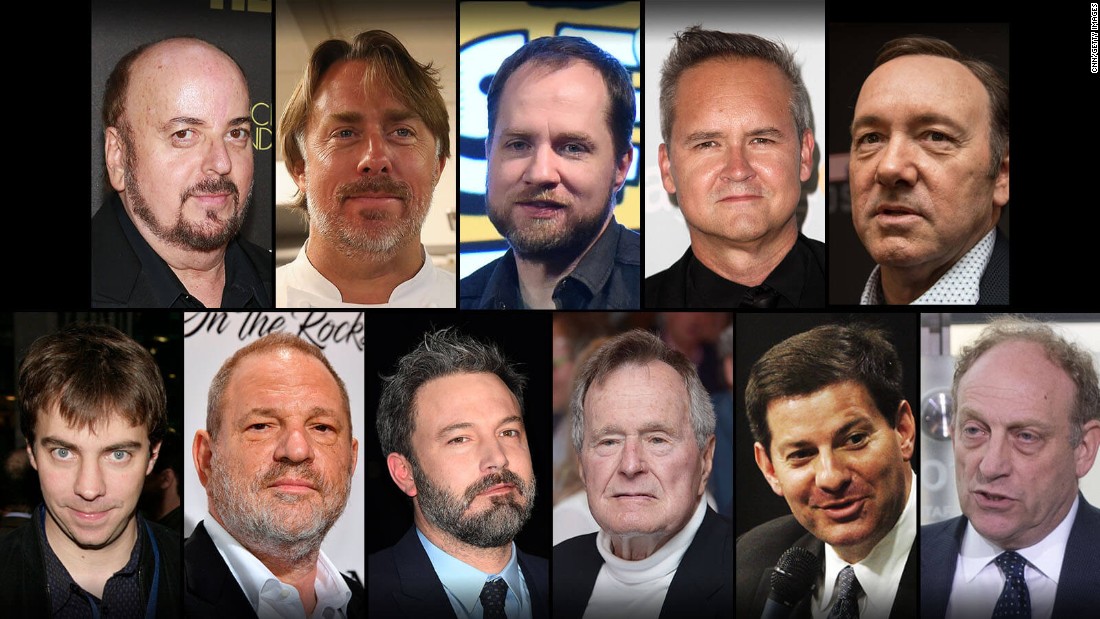 (CNN)It's only been a few weeks since the sexual assault allegations against media mogul Harvey Weinstein exploded into public view. Since then there have been new allegations made against other powerful men in various industries seemingly almost every day.
From companies taking a second look at their sexual harassment policies to the tide of #MeToo stories flooding social media, the controversy has sparked the biggest national conversation on sexual harassment since the Anita Hill-Clarence Thomas battle in the early '90s. Prominent actors and actresses have come forward with stories that put fellow Hollywood A-listers sharply in the spotlight.
This list of men who've been accused of sexual harassment focuses just on allegations on which CNN has reported. There are accusations against other powerful men out there. As the days and weeks go on, this list will undoubtedly keep growing. This list also doesn't include powerful men like Bill Cosby, Roger Ailes or Donald Trump; allegations against them came before Weinstein.
Movies
Harvey Weinstein
It started a flood of new accusations from dozens of other women, including some who said Weinstein had raped them. Weinstein has denied any claims of nonconsensual sex. He was later fired from his own film company and his wife left him.
Rumors and stories about Weinstein had been circulating through Hollywood's grapevine for years, leading many to ask how such alleged behavior could go on for so long.
Toback told the newspaper he had never met any of the women — or if he did meet them, it "was for five minutes and (he had) no recollection." He said that for the last 22 years, it was "biologically impossible" for him to take part in the behavior the women described in the article, saying he had diabetes and a heart condition requiring medication, the Los Angeles Times reported. He declined to elaborate.
McAdams met with Toback under the guise that they'd be talking about work, in particular, a role in 2001's "Harvard Man," which Toback wrote. Instead, McAdams said their meeting was filled with inappropriate comments from Toback that left her feeling uncomfortable.
"I acted inappropriately toward Ms. Burton and I sincerely apologize," Affleck later wrote on Twitter.
"President Bush would never — under any circumstance — intentionally cause anyone distress, and he most sincerely apologizes if his attempt at humor offended Ms. Lind," the former President's spokesman said.
Later, in a second statement, spokesman Jim McGrath said:
"At age 93, President Bush has been confined to a wheelchair for roughly five years, so his arm falls on the lower waist of people with whom he takes pictures. To try to put people at ease, the president routinely tells the same joke — and on occasion, he has patted women's rears in what he intended to be a good-natured manner. Some have seen it as innocent; others clearly view it as inappropriate. To anyone he has offended, President Bush apologizes most sincerely."
The accusers also said Savino would threaten to blacklist women he was no longer involved with.
"I am deeply sorry and I am ashamed," Savino wrote in a letter posted on his Facebook account. "Although it was never my intention, I now understand that the impact of my actions and my communications created an uncomfortable environment."
The harassment accusations stemmed from an incident in 2015 at Comic-Con. Hackett alleged that Price repeatedly made lewd comments to her, despite her rebuffs.
Hackett told The Hollywood Reporter that she reported the improper behavior to Amazon at the time.
They described a hostile corporate culture where sexual harassment flourished. The accounts included inappropriate touching and comments from male employees and managers, some of whom tried to leverage their power for sex. Those who complained were berated, ostracized or ignored.
One former employee filed a complaint with the Equal Employment Opportunity Commission, claiming that Besh "attempted to coerce" her during a "monthslong sexual relationship."
Besh, who has not responded directly to the allegations, enjoyed celebrity status in a city whose identity is tied to its food. His restaurant group employs more than 1,000 people in New Orleans, San Antonio and Baltimore in top-rated restaurants such as August, Lüke, Domenica and Shaya. Harrah's New Orleans Casino said it is terminating its relationship with the restaurant group.
Halperin issued two apologies in response to the accusations, saying in the first he "did pursue relationships with women" that he worked with but that he now understands "that my behavior was inappropriate and caused others pain." He did, however, deny grabbing a woman's breasts and pressing his genitals against the bodies of three other women.
Oreskes admitted to wrongdoing in an internal memo obtained by CNN.
"I am deeply sorry to the people I hurt. My behavior was wrong and inexcusable, and I accept full responsibility," Oreskes wrote.
"To my colleagues, I am grateful for every minute I've had to work with each of you," he wrote. "NPR has an important job to do. Public radio matters so much and I will always be your supporter."
After getting fired a month later "due to lack of productivity," Rohatensky reported what happened with the unnamed VP, but later learned that "his punishment was being told he could not drink at corporate events any longer."
Vox has hired a law firm to look into the accusations, and Rohatensky has met with the investigators.
Read more: www.cnn.com