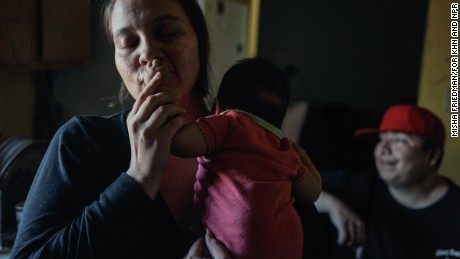 Cody Pedersen and his wife, Inyan, know that in an emergency they will have to wait for help to arrive.
When Inyan, 34, was preparing to give birth to her two youngest children, doctors scheduled her to have C-sections in a hospital rather than having her come in to give birth after she went into labor. In January, Cody was stabbed in the neck. It took an ambulance two hours to arrive.
Though he survived, Cody knows that unless he and his family go themselves to seek care, which is often hours away by car, they're unlikely to receive it.
Cody, 29, and his family live in Cherry Creek, a Native American settlement within
Cheyenne River Indian Reservation
in north central South Dakota. The reservation is bigger than Delaware and Rhode Island combined, but in Cherry Creek there is no general store, no gas station and few job opportunities. A 17-mile gravel road in Cherry Creek connects to a better road which eventually leads to Eagle Butte, the largest town on the reservation, and home to just over 1,300 people. That's where the closest doctors are.
When Cody runs out of gas money, he has to pay $40 to a neighbor to take him to the health center in Eagle Butte. But he can't even do that before lucking out and securing an appointment, calling at 7 a.m. on the same day he wants to see a doctor. Clinics like the one Cody goes to do not allow patients to schedule appointments in advance. And it affects their everyday lives: Their 11-year-old daughter Makrista missed school for two weeks because they can't get a doctor's note to vouch that her head lice has gone away. And, the family said they can't get the note because the clinic in Cherry Creek has been closed for weeks.
For Larson, herself an American Indian, the year and a half that she's spent as a nurse at the clinic in Pierre has allowed her special relationships with her patients.
She said that care for them would improve if the clinics, hospitals and doctors serving American Indians worked together. For now, Larson is leaving her own mark the best she can: On many days, you can find her visiting patients to make sure they're on track and, through a federal program, she even goes food shopping with some to help make sure they're eating food that will keep them as healthy as possible.
Read more: www.cnn.com