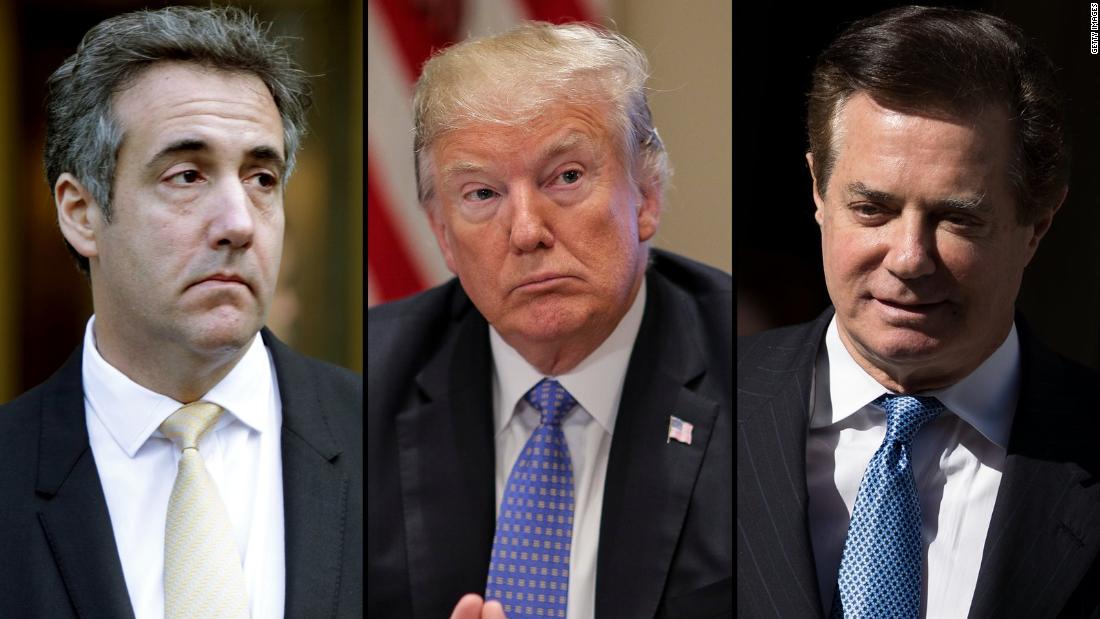 (CNN)Faced with the nearly simultaneous guilty plea of his former fixer and the guilty verdicts for his former campaign chairman, President Donald Trump responded Tuesday with some old standbys: "No collusion!" and "witch hunt!"
He was responding to a question about the Manafort verdict, but the guilty plea of his former lawyer and fixer Michael Cohen means the President might want to find a new defense. Here's why:
First, with Cohen's implication of Trump in a hush money scheme, the legal woes of Trump's former associates extend beyond the Robert Mueller probe. Trump
tweeted Wednesday morning
, attacking Cohen's credibility and saying he had made things up.
Second, collusion to influence the 2016 election — albeit not with Russia — is exactly what Cohen accused Trump of doing when he said the President had directed him to influence the election by engineering payoffs to women who alleged affairs with Trump.
Mueller has actually made progress
Trump's argument that Mueller's probe hasn't found
anything relating to Russia
ignores the many indictments of Russians accused of trying to interfere in the US election. And it ignores the guilty pleas from a former Trump campaign foreign policy adviser who has admitted to lying to authorities and trying to set up meetings with Russians.
It ignores the infamous Trump Tower meeting between a Russian woman who was offering compromising information on Democratic nominee Hillary Clinton. Mueller, by the way, is still very actively conducting his probe. More direct allegations of collusion with Russia could be on their way.
Read more: www.cnn.com