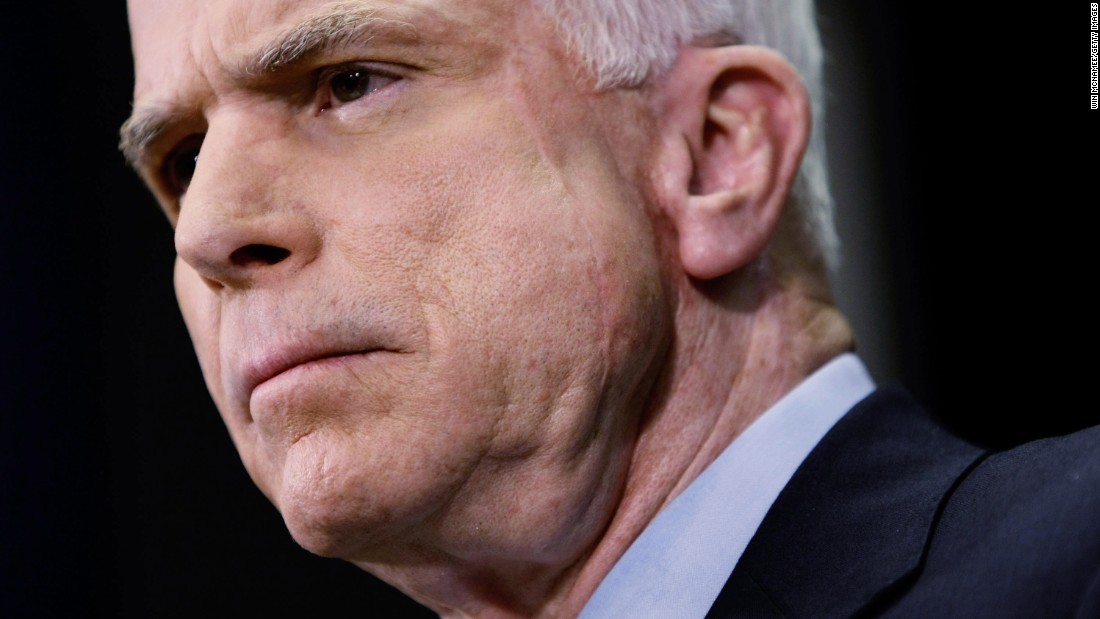 (CNN)After being diagnosed with a primary glioblastoma, an aggressive type of brain cancer, Sen. John McCain and his family are reviewing treatment options with his doctors at Mayo Clinic Hospital in Phoenix.
A tissue sample, taken while surgeons removed a
blood clot from above McCain's left eye
on Friday, revealed the 80-year-old Arizona senator's cancer. Post-operative imaging showed that the tumor had been completely removed, his doctors told CNN.
He's continuing to recover at his Arizona home with his family and is eager to get back to work. "He is grateful to the doctors and staff at Mayo Clinic for their outstanding care, and is confident that any future treatment will be effective," according to a
statement from the senator's office
.
Once McCain's surgical incision heals, such treatment options may include a combination of chemotherapy and radiation.
Glioblastoma can be difficult to treat. Average survival for malignant glioblastoma tends to be around 14 months with treatment, according to CNN Chief Medical Correspondent Dr. Sanjay Gupta, a practicing neurosurgeon.
Currently, "the general approach is to offer patients a combination of radiation and chemotherapy as a first-line treatment," said Dr. Matthias Holdhoff, a medical oncologist and associate professor of oncology in the brain cancer program at Johns Hopkins University School of Medicine in Baltimore. He was not involved in McCain's care.
"Based on this, we're trying to build on that standard of care," he said.
So, in the future, there might be more cutting-edge treatment options for glioblastoma patients.
"There are many exciting areas in research in primary brain cancers, and most clinical trials are in gliobostomas, in part because they are the most common primary brain cancers in adults," Holdhoff said.
A 'quest for finding better treatments'
Clinical trials being conducted across the United States are exploring immunotherapies, vaccines and targeted therapies in addition to traditional treatments, said Dr. Manmeet Ahluwalia, a brain tumor oncologist, professor and director of the brain metastasis program at the Cleveland Clinic in Ohio.
He is not involved in McCain's care, but his team at the Cleveland Clinic has enrolled patients in a number of clinical trials for glioblastoma treatments.
"The brain tumor community is very united in our quest for finding better treatments for our patients, and I think the progress will come through clearly planned and orchestrated clinical trials, looking at both approaches, immunotherapies … and appropriate uses of targeted therapies, which will go and attack the genes that drive a particular tumor," Ahluwalia said.
As for potential vaccine options, "the hope is that we are using vaccines to keep the tumor from coming back," he said.
These treatment options, which are still in early phases of research, are not yet approved and available for the general public. As the research is still ongoing, it remains unclear how much any of the potential treatments would someday cost.
Targeted cancer therapies
Targeted cancer therapies are drugs or other substances that block the spread of the disease by targeting and interfering with specific molecules involved in its growth and progression, according to the
National Cancer Institute
.
Though such therapies may sound promising in theory, study results have been unexpectedly disappointing, said Dr. Eric Holland, senior vice president and director of the human biology division at the Fred Hutchinson Cancer Researcher Center in Seattle.
"Individual drugs and combinations of them that hit more than one target have all been tried, and thus far, they've not really shown a whole lot of promise or certainly have not been as successful as we have liked," Holland said.
Some side effects of targeted cancer therapies include diarrhea; liver problems, such as hepatitis and elevated liver enzymes; skin problems; problems with blood clotting; and high blood pressure, according to the
National Cancer Institute
.
Immunotherapy
On the other hand, some studies have shown immunotherapies to work well against certain cancers, such as melanoma and lung cancer, he said. Yet more research is needed to determine the promise of immunotherapies for glioblastoma.
Cancer
immunotherapy
is a type of treatment that harnesses the body's own immune system to recognize, target and attack the disease, similar to how the immune system helps the body fight infections and other diseases.
Some side effects of immunotherapies include skin reactions, flu-like symptoms, heart palpitations, sinus congestion, diarrhea or even fatal allergic reactions, according to the
National Cancer Institute
.
Immunotherapies can come in many forms — vaccines, antibody or cellular therapies, or drugs — and can be received through an injection, a pill or capsule, a topical ointment or cream, or a catheter.
"There is a great deal of excitement about some of the immunotherapy-based approaches in treatment of glioblastoma," Ahluwalia said. "Immunotherapy has been shown to be promising in a number of other cancers, like lung cancer and melanoma. We are currently evaluating a number of such approaches. The ones which are most furthest along are some trials that are evaluating
nivolumab
, which is an anti-PD1 therapy in combination with chemotherapy and radiation."
In other words, the
immunotherapy drug nivolumab
unleashes an immune system attack on cancer by blocking the activation of a protein called PD-1, which would otherwise inhibit that attack, according to to MD Anderson Cancer Center. The hope is to extend the life of the patients with this treatment.
The diseases in which immunotherapies have shown promise, from skin to lung cancers, tend to involve tumor types that have many point mutations in them, Holland said. Point mutations are changes in specific locations in the tumor's DNA.
For instance, "in melanoma, it's the sun's damage to DNA, and smoking causes the lung damage" in lung cancer, Holland said.
When such genetic mutations occur in a tumor, they can cause the tumor to appear like a pathogen or foreign substance in the body, which the immune system can recognize and attack when triggered by an immunotherapy.
However, "brain tumors tend not to be that way," Holland said. "They tend to not be caused really by point mutations. They don't have a lot of point mutations in them."
While "it's certainly a very interesting concept … this concept would also need to be rigorously tested further," said Holdhoff, who was not involved in the study. "We need to see how data will pan out when it's studied in a study that's looking at actual efficacy and overall benefit."
Cancer vaccines
Cancer vaccines, in particular, are another treatment approach in the immune space.
Such vaccines are classified as active immunotherapies because they rely on activation of a patient's immune system to recognize and destroy a tumor, according to a 2014 paper in the
Journal of Immunology Research
.
As a treatment, cancer vaccines are intended to treat an existing cancer by strengthening the body's natural immune response against the cancer, according to the
National Cancer Institute
.
"Vaccines will target a very specific antigen, and it could be, for example, a mutation that's found in the tumors, and that would make that tumor cell recognized by the immune system, and you could vaccinate against it," Holland said, adding, "It's not completely clear how well those work."
Many of these cutting-edge treatments, however, come with challenges.
Challenges and enthusiasm
No matter the treatment option, Holland said, crossing the
blood-brain barrier
remains to be a challenge for any brain cancer treatment approach.
The barrier includes a network of blood vessels and tissue that not only helps keep harmful substances from reaching the brain, it might block medicines from entering the brain.
"It's certainly one of the biggest challenges," Holland said. "Of all the drugs that are out there, really it's a small percentage of them that can get into the brain in any reasonable concentration that would be effective."
Nonetheless, Holdhoff, the oncologist at Johns Hopkins Medicine, said that the significant interest in glioblastoma treatment research shows no signs of slowing down.
"There is a great need for more research, and there is great enthusiasm across the board to improving on our standard of care," he said.
Read more: www.cnn.com