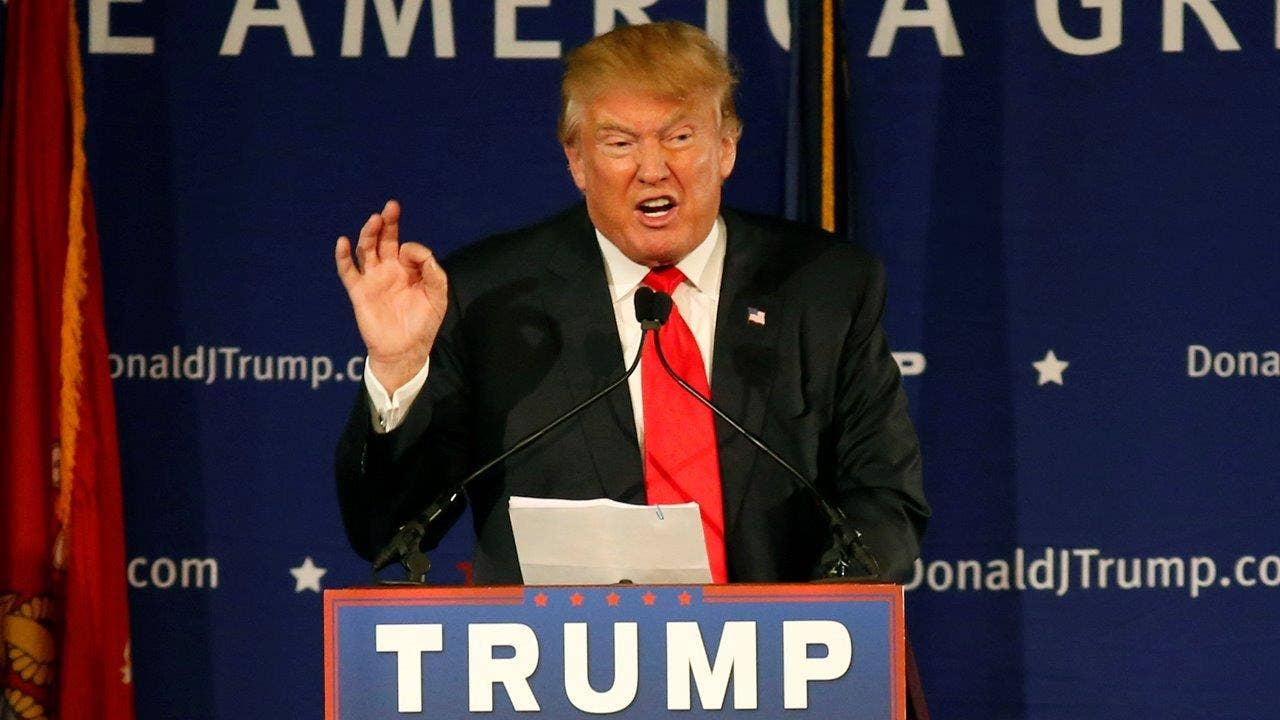 **Want FOX News First in your inbox every day? Sign up here.**
Buzz Cut:
The five stages of a Trumptation
AEHQ: In Depth on ISIS
Hillary doesnt mind big banks when they write big checks
As Friday shutdown looms, funding talks hit a snag
Sir, why are your socks buzzing?

THE FIVE STAGES OF A TRUMPTATION
A Trumptation that moment when the GOP frontrunner becomes the total focus of the political press based on an intentional provocation has a well-defined lifecycle.
Stage One: Donald Trump has a fever and theres only one cure
In the case of this weeks outrage, Donald Trumps problem was that he was not getting enough attention in the wake of the attacks in San Bernardino and the presidents Oval Office address. Trump was not only out of the limelight, but he suddenly found himself for the first time ever trailing his new chief adversary, Sen. Ted Cruz, in an Iowa poll.
The discussion on Monday and Tuesday was all about Obama. And not in a good way. The presidents decision to tack five minutes of partisan palaver onto the end of his address to the nation had opened wide the door to criticism of his tone and his policies. Presumptive Democratic nominee Hillary Clinton was trapped in his orbit and one could start to see how 2016 could be a referendum on Obamas record on Islamist terrorism.
Part of Obamas partisan punch was that Americans should resist calls for broad-based discrimination on religious grounds. The response from the GOP was a collective scoff. Republicans said they were focused on killing the members of ISIS and improving terror safeguards, not religious discrimination. Obama, Republicans said, was just trying to distract from his own failures.
And then Trump arrived to turn Obama from partisan to prophet.
Stage Two: Mutual interest prevails
Assume that what Trump and almost all Republicans believe about the press is true and that under every blouse and suitcoat is a Hillz for Prez t-shirt. Assume also that these same journalists are desperate for ratings or clicks. If Trump offers them a controversy that will both drive attention and help Democrats, how could they say no?
A journalist might feel bad about such feverish coverage of any candidate unless they thought it was actually good for the country. If youre on the Trump train, then its easy. Trump it up. And if youre a liberal Democrat who thinks that it would be very bad for any Republican to win, its easy too. Wall-to-wall coverage of the Republican frontrunner calling for the federal government to institute religious tests is not just good business, but its also patriotic. Light em up.
As Trump learned in his birther endeavor in 2011, theres lots of attention to be had in living up to the caricature Obama has drawn of Republicans.
Stage Three: The inquisition
Now, its not like America will or can start making people swear religious oaths. What would immigration officials do? Demand visitors eat bacon sandwiches? But if youre a Republican being interviewed by the media on any topic under the sun — from terrorism to tax policy — you can expect the interview to immediately turn into an interrogation about that thing Donald Trump said.
This one is ripe enough that it has been easy and direct for most in the party to disown and denounce. Even Trumps cleanup excepting Muslim military personnel, etc. hasnt sufficiently confused the issue to create many traps. Fear of a Trump backlash isnt what it used to be. The backlash is continual so his rivals can at least try to get in on the upside.
As always, Cruz plays it a little differently. Cruz differed with the policy but in keeping with his 12th Commandment Thou shalt not speak ill of the Trump Cruz declined to offer his opinion on the Muslim ban itself or Trumps rhetoric.
Its what you could call a vultures good manners. It is uncouth to denigrate your dinner.
Stage Four: Hardening hearts
Trump faces long odds for the nomination, made longer by this kind of conduct. The more dangerous he becomes to not just the Republican Partys prospects in the next election but future as a viable opposition party a generational catastrophe that Paul David Miller compares to the Agrarian Revolt that wrecked Democrats the more urgent the effort will be to unite against him.
Trump has one hope, which has been his best hope all along: Jeb Bush. While Bush strives to be the last man standing against Trump, Trump no doubt wishes for the same thing. Bushs PAC man, Mike Murphy, has started what promises to be a very ugly and very profitable (at least for him) effort to tear down Cruz and Sen. Marco Rubio, even as the latter increasingly rates as the partys best-liked figure and best hope to defeat Hillary Clinton. Bush isnt exactly a furnace of potential these days, but maybe he can claw his way over Rubio and give Trump a chance to stage a hostile takeover of the GOP.
So while you cant count Trump out, the urgency in the efforts for Republicans to unite and defeat him is intensifying. Candidates weighing whether to drop out, donors waiting for the signal to jump in and undecided voters all have more reasons to get going today than they did on Monday.
Those who felt indulgent toward Trump or maybe even a little Trump-curious themselves will increasingly join the ranks of the opposed, if only for electoral purposes.
Stage Five: In the trenches
If you liked Trump when he was receptive to a reporters suggestion that Muslims be registered with the government, you wouldnt like him any less today.
If you believed in Trump when he was calling for the revival of Operation Wetback, today is not the day that you walk out.
If you agreed when Trump said that perhaps a Black Lives Matter protester should have been roughed up, this is far from the end of the line for you.
If anything, today will be another baptism by fire for the Trump nation. They will not abandon their man, especially when he is under attack by the liberal media. And this is the real genius of Trumps method. He seeks negative attention from the press which then helps reinforce his message to his supporters: That they are under siege and fighting together.
Many of Trumps backers feel under siege anyway, and by more than just reporters. They are facing a broken economy, an unraveling culture and a future that looks increasingly grim for themselves and their country. Going down fighting doesnt sound so bad to them.
For now, the cycle works well for both Trump and his media frenemies. It remains to be seen whether it will work so well for his committed supporters.
AEHQ: In Depth on ISIS – Tonight on Special Report with Bret Baier the AEHQ: In Depth series dives deep into the 2016 candidates stances on terror, especially relating to how to combat ISIS. Tune in for the next installment of AEHQ: In Depth at 6 p.m. ET.
[Megyn Kelly follows new clues on what motivated the San Bernardino couples rampage on Mondays The Kelly File. Watch here.]
WITH YOUR SECOND CUP OF COFFEE
James Thurber told many witty and engaging stories, but his own story was not a happy one. Born this day in 1894, Thurber would rise from his humble, Midwestern roots to become one of the 20th centurys great humorists, and foundational writer at the New Yorker, thanks in part to Thurbers lifelong friend E.B. White. The Paris Reviews 1955 interview with Thurber asked him how he managed to craft his unique brand of humor. Thurber answered, With humor you have to look out for traps. Youre likely to be very gleeful with what youve first put down, and you think its fine, very funny. One reason you go over and over it is to make the piece sound less as if you were having a lot of fun with it yourself. You try to play it down. In fact, if theres such a thing as a New Yorker style, that would be it playing it down.
Got a TIP from the RIGHT or the LEFT? Email FoxNewsFirst@FOXNEWS.COM
POLL CHECK
Real Clear Politics Averages
Obama Job Approval: Approve 44.2 percent//Disapprove 51.2 percent
Directions of Country: Right Direction 28.4 percent//Wrong Track 63.0 percent
HILLARY DOESNT MIND BIG BANKS WHEN THEY WRITE BIG CHECKS
WashEx: Hillary Clintons Wall Street reform plan, which she outlined Monday in a New York Times op-ed, calls for greater personal accountability for the same banking executives that have supported her campaigns for years But Clinton has raked in donations throughout her career from executives who skirted successful prosecution after the financial crisis. During the last Democratic presidential debate, she attempted to explain away Wall Streets longtime support of her Senate campaigns by claiming big banks contributions stemmed from the geographic location of the 9/11 terror attacks. For example, Goldman Sachs executives together gave more than $750,000 to Clintons Senate campaigns, according to the Center for Responsive Politics. The financial firm has paid her and her husband generous six-figure speaking fees to attend events hosted by Goldman Sachs executives.
JEB HAS NEW PLAN TO RESTORE FEDERALISM
Jeb Bush argues his new plan to restore federalism will give more power back to the states. Bush, highlighting his two terms as Florida governor, says that too many local decisions are being made at the federal level when they need to be made by those actually in the local school districts or hospitals.
AS FRIDAY SHUTDOWN LOOMS, GOV FUNDING TALKS HIT A SNAG
WaPo: Congressional leaders are preparing for days of heavy negotiations over a year-end spending bill as lawmakers try to reach a deal before Friday and avert a government shutdown[N]egotiators are still deadlocked over several policy riders that GOP lawmakers want to attach to the must-pass legislation as well as over what do with a package of tax breaks that could also be added to the billlawmakers on Monday said how long to extend the tax breaks for businesses and individuals has become a particularly thorny issue, with some members worried about the cost of the package and others complaining there are too many giveaways to corporate interestsAides and lawmakers said the talks over the spending and tax packages are increasingly intertwined as House and Senate leaders work to craft a deal that would allow both parties to claim some policy victories.
Ryan says more time may be needed – AP: House Speaker Paul Ryan says Congress may miss its Friday deadline to wrap up a huge $1.1 trillion spending bill and an ambitious renewal of tax breaks for businesses and individuals. The Wisconsin Republican told a radio station in his hometown of Janesville that it might take us more than just this week to get these issues put together correctly.Lawmakers face a Dec. 11 deadline to avoid a government shutdown and its looking increasingly obvious that a short-term funding bill will be needed.
SOUND OFF: READERS RESPOND TO 2016 GOP POWER INDEX
The power index is rather stupid! Seems it is based on how many idiots in the media put forth a candidates name out there. J Strickland
No one is going to secure the border like Trump; no one is going to save our country in every area the silent majority cares about from immigration, the military, helping veterans, cutting the waste in government, keeping Medicare and Social Security through cutting waste and fraud, defeating ISIS, solving the Muslim problem and terrorism in our country, saving our culture as a Christian/Judeo country, and on and on like Trump will. Mary South
SIR, WHY ARE YOUR SOCKS BUZZING?
ArabianBusiness.com: A pilot who was fined for allegedly attempting to smuggle sex toys into Bahrain has lodged an appeal against the penalty, according to local media. Gulf Daily News reported the 49-year-old Bahraini pilot was detained by customs officials at Bahrain International Airport when they became suspicious after he was observed walking unusually. The pilot, who arrived on a flight from Thailand, was found to have two sex toys hidden in his socks, with another in his jacket, according to prosecutors in the Lower Criminal CourtIn his defence, the pilot said he brought the sex toys for health reasonshe said in a statement to prosecutors. I bought them for my friends and myself for personal use to help us sexually because we suffer from severe diabetes. Inside the sex toy there is a device that helps that.
AND NOW A WORD FROM CHARLES
[The president] locates the origin of all that recruiting in what we do, and he thinks therefore, the cue is for us to do as little as possible. Its an insane strategic view of the world, but he actually holds it. Charles Krauthammer on Special Report with Bret Baier Watch here.
Chris Stirewalt is digital politics editor for Fox News. Want FOX News First in your inbox every day? Sign up here.
Chris Stirewalt joined Fox News Channel (FNC) in July of 2010 and serves as digital politics editor based in Washington, D.C. Additionally, he authors the daily "Fox News First" political news note and hosts "Power Play," a feature video series, on FoxNews.com. Stirewalt makes frequent appearances on the network, including "The Kelly File," "Special Report with Bret Baier," and "Fox News Sunday with Chris Wallace." He also provides expert political analysis for Fox News coverage of state, congressional and presidential elections.
Read more: www.foxnews.com