The Long Read: For three days in July, thousands of Americans who cannot afford private healthcare converge on a field in Appalachia for the largest pop-up health clinic in the country. And many of them have not seen a doctor or a dentist in years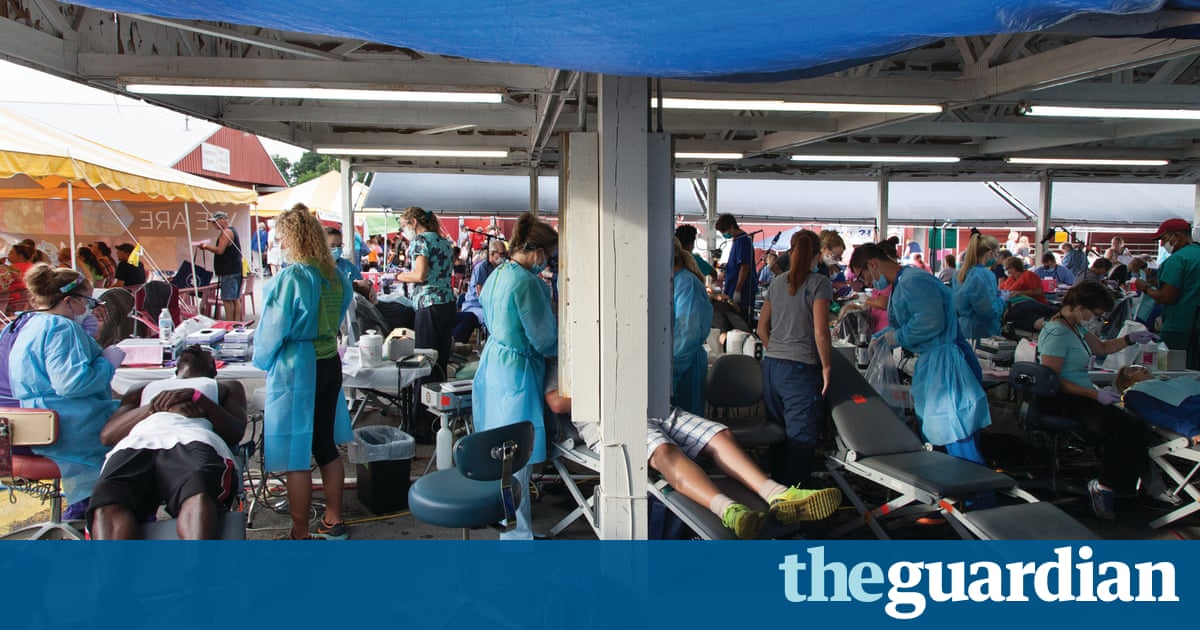 Nearly 33 million Americans more than 10% of the countrys population have no health insurance. While the very poorest are entitled to Medicaid coverage, millions more narrowly fail to qualify, but remain too poor to pay for private health insurance. Among those who do qualify for subsidised plans or manage to pay insurance contributions, paying for minor treatments such as fillings and eye tests is often a problem, as they may not be covered by basic healthcare plans. Even finding local doctors who accept Medicaid can be so challenging that it can seem easier just to work through the pain or to self-medicate.
Virginia is one of 19 states refusing federal dollars to close the healthcare coverage gap for people not poor enough for Medicaid, but too poor for anything else. Yet at the Wise County Fairgrounds in Southwest Virginia, for one late-July weekend each year, there is a small glimmer of hope. For three days, a non-profit organisation known as Remote Area Medical (RAM) builds a pop-up clinic the largest of its kind in the US from the ground up, and serves more than 2,000 patients from more than 15 different states. These patients come in the hope of getting cavities filled, lungs x-rayed and new pairs of glasses made for free.
RAM was founded in 1985 by Stan Brock, a British philanthropist, actor, author, naturalist, cowboy and former TV host. The organisation is funded entirely via private donations and except for a small, paid staff completely dependent upon thousands of volunteers for everything from performing oral surgery to making up bags of Cheerios to hand out to patients toddlers. In addition to international and disaster-relief missions, the group has held more than 800 general health-clinic events across 12 states throughout the southern and south-western United States. In the past five or six years, it has added urban stops such as Los Angeles and Chicago to its regular locations.
As I pull up to the Wise County Fairgrounds clinic this summer, dozens of rows of cars glint in the sun patients vehicles in one field, volunteers in another. Those seeking care are given entry numbers based on the order in which they arrive, and cannot leave without forfeiting their place. Many make plans to camp out for up to two days before the gates even open sleeping in their cars, in tents, or on the ground, to make sure they snag a low number.
---
By 3.30am on Friday,volunteers with torches are moving from car to tent to car in the patient lot, handing out admission numbers for the day. By the time the sun rises at 6am, they have given out 1,600 tickets to the clinic. On Saturday morning, they will give out about 600 more.
I meet Sheila Harris, a 58-year-old former paralegal, in the early hours of the opening day. Sheila has worked her whole life, but after the birth of the last two of her six children, steady legal work dried up, and she now earns only a small income taking care of children in her home. She is one of the first hundred people allowed through the gates. Hundreds more are packed outside the fairgrounds fences, waiting to hear their numbers announced via megaphone.
Read more: www.theguardian.com