A programme of cash transfers tied to regular health checks for children has turned Peru into a remarkable success story in tackling infant malnutrition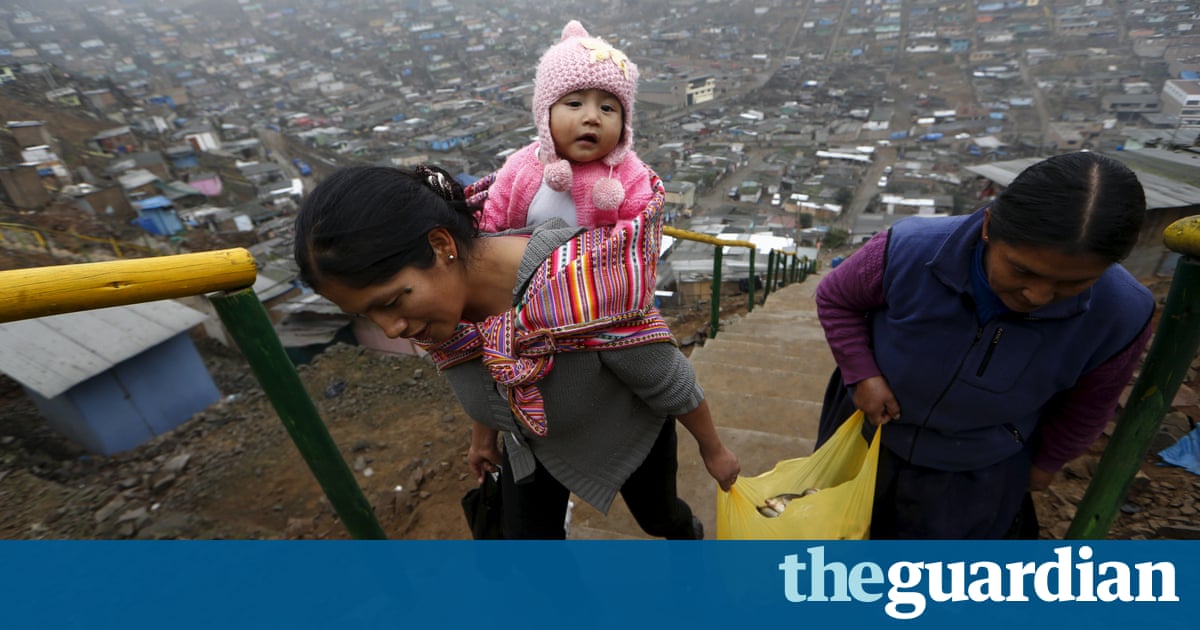 For years, some Peruvians assumed that being short was a trait that was innate to the countrys indigenous people, until a multi-pronged campaign of health checks, a conditional cash transfer scheme and public spending managed to halve childhood stunting in less than a decade.
In the seven years between 2007 and 2014 stunting among children under five dropped from 29% to 14%, according to Perus National Statistics Institute. It is one of the most successful achievements in reducing child malnourishment in the world.
What is remarkable about the achievement was the coordination between government ministries, regional governments, health professionals and NGOs to focus on specific goals and targeted policy efforts to convert Perus impressive economic growth into a reduction in child stunting caused by chronic undernutrition.
In 2000 about one in three Peruvian children under five suffered from chronic malnutrition. Several years later, despite an estimated $200m (154m) spent on nutrition programmes every year, the stunting rate had barely budged an inch, says Alessandra Marini, a senior World Bank economist and leader of the Peru Juntos project between 2007 and 2016.
We had to try and change the understanding of the problem, Marini told the Guardian. Chronic malnutrition and chronic growth retardation of children was related not just to their diet but to the high prevalence of diarrhoea due to poor sanitation, respiratory infections and poor breastfeeding and complementary feeding practices in the under-twos, she explained.
The first thousand days in a childs life became the focus. The World Bank backed the conditional cash transfer scheme Juntos (Together) which, between 2005 and 2015, more than doubled regular health and growth checkups for children in their first three years, and school attendance for older children, in return for a monthly cash payment of about $30 to the female head of the household for beneficiary families. The scheme, which began in 2005, operates in 22 of Perus 25 regions in rural areas, where poverty is more than 50%.
Juntos was the engine behind the change. It was critical because it was creating incentives for women, said Marini. Pregnant and breastfeeding mothers were expected to attend antenatal and postnatal checkups and have a medically assisted delivery. Families with children aged under five had to have regular checkups for growth monitoring, receipt of fortified complementary food and vitamin supplements, vaccinations and deworming.
Chronic malnutrition among Juntos beneficiaries under five years of age was nearly halved from 47.9% in 2009 to 25.2 in 2015, according to Perus statistics institute.
But education was also key, explains Marini as indigenous communities were just convinced that just being indigenous you were expected to be short.
Our work was making sure that everyone understood that between the ages of zero and five every child in the world has the same growth potential, she said.
Ariela Luna, former policy minister for the development and social inclusion ministry, said that combating infant malnutrition counted on explicit presidential and governmental support and targeted public spending which meant using the evidence-based Articulated Nutrition Programme.
The finance ministry, which holds the purse strings for the other ministries in Peru, played a key role in mobilising other stakeholders and prioritising investments in areas of more stunting, said Marini.
It moved to results-based budgeting to ensure that demand and supply efforts worked together to reach nutrition goals, she added.
Nathalye Zuiga, a technical coordinator with Juntos, says nature has given [Peru] a lot in terms of nutrition, yet the population needed to learn how to combine the variety of foods.
Read more: www.theguardian.com