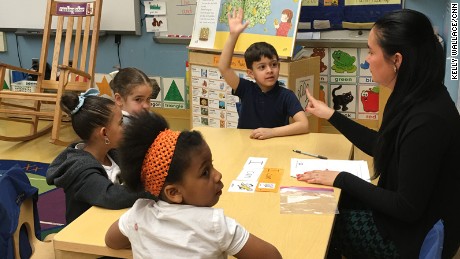 (CNN)A lifelong educator and advocate for children, Principal Diane Daprocida of P.S. 94, an elementary school in the Bronx, says she has been waiting for one thing since she started running the school 10 years ago.
You might guess it's more money or resources, or smaller class sizes, but something else topped her wish list: a way to teach her teachers, many of whom have four years or less of teaching experience, how to teach reading.
"Our universities do not teach teachers how to (teach reading) at the undergraduate level," Daprocida said. "It's philosophy of education, sociology of education, classroom management. I mean, I can't even remember. It's been so long since I've been to school, but they are coming through a traditional track not knowing how to teach reading, just the overall basic components of it."
She's also seen an impact in the lower grades, again based on what books they can and want to read.
"I've had to buy a ton of new books because they read through everything. Second grade got into third grade; they'd already read through everything, so third grade needed all new books to begin with, and the first grade going into second grade, second grade needed all new books because they'd blown through everything second grade last year by the end of first grade."
Deirdre Kehayas, the United Federation of Teachers teacher center coach at P.S. 94, says she has had first-grade teachers nearly knocking down her door, telling her, "I need level M and N books. I don't have them. These kids are getting sick of reading the same books over and over again."
She has seen firsthand how much the children are growing because of how much is being addressed in the guided reading lessons. "It looks very different, even from when I was a teacher, when I taught guided reading. It's just so much more now, and it makes sense."
The numbers, based on an independent evaluator, reflect what Daprocida and her colleagues are seeing informally. Just about 25% of first-, second- and third-graders in the eight schools incorporating the Teaching Matters early reading program were reading at grade level at the start of the year, according to Daniel Long of
Research for Action,
an independent evaluation consulting firm focused on education policy and education intervention.
That number jumped to 38% in the middle of the year, he said.
At P.S. 94, about 30% of third-grade students are typically reading at grade level by the mid-year assessment, according to Daprocida. Now, more than half of third-graders are, according to Long.
"We never had that before," Daprocida said. "It's just really exciting for us, because what they learned last year has enabled them to stop learning how to read and use reading to learn."
Daprocida said her school's story shows that the major obstacle to success wasn't the income level of students' families or the amount of English spoken at home. It all comes down to the art of teaching reading, she said.
"The focus isn't on the fact that these kids are really at a deficit in terms of finances, in terms of living circumstances," she said. Instead, it was the skill level "to be able to teach reading, and that's what we needed to bring to our teachers, and that's what we've been able to do."
Read more: www.cnn.com