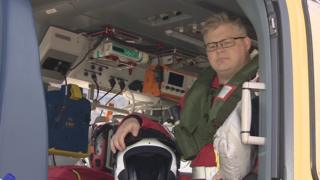 In the past two years Dr Cieran McKiernan has had both legs amputated but is now back to work – as emergency medic on an air ambulance.
The senior doctor has had type 1 diabetes since the age of 13 as well as years of serious problems with the anatomy of his feet and ankles.
Despite being prone to broken bones, pain and infections, the 45-year-old became an accident and emergency consultant working for the past decade with Scotstar – a division of the Scottish Ambulance Service.
From their base in Glasgow, Scotstar transfer critically-ill patients in remote and rural areas to hospital by road and air.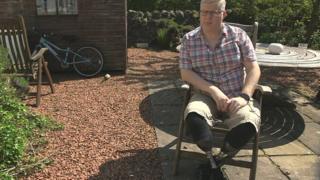 Two years ago Cieran returned from a trip to London with a blister on the sole of his right foot which would not heal.
"I underwent MRIs and saw a foot and ankle surgeon whose first comment was, 'How have you managed to function with those feet all these years?'," he says.
"I considered, several times, complex operations to try to fix them but they don't heal – they just go into a bit of remission."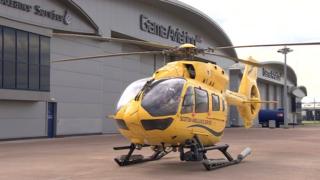 He asked himself how long the foot would stay healed and would it just suddenly break down, leaving him back in the same position?
"It makes you think of other options," he says.
Cieran had already decided to have his left leg removed below the knee when he developed sepsis along with an acute kidney injury and spent days unconscious in an high-dependency unit.
The amputation of his leg was brought forward.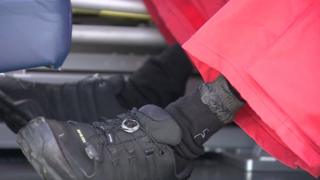 Cieran, who lives in Beith in Ayrshire but is originally from Belfast, says his mobility improved after the amputation but a bout of infections on his right foot led to a decision to remove it just over a year later.
"I don't think you can ever prepare yourself when you look down and you can't see anything where there should be a foot and your toes," he says.
"I had heard of this phenomenon of limb awareness after amputation – I was going 'god is this what it's going to be like?'.
"All of a sudden you get a feeling that you want to squeeze your toes and a bit of cramp comes in them."
Back to work
Cieran was fitted with two prosthetic legs which attach to the stumps below his knees. He says they are better than his original legs and allow him to do more.
He says: "The first question they ask you is, what do you want to be able to do? I said I wanted to get back to work.
"Over the last year I underwent assessments to show and to prove that I am still able to function."
/* sc-component-id: BBCLogo__SVG-s6hgfth-0 */ .gBBCrV.gBBCrV{display:block;} /* sc-component-id: BurntInBBCLogo__BurntBBCLogo-s1rb43ow-0 */ .hyALyg.hyALyg{background-color:#FFF;padding:1px 2px;position:absolute;bottom:10px;right:16px;display:none;} /* sc-component-id: Img__Image-s1jp862x-0 */ .lmLsXj.lmLsXj{width:100%;height:100%;object-fit:cover;object-position:50% 50%;position:absolute;} /* sc-component-id: Img__PicImage-s1jp862x-1 */ .dtAYqF.dtAYqF{max-width:743px;width:50%;position:relative;min-height:200px;-webkit-flex:1 1 auto;-ms-flex:1 1 auto;flex:1 1 auto;} /* sc-component-id: Img__PicImgCaption-s1jp862x-2 */ .eAaODa.eAaODa{max-width:100%;position:absolute;bottom:0;left:0;color:#ffffff;background:#000000;opacity:0.7;font-family:Helvetica,Arial,sans-serif;padding:5px;word-wrap:break-word;} @media (max-width:599px){.eAaODa.eAaODa{font-size:12px;line-height:16px;}} @media (min-width:600px) and (max-width:1007px){.eAaODa.eAaODa{font-size:13px;line-height:16px;}} @media (min-width:1008px){.eAaODa.eAaODa{font-size:12px;line-height:16px;}} /* sc-component-id: PicContainer-iky41v-0 */ .htQseS.htQseS{background-color:#F2EFEC;overflow:hidden;display:-webkit-box;display:-webkit-flex;display:-ms-flexbox;display:flex;-webkit-flex-direction:row-reverse;-ms-flex-direction:row-reverse;flex-direction:row-reverse;-webkit-flex-wrap:wrap;-ms-flex-wrap:wrap;flex-wrap:wrap;box-sizing:border-box;} /* sc-component-id: Cite-qnk335-0 */ .bHAJgM.bHAJgM{color:#404040;font-family:Helvetica,Arial,sans-serif;font-style:normal;} .bHAJgM.bHAJgM > strong{font-weight:bold;} @media (max-width:599px){.bHAJgM.bHAJgM{font-size:16px;line-height:20px;}} @media (min-width:600px) and (max-width:1007px){.bHAJgM.bHAJgM{font-size:18px;line-height:22px;}} @media (min-width:1008px){.bHAJgM.bHAJgM{font-size:16px;line-height:20px;}} /* sc-component-id: PicFooter-ugmt5p-0 */ .ikzIiH.ikzIiH{padding-top:10px;font-family:Helvetica,Arial,sans-serif;} /* sc-component-id: PicQuote-s138d390-0 */ .eZwimE.eZwimE{width:45% !important;position:relative;margin:0;word-wrap:break-word;color:#404040;font-weight:300;-webkit-flex:1 0 auto;-ms-flex:1 0 auto;flex:1 0 auto;} /* sc-component-id: PicText-k82lbm-0 */ .itIXgb.itIXgb{font-weight:100;font-family:Helvetica,Arial,sans-serif;padding:11px 0 25px 0;} .itIXgb.itIXgb p{margin:0;} @media (max-width:599px){.itIXgb.itIXgb{font-size:18px;line-height:22px;}} @media (min-width:600px) and (max-width:1007px){.itIXgb.itIXgb{font-size:21px;line-height:24px;}} @media (min-width:1008px){.itIXgb.itIXgb{font-size:20px;line-height:24px;}} /* sc-component-id: Quote__SVG-s1rj7ts5-0 */ .jBAUmy.jBAUmy{display:block;} /* sc-component-id: RuleBreak__SVG-lfivii-0 */ .lazDte.lazDte{display:block;} html, body{ margin: 0; padding: 0; } @font-face { font-family: 'ReithSans'; font-display: swap; src: url(/static/media/BBCReithSans_W_Rg.woff2) format("woff2"), url(/static/media/BBCReithSans_W_Rg.woff) format("woff"); } @font-face { font-family: 'ReithSans'; font-display: swap; src: url(/static/media/BBCReithSans_W_Md.woff2) format("woff2"), url(/static/media/BBCReithSans_W_Md.woff) format("woff"); font-weight: bold; } @font-face { font-family: 'BBCNassim'; font-display: swap; src: url(/static/media/BBCNassimRegularFADesktop.ttf) format("truetype"); } @font-face { font-family: 'BBCNassim'; font-display: swap; src: url(/static/media/BBCNassimBoldFADesktop.ttf) format("truetype"); font-weight: bold; } @font-face { font-family: 'Iskoola_pota_bbc'; font-display: swap; src: url(/static/media/iskpotaRegular.ttf) format("truetype"); } @font-face { font-family: 'Iskoola_pota_bbc'; font-display: swap; src: url(/static/media/iskpotaBold.ttf) format("truetype"); font-weight: bold; } @font-face { font-family: 'Latha'; font-display: swap; src: url(/static/media/lathaRegular.ttf) format("truetype"); } @font-face { font-family: 'Latha'; font-display: swap; src: url(/static/media/lathaBold.ttf) format("truetype"); font-weight: bold; } @font-face { font-family: 'Mangal'; font-display: swap; src: url(/static/media/mangalRegular.ttf) format("truetype"); } @font-face { font-family: 'Mangal'; font-display: swap; src: url(/static/media/mangalBold.ttf) format("truetype"); font-weight: bold; } @font-face { font-family: 'Noto Sans CJK KR'; font-display: swap; src: url(/static/media/NotoSansCJKkr-Regular.otf) format("opentype"); } @font-face { font-family: 'Noto Sans CJK KR'; font-display: swap; src: url(/static/media/NotoSansCJKkr-Bold.otf) format("opentype"); font-weight: bold; } @font-face { font-family: 'Noto Sans Gurmukhi'; font-display: swap; src: url(/static/media/NotoSansGurmukhi-Regular.ttf) format("truetype"); } @font-face { font-family: 'Noto Sans Gurmukhi'; font-display: swap; src: url(/static/media/NotoSansGurmukhi-Bold.ttf) format("truetype"); font-weight: bold; } @font-face { font-family: 'Padauk'; font-display: swap; src: url(/static/media/PadaukRegular.ttf) format("truetype"); } @font-face { font-family: 'Padauk'; font-display: swap; src: url(/static/media/PadaukBold.ttf) format("truetype"); font-weight: bold; } @font-face { font-family: 'Shonar_bangala'; font-display: swap; src: url(/static/media/ShonarRegular.ttf) format("truetype"); } @font-face { font-family: 'Shonar_bangala'; font-display: swap; src: url(/static/media/ShonarBold.ttf) format("truetype"); font-weight: bold; } @font-face { font-family: 'NotoSansEthiopic'; font-display: swap; src: url(/static/media/NotoSansEthiopic-Regular.ttf) format("truetype"); } @font-face { font-family: 'NotoSansEthiopic'; font-display: swap; src: url(/static/media/NotoSansEthiopic-Bold.ttf) format("truetype"); font-weight: bold; }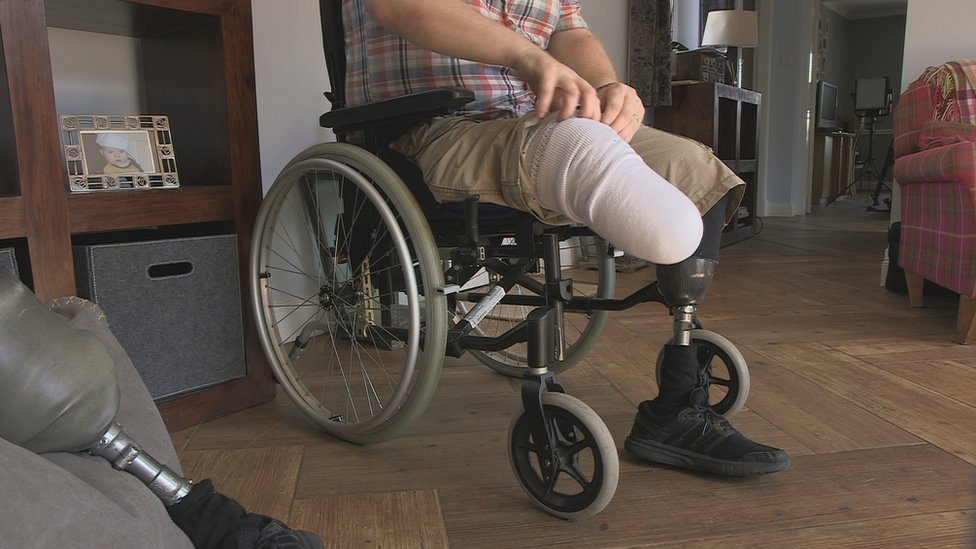 Read more: www.bbc.co.uk