Sean Bakers lyrical portrait of welfare kids living in the shadow of Disney World is both gritty and enchanting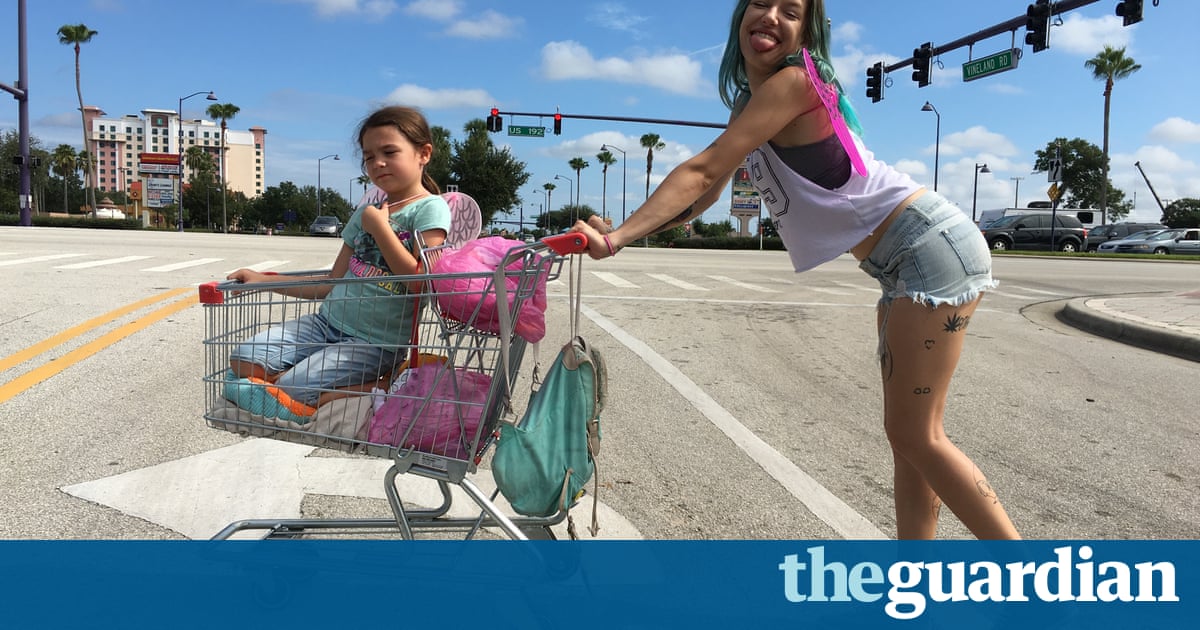 The two arenas of adult disillusion and children's enchantment make up the gorgeous world of The Florida Project from director Sean Baker, a film set in a budget motel for long-stay welfare claimants and their families. It's within driving distance of Disney World, in a maze of freeways, parking lots, malls, waste ground and Florida's beautiful unofficial countryside – but in every important respect, it's light years away from the worlds of Disneyfied leisure, corporate prosperity and respectability. In theory, the motel is designed for people who are on holiday, but in practice the adult residents' lives are anything but a vacation. When actual honeymooners find themselves accidentally booked in there, their horrified astonishment and disgust is almost palpable.
The kids who live there love it: they really are purely at leisure. These are their blue remembered hills. The place itself is called Magic Castle, a kind of homemade generic knockoff of the Disney brand identity. It is crenellated like a castle, and painted in a garish but strangely comforting and childlike shade of purple, the way a child might want to decorate it in a colouring book.
Bobby is the motel's harassed but gentle and caring manager-slash-odd-job guy – a tremendous performance from Willem Dafoe. In his gruff, exasperated way he is worried about a trash-talking single mom called Halley, played by Bria Vinaite, and her kid, Moonee, a glorious performance from seven-year-old Brooklynn Prince. Halley has a friend who works at the local diner and whose kid plays with Moonee in the chaos of their borderline-squalid room. Halley has failed to make it as a lapdancer and is now getting knockoff perfume bought wholesale and trying to sell it to people coming in and out of golf resorts and leisure clubs. When that doesn't work out, Halley tries selling something else to male guests in her hotel room, while the kids are temporarily closeted in the bathroom. It is to lead to a terrible disaster – a crisis in a place that little Moonee had come to think of as paradise.
The kids roam everywhere, especially where they are not allowed to go. They cheekily scramble into Bobby's office, playing hide-and-seek while he's trying to do the accounts; he shoos them away with an indulgent, if worried smile. They ramble through local malls and mooch money from distracted shoppers to buy ice cream, and to Bobby's exasperation they eat this ice cream in the Magic Castle's lobby area where it inevitably drips on to the floor. They hang around on the walkways and stairwells and mock the eccentric woman who insists on sunbathing topless by the pool in whose cleanliness Bobby takes a considerable professional pride.
Bobby loves the kids. He is their catcher in the rye. But there is a part of him that knows that having an easily sentimental concern for this reckless single mom and her kid is all too easy for him. Actually caring for your own children is more difficult – and his relationship with his grown-up son Jack (Caleb Landry Jones) is excruciating. He gives Jack bits and pieces of work to do at the motel to help out financially. Jack accepts the work, perhaps through a need to reconnect with his estranged dad. But it's difficult and sad.
Yet there is no miserabilism in this wonderful film, but rather terrific grit and humour. The visual beauty and lyricism are rooted in a recognisable world. There is no self-indulgence or preciousness. For these reasons I prefer it to something like Beasts of the Southern Wild. The film's centre of gravity is with the children, who have their own intelligence and integrity. Watching this film feels like having your senses peeled.
(Buy here)
This article contains affiliate links to products. Our journalism is independent and is never written to promote these products although we may earn a small commission if a reader makes a purchase.
Read more: www.theguardian.com