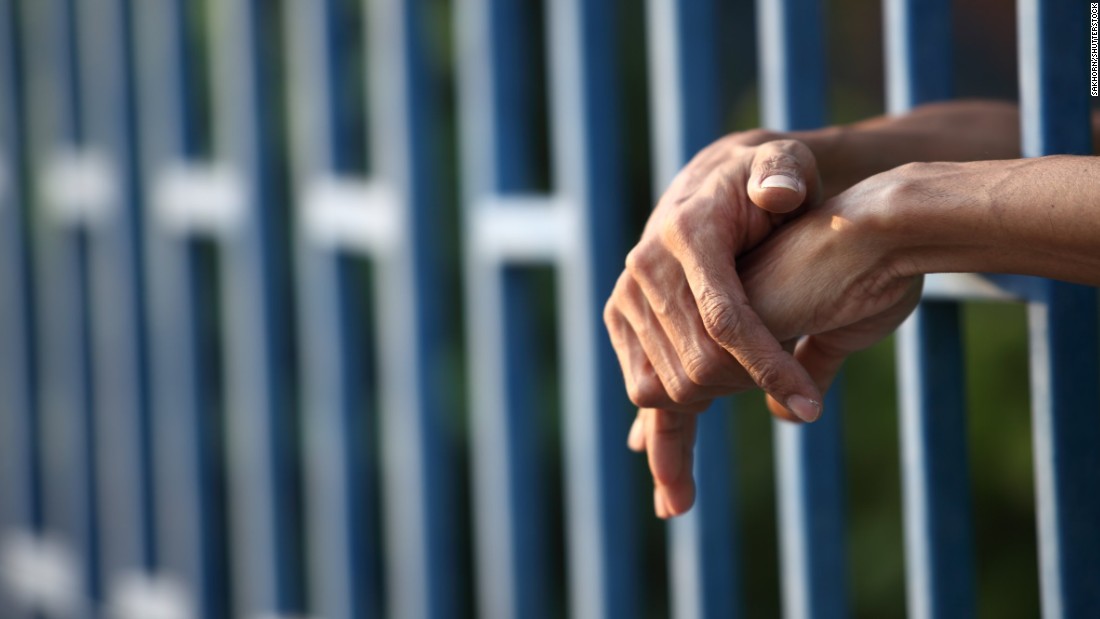 (CNN)With five prison guards on his back, Michael Sabbie takes a blast of pepper spray point-blank to the face. Guards then frog-march him to a nurse for a 40-second exam, take him to a shower, where he collapses, then toss him in an isolation cell.
In the span of 10 minutes, Sabbie drools, spits, apologizes, pleads. He never asks the guards to lift up his pants, despite his genitals and buttocks being exposed as he's led through the halls of Texas' Bi-State Jail.
At least a dozen times, he tells prison guards, "I can't breathe."
It's that refrain — a mainstay of Black Lives Matter protests since Eric Garner died in New York in 2014 after uttering the same three words — that should have been one of many tipoffs that something was wrong, according to lawyers representing Sabbie's family.
The next morning, on July 22, 2015, Sabbie was found dead in an isolation cell. A medical examiner said he died from natural causes.
Sabbie's family, upset that the jail didn't do more to help a stricken man, isn't buying it.
The case illuminates an ongoing debate about the quality of privatized healthcare in American jails and prisons, which critics say sacrifices the well-being of inmates to satisfy bottom lines. Prison and prison health care companies counter that they save governments money and their services meet national standards.
Jail videos
There are two recently unearthed videos from Sabbie's last full day. One is a prison surveillance video with no audio. It shows the 35-year-old inmate doubled over, hands on knees, talking to a prison guard. He walks away from the guard, who grabs him by the shirtsleeve and then collar of his prison jumpsuit, spinning him twice and hurling him to the ground.
The altercation began when Sabbie said he wanted to make a phone call and defied an order to return to his cell, his lawyers say.
"Our commitment to preventive, evidence-based medicine is reflected in some health outcomes that exceed those of the general public," she said.
Corizon saves money not by cutting corners, Harbin said, but through innovation and spreading risk across the company.
Corizon has been recognized for its "robust telemedicine program," which helps reduce the costs of transporting prisoners, she said. It also handles bulk purchases, pharmaceutical needs, insurance claims and credentialing, all of which save public institutions money, she said.
None of Corizon's clinicians "receive compensation based upon financial performance," she said.
So which is better?
Wayne Dicky, president of the American Jail Association and administrator for the Brazos County Detention Center in Texas, cautions against a one-size-fits-all approach.
A jail or prison's size matters, as does its security level. While Dicky's facility maxes out at about 1,100 inmates, major city jails like those in New York and Los Angeles hold thousands.
"A jail administrator has to decide what delivery process works for them," he said. "In big jails with much more complex circumstances, it works to privatize."
In Brazos County, he said, it works better to have clinicians on staff.
Regardless of whether health care is public or private, he said, the onus is on the jail administrator to make sure no one cuts corners. Dicky said he takes caring for prisoners seriously because there is little worse than the tragedy, and optics, of a death in custody.
"I'm sitting in my office right now, and the worst thing that could happen today would be to have someone on my staff hurt or a death in custody," he said.
Shift in sentiment
"I think that the American public is becoming more aware of issues in prisons, both from the ongoing news about exonerations but also from things in pop culture like (TV series) 'Orange is the New Black' that humanizes prisoners," said Kendrick of the Prison Law Office.
When Obama visits a prison in Oklahoma or Netflix uses a women's prison as a setting for a dark comedy, it goes a long way to restoring prisoners' humanity, said Georgetown's Howard.
More than 2 million Americans are locked up, more than 4 million are on probation or parole and at least 70 million have criminal records, meaning fewer degrees of separation between prisoners and the general population, he said.
"They are us. We are them," Howard said. "We need to realize that we're all, in a sense, one step away. This criminal justice system affects everybody."
Read more: www.cnn.com