The largest counties have returned almost 10,000 more votes than for Republicans, but it is not clear the surge can turn into election wins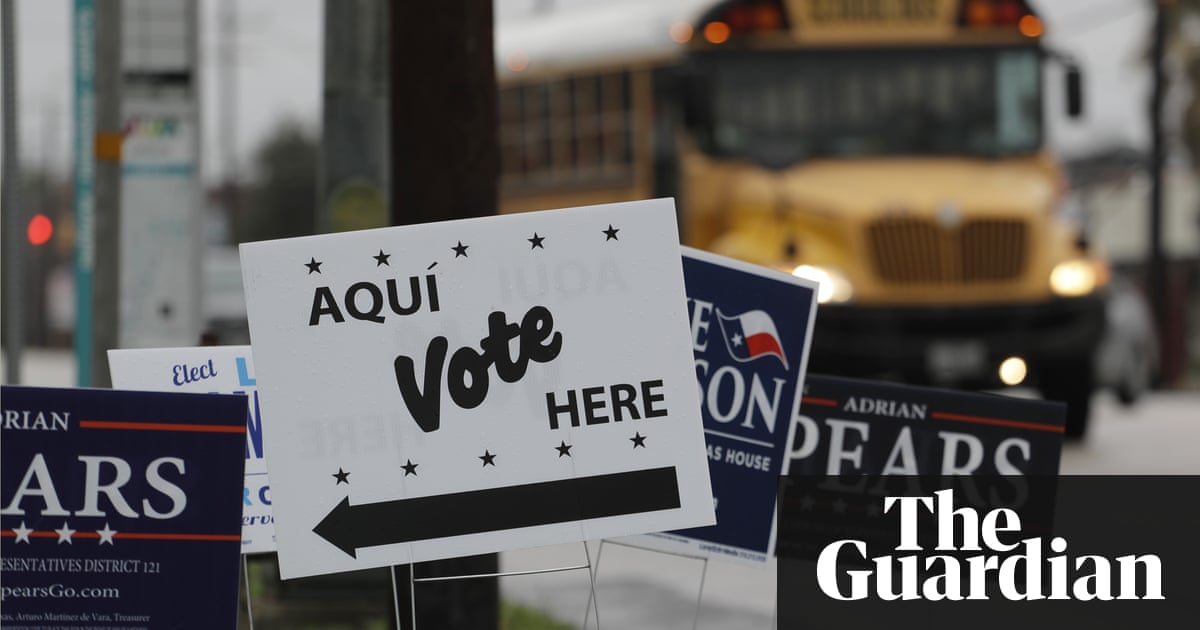 As Texas's political parties choose their nominees for the November midterm elections, Democrats are seeing a rare surge of enthusiasm in a state long dominated by Republicans.
The Democratic and Republican primary elections are on 6 March but many Texans are casting ballots in the two-week early voting period that runs through 2 March. Through the first week of early voting, the largest counties have returned almost 11,000 more Democratic votes than Republican. In those big counties in the last midterm primary, in 2014, Republicans surpassed Democrats by more than 100,000 votes.
Democratic early votes are up 93% on 2014 in the largest counties that are tracked daily by the Texas secretary of state's office. Republican votes are up about 17%.
These numbers probably indicate higher Democratic turnout in November, Texas political experts say. It is not clear, however, that Democrats can convert such enthusiasm into election wins.
"Given Donald Trump's residence in the White House," said Mark Jones, a political scientist at Rice University, "there is good reason to believe that Democratic turnout in November will be greater than in 2014, just as the fact that Barack Obama is no longer in the White House means Republicans no longer will be able to utilize opposition to President Obama and his policies as a mobilization tool."
Texas Democrats must prove they can take advantage of their energized base, said Brandon Rottinghaus, a political science professor at the University of Houston.
"If Democratic candidates can run solid, well-funded campaigns," he said, "they would be in better position to take advantage of an enthusiastic base".
Democrats have long eyed Texas as a major prize, buoyed by changing demographics. One in six Texans was born in another country and Latinos comprise 35% of the voting-age population. But those changes have not yet translated into electoral victories: Democrats have not won a statewide election since 1994.
This year, Democrats hope to win a handful of Republican-held congressional and state seats in areas Hillary Clinton carried in the 2016 presidential race.
Their dream scenario would be winning the US Senate race between Beto O'Rourke, the current El Paso congressman, and incumbent Republican Ted Cruz. O'Rourke has waged a vigorous in-person campaign across the state and raised $8.7m in campaign contributions, even though he refuses to accept money from special-interest groups.
The Democrats' early voting boost is most evident in the big urban counties: Harris (Houston), Dallas, Bexar (San Antonio), Travis (Austin), Tarrant (Fort Worth) and El Paso. At this point four years ago in those urban areas, Republicans had a 39,000-vote advantage over Democrats. Through the first week of early voting this year, Democrats had a 35,000-vote advantage.
"Squeezing more Democratic votes out of urban areas is critical to the party's future," Rottinghaus said. "Democrats need to run up the score in urban areas and cut into Republican margins in suburban Texas to make Texas a two-party state."
The other major voting base in Texas is in large suburban counties around Houston, Dallas and Austin. Republicans still hold a huge advantage in those counties, more than doubling the number of Democratic ballots cast in the first week of early voting this year. But four years ago, Republicans had a six-fold advantage.
The number of Democratic votes in those suburbs has almost quadrupled.
"Suburban Texas is changing," Rottinghaus said. "What was once the home of 'white flight' and sleepy bedroom communities … [is now] booming with younger, more educated and more racially and ethnically diverse voters. These demographic changes are breaking the Republicans' solid hold on many of these areas."
The other key strength for Texas Republicans has been the state's rural areas. The secretary of state's office has not tracked early voting in smaller counties but it is unlikely Democrats are making much of a dent.
"I suspect Democratic enthusiasm is less marked in those counties," Jones said, "but in the end political power is decided by voters in the major metro areas, where almost three-fourths of the state's population now resides."
Democrats have a legitimate chance at picking off several state legislative and congressional seats, both Jones and Rottinghaus said. But ousting Cruz seems unlikely.
"Barring a shocking revelation or some other type of major October surprise, Beto O'Rourke has no realistic prospect of defeating Ted Cruz," Jones said.
"The best O'Rourke can hope for is to hold Cruz to a margin of victory in the single digits, which would bolster O'Rourke's political capital and potential for achieving victory statewide at some point in the next decade."
Nonetheless, Texas's governor, Greg Abbott, on Monday sent an email to supporters raising concerns about the Democratic early voting advantage. The email urged Republicans to vote in the primary and donate to Abbott's re-election campaign.
"Democrats are already on a winning streak, flipping seats in special elections across the country in GOP strongholds," the email said.
"We've seen a surge of liberal enthusiasm in deep red states like Georgia, Alabama and Oklahoma. We had always hoped the liberal wave would never hit Texas, but these early voting returns aren't encouraging so far."
Trump on Tuesday urged Texans to cast votes for a number of state Republican leaders.
"I want to encourage all of my many Texas friends to vote in the primary for Governor Greg Abbott, Senator Ted Cruz, Lt Gov Dan Patrick, and Attorney General Ken Paxton," the president tweeted. "They are helping me to Make America Great Again! Vote early or on March 6th."
Read more: www.theguardian.com