When Valeria Alvarado learned that President Donald Trump had called for a weekly list of crimes committed by undocumented immigrants, she took action.
When I read [Trumps executive]order, I knew it would unfairly define a community of over 11 million people by the actions of a few, Alvarado told The Huffington Post on Thursday. Being close to the community, I decided to do a counter-list where we would publish a weekly list of accomplishments by the undocumented community.
The positive response she received over the initial idea prompted her to open up the platform to not only include stories about undocumented immigrants but also feature achievements by refugees and the immigrant community as a whole. The student says these groups are also negatively affected by Trumps recent directives.
Alvarado is an immigrant herself; she moved from Monterrey, Mexico to the United States at the age 4. The teen is currently spending a semester abroad in Rwanda studying post-genocide restoration.
Alvarado, who is a U.S. citizen, recognizes that not all immigrants have the opportunity to become legal.
I was lucky enough to become a citizen in 2013, she told HuffPost. I use the word luck because I believe the citizenship process requires more than just hard work, it requires luck. There are so many in our community still stuck in the process, after years and years of working hard towards becoming a citizen.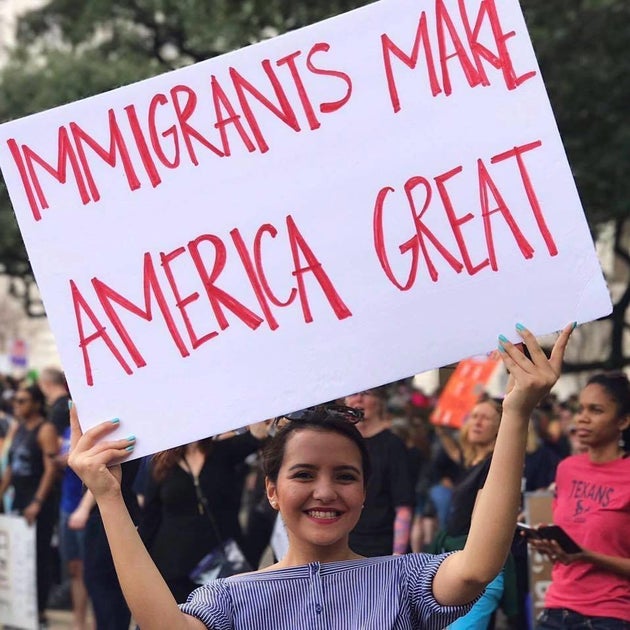 We, Too, Are America wants to publish stories from all walks of life and all professions, she said.Our goal is not to build the model minority image, but instead, counter a false image with a positive and more diverse image of our community.
The 2016 election was the first time Alvarado had the opportunity to vote for a presidential candidate, a privilege she took seriously. While the outcome was not what she expected, she intends to keep fighting for her ideals.
Voting for the first time was a bittersweet moment, she told HuffPost. I was happy I was able to go in the voting booth to exercise my rights. I also had to think about the privilege I have as a citizen; our undocumented friends and family did not have an opportunity to vote in an election that would alter their lives. The three million more Americans and I that won the popular vote are disappointed in the outcome, pero como siempre me ha dicho mi papa: es tiempo para ponerte las pilas (which translates to, but like my dad always told me: its time to get to work). A Trump presidency will not bring us down. We will not stand by silently.
How will Trumps first 100 days impact you? Sign up for our weekly newsletter and get breaking updates on Trumps presidency by messaging us here.
Read more: www.huffingtonpost.com