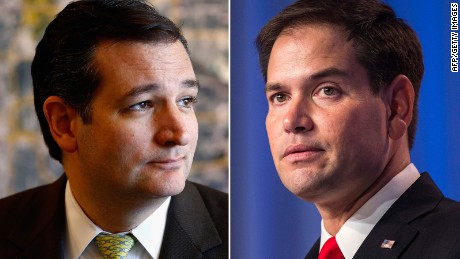 Whitefield, New Hampshire (CNN)Ted Cruz almost certainly won't win in New Hampshire. But a close consolation would be for Marco Rubio to fail as well.
Cruz, perhaps the furthest right candidate in the Republican field who is also organizing evangelical voters in Iowa and the South, is trying to both set expectations for a medal stand finish in this a secular state populated with moderates and centrists.
Moreover, New Hampshire could be a body blow to Rubio, the man once envisioned as his chief rival, should he finish below establishment competitors seen as lesser threats: John Kasich or Chris Christie. Those two candidates have a rough road past New Hampshire no matter what, unlike Rubio or Trump, who is the biggest challenge to Cruz.
"I don't know where anywhere else Kasich is going to do well. I think Christie has a short half-life," said former New Hampshire House Speaker Bill O'Brien, a Cruz co-chairman here. "Rubio, on the other hand, could stay around for a while — but I don't think he's going to."
Some of Rubio's top supporters acknowledge the Florida senator needs to win the establishment free-for-all here.
"Christie and Kasich have no national organization," said Cliff Hurst, Rubio's co-chairman in New Hampshire. "It'll be Cruz and Trump if they eliminate Rubio."
And they're trying. Some of the biggest fans of the apparent resurgence of Christie in New Hampshire polls have been Cruz allies, believing that the longer it takes for the fractious establishment lane to consolidate and anoint a candidate to take on Cruz and Trump, the better Cruz will ultimately fare.
Trump leads in New Hampshire with 32% among Republicans, according to the most recent Monmouth University poll. Cruz and Kasich are tied at 14%, Rubio at 12% and Christie at 8%.
Monday night, Cruz touted the two-man race theory. "There are many people that are observing this race nationally is coming more and more down to a two-man race between me and Donald Trump," Cruz said.
He singled out Rubio on immigration, linking Rubio with "establishment Republicans," and President Barack Obama.
"Every Republican says now they oppose amnesty, kind of funny how that works," Cruz said. "Well we had an epic drag down fight with Barack Obama and Chuck Schumer proposing a massive amnesty plan, whole bunch of establishment Republicans, including Marco Rubio side by side proposing amnesty. Millions of Americans rose up against it."
Cruz spending less time in New Hampshire
Donald Trump, who is up by as many as 20 points in New Hampshire, is widely expected at this point to soundly beat the Republican field. Behind him sit five candidates clustered within a few points of one another, polls show: Cruz, Christie, Kasich, Rubio and Jeb Bush.
Christie and Kasich have virtually staked their entire campaign on the Granite State, hoping for enough momentum to barrel deeper into the calendar. But Bush and Rubio, thanks to their fundraising strength, have deeper political organizations that could test Cruz more strenuously.
From the outset, Cruz advisers were split about how seriously to compete in the Granite State and how to keep expectations low. Monday, Cruz maintained that the state is a "critical priority."
"The New Hampshire way is to go to the diners, to the VFW halls, to go to the house parties in people's living rooms and take the hard questions," Cruz told reporters in the New Hampshire town of Washington on Monday. "Nobody's going to win the state of New Hampshire from the TV studio in New York or Washington D.C."
But Cruz has spent far fewer advertising dollars and less candidate time in the state than his four Granite State rivals. His super PAC is running large field operations in both Iowa and South Carolina — but not in New Hampshire. His campaign was late to sink major financial resources on the airwaves here than it was in the other states.
He was absent from the state for two months before returning last week, which has been highlighted by some rival GOP campaigns. And his efforts to make a deeper footprint weren't helped Monday when his campaign sent word that it would have to cancel two events on its barnstorming tour to make newly scheduled votes in the Senate.
In the eyes of local political observers, Cruz's small footprint could catch up with him. Jane Lane, a Republican on the state executive committee, predicted that second place in the primary could only require 12% or 13% support. But she said it's hard to put a finger on the amount of commitments from voters Cruz has actually earned.
"I don't have a good count on it because he hasn't been here much," she said, moments before Cruz saddled up next to her at a diner in Keene on Monday morning. "Probably his base in Iowa is different — is more of an evangelical base — than we have here in New Hampshire."
Eminent domain
Cruz backers say there is more of a Christian support base than might be assumed. That, combined with the libertarian sympathies of Cruz, allies say, and he may have a hodgepodge coalition in the "Live Free or Die" state.
That's especially true in the more rural parts of the state like those Cruz targeted Monday, such as this town of 2,300 deep in the snow-capped White Mountains. In a high school cafeteria here, Cruz for the first time publicly critiqued Trump for his zest for eminent domain, a position Cruz was sure to note was "an issue here in the North Country."
"Donald Trump has said he thinks eminent domain is fantastic," Cruz said, volunteering an attack on the GOP front-runner in the state even though no one asked about him.
And back in the New Hampshire hamlet of Washington, voters affirmed that his evangelical message spoke to them — even as he railed against Trump's "New York values" in a state with many expats from that very state.
"When you get into real communities of people who want to hold the framework in New Hampshire together," said Seth Caleb, a 25-year-old paramedic, "I believe he'll have more support."
Read more: www.cnn.com