EASLEY, S.C. — Ted Cruz isn't exactly America's most unifying figure. In the classroom of the Senate, he isn't merely the kid who sits in front and raises his hand at every opportunity; he's the kid who glues classmates' textbook pages together when they're not looking.
This is a guy, after all, who has time and again brought the Senate to a grinding halt; who organized tea party House members against their leadership; who has so alienated his Republican colleagues that Sen. Lindsey Graham, a South Carolinian, was moved to say that crowning Cruz the party's presidential nominee would mean "death" for the GOP; and who on Thursday called Sen. Marco Rubio a "liberal" for having supported then-Sen. John Kerry's nomination as secretary of state, despite the fact that Cruz's best friend in the Senate, Utah's Mike Lee — a man who campaigned with Cruz that very day — had done the exact same thing.
But politics is a fickle business, subject to more than its share of vagaries and vicissitudes. And so against all odds, Cruz is trying to build an actual coalition, namely of libertarians and populists to supplement his already robust constituency of religious conservatives.
At first glance, you wouldn't have suspected that coalition-building was on the agenda as Cruz arrived to campaign at Mutts Barbecue in Easley on Thursday afternoon, two days before the South Carolina primary. Easley lies some 30 minutes west of Greenville in the state's largely rural and mostly conservative western edge. It's the sort of place, filled with the sort of people, that would already be in the bag for the Texas senator.
Mutts' parking lot was jammed with supporters over an hour before Cruz was expected to arrive. The attendees were almost entirely white, and though a wide range of ages was represented, the crowd skewed older. Confederate flags were visible, including several placed on the back of a pickup alongside two American flags and, given pride of place higher in the center, the Christian flag.
Moreover, Cruz was joined that day by some of Congress' best-known conservative firebrands, including Sen. Lee and Reps. Steve King (Iowa), Louie Gohmert (Texas) and Jeff Duncan (S.C.). It was a veritable tea party supergroup, the Traveling Wilburys of reactionary politics.
But mixed into Cruz's blustery, socially conservative rhetoric were some not-so-subtle appeals to other wings of the GOP, namely the populist and libertarian elements. On the populist front, a key Donald Trump constituency, Cruz tweaked his border pitch to include language against "special interests" and "hedge fund millionaires." He answered a question about "jobs going overseas" by levying criticism against the Trans-Pacific Partnership trade deal and its alleged lack of protections for U.S. workers.
"This is a president who doesn't fight for American workers," Cruz railed.
That hint of economic populism resonated with many attendees. "I don't trust Rubio because of his views on immigration," remarked Will Gantt, a late-middle-aged man. Gantt added that he had no problem with legal immigration, "so long as they learn our language, learn our culture and learn to do as we do, not bring their stuff with them."
Cruz also seemed to reach out to libertarians, at one point referring to "my friend, Rand Paul," the libertarian-leaning Republican senator from Kentucky and recent presidential aspirant. He beefed up his anti-government rhetoric, including calls to abolish the Internal Revenue Service and greatly lower taxes. Cruz even implied that by mimicking Ronald Reagan's "strength through peace," he would pursue a much more isolationist foreign policy.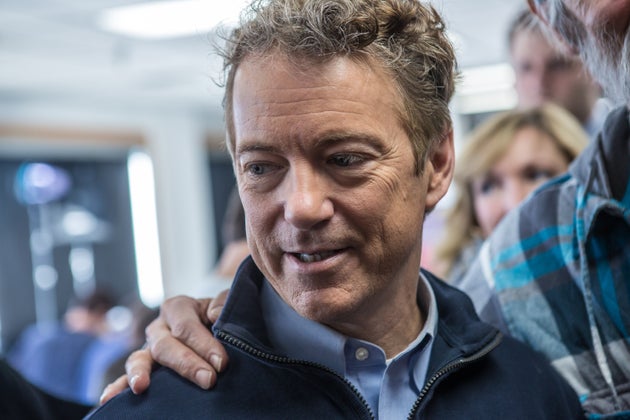 Some attendees seemed to respond to that libertarian posturing.
Danielle Jones, a self-described "libertarian anarchist," said she would either support Cruz or Libertarian Party candidate Gary Johnson.
"I think we should be getting back to the Constitution. It's a simple and perfect document," said Jones. With a nod to the Transportation Security Administration and the National Security Agency, she added, "Our rights are being stripped away."
If Cruz can poach just a statistical handful of these populist and libertarian supporters from his opponents, it might be enough to put him over the top in South Carolina, though it remains a steep climb. According to the HuffPost Pollster average, Cruz trails Trump 34 percent to 19 percent as of Friday afternoon.
A more immediate concern is Marco Rubio, who, according to that same HuffPost Pollster average, trails Cruz by less than 4 points. While Cruz mentioned the Florida senator briefly, calling him the "third place candidate," he mostly stayed clear of attacking Rubio on Thursday. But his campaign and allied organizations are waging a far dirtier effort.
His campaign released a poorly photoshopped image of Rubio shaking hands with President Barack Obama to draw attention to the senator's work on immigration reform. A Spanish-language robocall targeting South Carolina voters emphasized the words "Marco Rubio" and "amnesty."
It's hard to incorporate Christian charity and grace into a presidential campaign. Turn the other cheek and suddenly you're soft on ISIS; loving thy neighbor invites charges that you're weak on illegal immigration; and honoring thy mother and father can lead to charges of being too cozy with the establishment — if you're Jeb Bush, at least.
But the brilliance of Ted Cruz is that he has already built himself up as a kind of ruthless Christian crusader. His supporters expect a fiery, Old Testament style of Christian — the kind of guy whom God wouldn't need to tell to kill Isaac because he'd already have done so. Let John Kasich have all the wishy-washy, Golden Rule, New Testament stuff. On several occasions during his speech in Easley, Cruz referred to himself and his allies as "trench fighters."
It's unclear whether that fighting mentality will bring Cruz to victory in South Carolina and beyond, or leave him a senator with few friends.
Read more: www.huffingtonpost.com