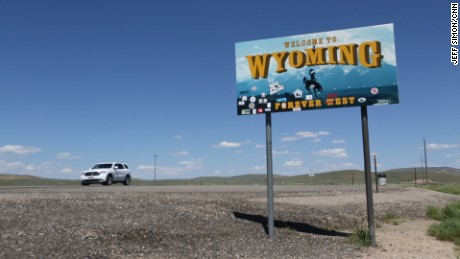 Casper, Wyoming (CNN)It's a Ted Cruz sweep in Wyoming.
Cruz won 14 of 14 Republican National Convention delegates up for grabs at the Wyoming state convention here Saturday.
The crowd here was clearly in Cruz's corner, as the Texas senator was the only candidate to make the trip to Casper — ahead of a major snowstorm — and Sarah Palin, scheduled to speak for Trump, previously canceled.
"We know how to read. We read the rules. The rules don't favor us," Cobb said Friday, later adding, "the Allies didn't invade every Japanese island. We skipped some to get to the prize."
Matt Micheli, the state GOP chairman, rejected Trump's accusations.
"Absolutely untrue, absolutely not," Micheli told CNN. "This is a process that we've done for 40 years. This is a process that people here are being elected by their peers."
Stubson, the congressional candidate, agreed. "I don't think there are any fundamental issues with the way it's been done," he said.
The previously selected Trump delegate, Dr. Jon Baker, said he believes that overall, the setup has hurt the national front-runner.
"The whole process of the precincts and county conventions is still somewhat confusing to me, Baker said. "I some sense it works against Trump because he has not been involved."
But Baker, a dermatologist who got involved in the GOP here because of Trump, said his campaign also has not actively courted him or talked about what might happen beyond the first ballot. "As far as today, they haven't brought up strategy at all."
'Wyoming First' slate
Coming into the convention, state Sen. Ogden Driskill developed a plan: send a group from Wyoming to Cleveland who are unbound and therefore can get an audience from and influence with potential presidential nominees.
"If you declare for a candidate, which I did for Romney last time around, you're entitled to spend your money and fly to Florida and raise your hand and he never talks to you, his people never talk to you," Driskill said in an interview.
Driskill's "Wyoming First" slate includes such party regulars as Rep. Cynthia Lummis, who is not running for re-election, and former statehouse Speaker Colin Simpson.
"We intend to leverage it to put Wyoming issues in front of all three candidates," Driskill said, citing issues such Environmental Protection Agency regulations on mining and water and the Endangered Species Act.
Rout in Georgia
In Georgia, Cruz supporters managed to rout Trump in several congressional district conventions. Georgia's third district selected a slate of national delegates openly in opposition to the billionaire's candidacy after a somewhat contentious show of support for Trump.
Many Trump supporters cried foul at the process, agreeing with their preferred candidate that the system was "rigged." Pam Ausman, a Trump supporter from the district, said, "Why are we voting if they don't listen to us?"
Brant Frost, a prominent Republican and Cruz supporter from the district, vehemently denied such charges, saying, "These are the moms and dads of heartland America, playing by the rules."
Elsewhere, anger at the process was somewhat muted. Brandon Phillips, Trump's campaign director in Georgia, said he was content with the results of his home district's convention, which chose him as one of its three delegates.
Trump performed strongly in Georgia's primary on Super Tuesday, coming in first place ahead of Rubio and Cruz.
Read more: www.cnn.com