The singer pointed out that she was the first woman to win the prize twice, while Adele was bedevilled by technical difficulties in her performance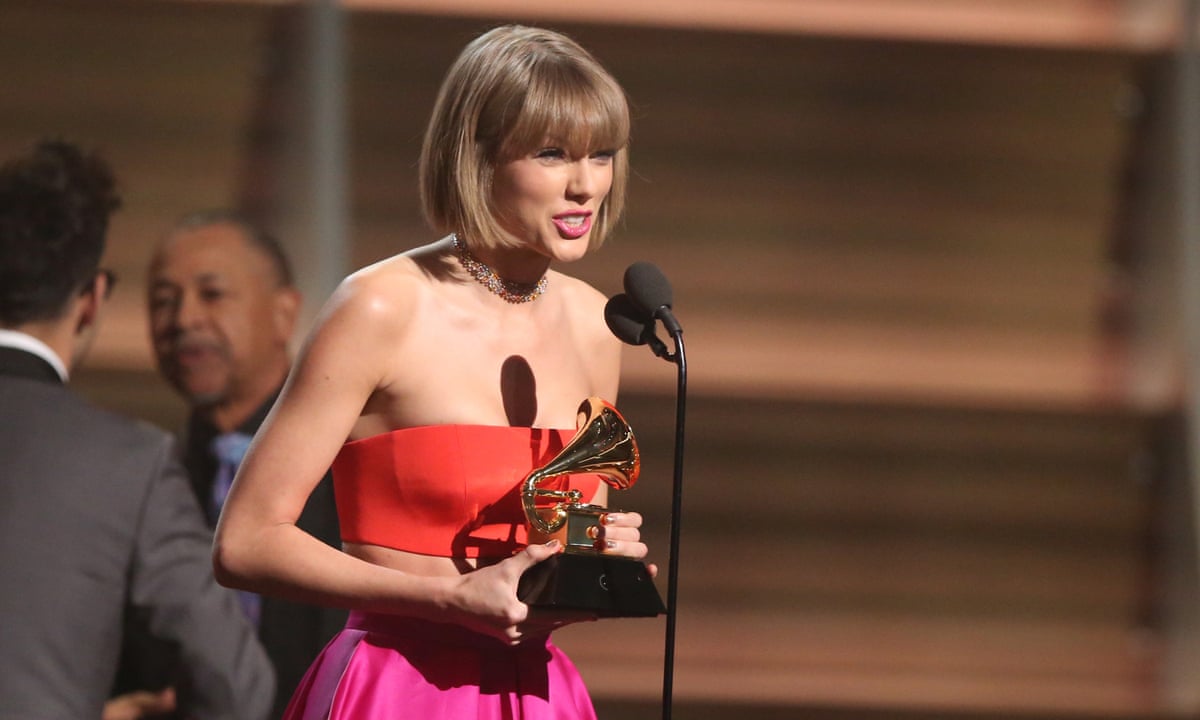 Taylor Swifts 1989 took the album of the year award at the 58th Grammy awards at the Staples Center in Los Angeles on Monday night. Having opened the show with a version of her hit Out of the Woods, the singer made a defiant acceptance speech which seemed to allude to her argument with Kanye West earlier in the week. The rappers new song Famous, referring to Swift, claims: I made that bitch famous.
Swift pointed out in her speech that she is the first woman to win album of the year twice and added: I want to say to all the young women out there there are going to be people along the way who are going to try to undercut your success or take credit for your accomplishments or your fame.
Other famous women also had a testing night. Adele struggled through a performance of All I Ask which was bedevilled by technical difficulties in which her microphone cut out and an extra guitar which some suggested was being played by Justin Biebers band warming up on the other stage played over her song. The singer also sounded slightly out of tune at times.
Meanwhile, Lady Gagas tribute to David Bowie was a hectic mash-up of his most famous hits done in full glam rock regalia. The musical director was Nile Rodgers, who produced Bowies Lets Dance album, but many thought Gaga had tried too hard, and even Bowies son Duncan Jones appeared to offer veiled criticism, tweeting:
Kendrick Lamar won the most awards. The 28-year-old rap artist scooped five prizes: best rap song, best rap performance, best rap/sung collaboration, best music video and best rap album. He galvanized the event with a politically charged performance of The Blacker the Berry and Alright with a stage production that saw him coming on stage in chains, and finished with a map of Africa with the word Compton in the middle his home city.
Lamar had received 11 nominations for this years Grammys, beating Eminems record as the rapper with the most nominations in a single night, and coming in second only to Michael Jackson for the most nominations ever. Taylor Swift and the Weeknd received seven nominations each. In other major categories, Meghan Trainor won best new artist, while Mark Ronsons Uptown Funk won record of the year and best pop duo/group performance.
After kicking off with the performance by a be-catsuited Swift, the biggest night in music was emceed by five-time host LL Cool J, who emphasized the diversity of the medium as a guiding light for a divided America looking to celebrate the awesome power of music.
With all that divides us today, our shared love of music unites us all of us, LL Cool J said as he opened the awards show-slash-concert. Highlighting the racial and stylistic diversity of the nominees a salient fact during an awards season that has come under heavy fire for disproportionately celebrating the accomplishments of white artists LL Cool J emphasized achievements in rap and hip-hop, as well as a performance by the cast of Broadway smash Hamilton, as a symbol of the industrys willingness to broadcast minority voices.
These are the people who make this musics biggest night, LL Cool J said.
There were a few odd-couple duet and group performances, most notably Sam Hunt and Carrie Underwood and Andra Day and Ellie Goulding, as well as a massive sing-off between John Legend, Demi Lovato, Luke Bryan, Meghan Trainor and Tyrese in tribute to soul singer Lionel Richie, who then joined the group onstage to sing a few bars from All Night Long.
That songs title was an accurate reflection of the feeling of the telecast, which was studded with a seemingly endless series of decaffeinated performances. The night featured a series of low-key performances by the Weekend, Justin Bieber, Sam Hunt and Carrie Underwood. Little Big Towns rendition of surprise hit Girl Crush hyped by Ryan Seacrest as like youve never heard it before was a dirge-like funeral march.
Nearly every performance of the nights first two hours was in the 60 beats-per-minute range. Hunt and Underwood, for example, sat down for most of their number, while James Bay and Tori Kelly slowed down their medley of songs to a dolorous shuffle. Adele chose All I Ask, a slow romantic ballad, over her aggressively poppy Send My Love (To Your New Lover).
There were moments of levity, however. Soul singer Stevie Wonder, who is blind, taunted his fellow presenters who couldnt read the winner of best song the winners name had been printed in Braille and added: We need to make every single thing accessible to every person with a disability. An a cappella performance of Earth, Wind & Fires Thats The Way of the World was, counterintuitively, a high-spirited celebration of the life of late band founder Maurice White.
As well as Lady Gagas trippy, frenetic Bowie medley, there was a similarly frenzied performance by the Hollywood Vampires, a supergroup featuring Alice Cooper and Johnny Depp, left many in the audience and on social media fairly nonplussed.
A performance of from Lin-Manuel Mirandas smash Hamilton, broadcast from the Richard Rogers Theater in New York, was a refreshingly uptempo celebration of the artistic, racial and musical diversity that host LL Cool J had noted at the beginning of the night. Hamilton later won the Grammy for best musical theater album with a rapped acceptance speech by Miranda as well as a tweet quoting The Election of 1800 from Hillary Clinton:
What promised to be the nights most high-octane performance a set by Rihanna, who dropped a surprise album on unsuspecting ears last week was canceled at the last minute. The Barbadian singer/songwriter was struck by a bout of bronchitis.
Read more: www.theguardian.com