The R&B singer played hits from when some of yall were 10, Kacey Musgraves gave an intimate country show and Neon Indian brought out his dance moves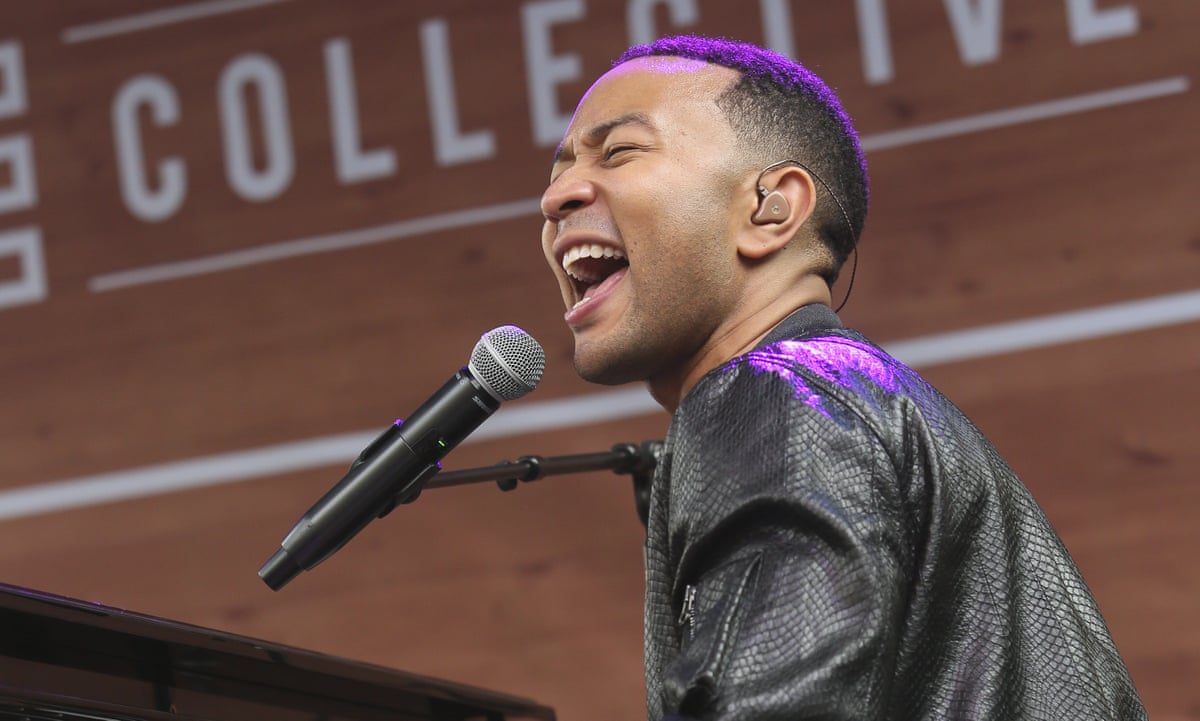 After a dispiriting morning watching Tony Visconti give an impression of an old man yelling at clouds in his keynote speech which basically said that the music industry is screwed, something uplifting was needed. It was time to head to the space in Austin, Texas co-sponsored by Spin magazine and Axe, the kind of deoderant worn by teenage boys. Into this unpromising environment came John Legend, who took his seat at a grand piano set on stage at one end of a courtyard and performed a handful of numbers solo.
Legends melismatic R&B will never been anywhere near musics cutting edge and arguably its a lot less interesting than his politically savvy Twitter feed but on a sticky St Patricks Day afternoon, a swirling take on Green Light goes down like a cold Guinness. Its followed by Ordinary People (some of yall were 10 when it came out, notes Legend), which inspires a spontaneous audience singalong. Suave and smiley, Legend is a winning presence, and while his version of Bob Marleys Redemption Song has none of the rawness of the original, its smoothness doesnt make it any less sincere. With an announcement that he has a new album coming out in September, and a shamelessly slushy All of Me to conclude, Legend leaves the crowd sweaty enough to require some of that deodorant even if the free sticks being given away are scented with amber and tobacco.
Over at the Fader Fort, sponsored by another music magazine and a bewildering number of other brands, the audience is showing admirable restraint in the face of a bar giving out free Jack Daniels, and enjoying a bill that prides itself on its diversity. Neon Indian takes the stage, aka Mexican-born local boy Alan Palomo, whose Todd Rundgren-inspired chillwave has evolved into something even more colourfully 80s-tinged think Prince jamming with Discovery-era Daft Punk.
The first song is decorated with the kind of drums Sheila E used to play in Princes band the Revolution, while Annie dares to approach that most toxic of genres, white reggae, but with a playfulness that prevents it from being obnoxious. Slumlord, which begins with a ridiculously dramatic synth flourish, has a glossy bounce that sends some in the crowd into paroxisms of delight. Its euphoric, slightly arch, clever pop and Palomo is an enjoyably daft presence with his knock-kneed Matt Bianco dance moves and luxuriantly cascading fringe.
Its quite a transition from that to the fratboy-friendly trap exuberantly purveyed by Atlanta duo Rae Sremmurd. Stripped to the waist, covered in tattoos and headbanging harder than Slayer, its a total rocknroll show, assisted by the regulation posse including one man wandering around in a cherry MIA jacket and bulging floral backpack. With their songs about strippers (Come Get Her), getting too swoll (No Flex Zone) and dodgy exes (My X) theres nothing exactly groundbreaking going on, but it is a lot of fun. The concluding No Type (Bad bitches is the only thing that I like, it elaborates) provokes a cascade of free Jack and Cokes to be launched into the air, while their ode to Donald Trump, Up Like Trump, concludes with an appeal to the crowd to vote for Bernie Sanders. Rowdy, funny and packed with energy, its the perfect late-afternoon set.
Hearing the rapid-fire, pounding sounds of Jlins take on Chicago footwork as the sun streamed into the Hype Hotel was strange. Tracks like Abnormal Restriction from last years well-received Dark Energy bounced around the cavenous hall with the unsettling samples from Joan Crawford biopic Mommie Dearest combining with the instrumentation to make things unnerving. Jlins palette is varied and although things moved along at the 160 bpm that footwork is known for, within those parameters Jlin has found spaces to explore and develop. When she played Black Ballet arguably the best track from Dark Energy theres a noticeable shift in the room with the half a dozen or so fans who were head banging from the first snare, now swaying from side to side. A later billing in darker room probably would have benefited Jlin, but it was still a showcase of a singular talent.
DAWN (formerly Dawn Richard) followed Jlin and brought with her a slick and polished show that saw her meld electronica, R&B and techno. Shes been working with footwork producer Machinedrum (Not Above That) and her sound has morphed into something thats got an eye on the dancefloor. The live show itself features two male dancers in all black and ab-baring crop tops who perform choreography that recalls early Janet Jackson, while Richard commands the stage and nods approvingly at her drummer and keyboard player. Its an interesting proposition, but when she plays a cover of Rihannas Work the gulf in songwriting is apparent. Nothing really jumps out of the Richard repertoire and in the short show, theres not enough stand out hooks or moments to draw you in.
Kacey Musgraves was the first country star to ever grace the cover of Fader, a magazine thats known for its courtship of rap and R&Bs biggest stars. At the Fader Fort she closed the show on Thursday. The crowd, which had been bulging and riotous for Rae Sremmurd, has now calmed and more than half the audience had left by the time Musgraves came on. But that didnt kill the atmosphere, instead it felt like an intimate show with the singer and her band who were doused in glitter playing to a dedicated audience. Slower rancheras were followed by bigger hits including Step Off and a cover of Gnarls Barkley. There was a segue into a cod reggae version of Three Little Birds before she played her hit Late To The Party and her defiant anthem Follow Your Arrow. She closed the show with a cover of Nancy Sinatras and Lee Hazlewoods classic These Boots Are Made For Walkin before striding off herself.
Torontos Dilly Dally played Hype Hotel in the evening and delivered their brazenly scuzzy punk rock wares. Theres plenty of charm from frontwoman Katie Monks, who screeches and wails her way through the bands Pixies-esque single Desire. Like the Pixies, Dilly Dally mix loud and quiet and go as far to play their cover of fellow Torontonian Drakes Know Yourself. Rather than drenching it in a load of feedback, they keep the melancholy tale of counting money and driving through Toronto clean and just turn up the volume on the chorus. Recent single Purple Rage rattles through the venue and shows off a punk band that know when to hold a tune and when to distort it beyond all recognition.
Read more: www.theguardian.com