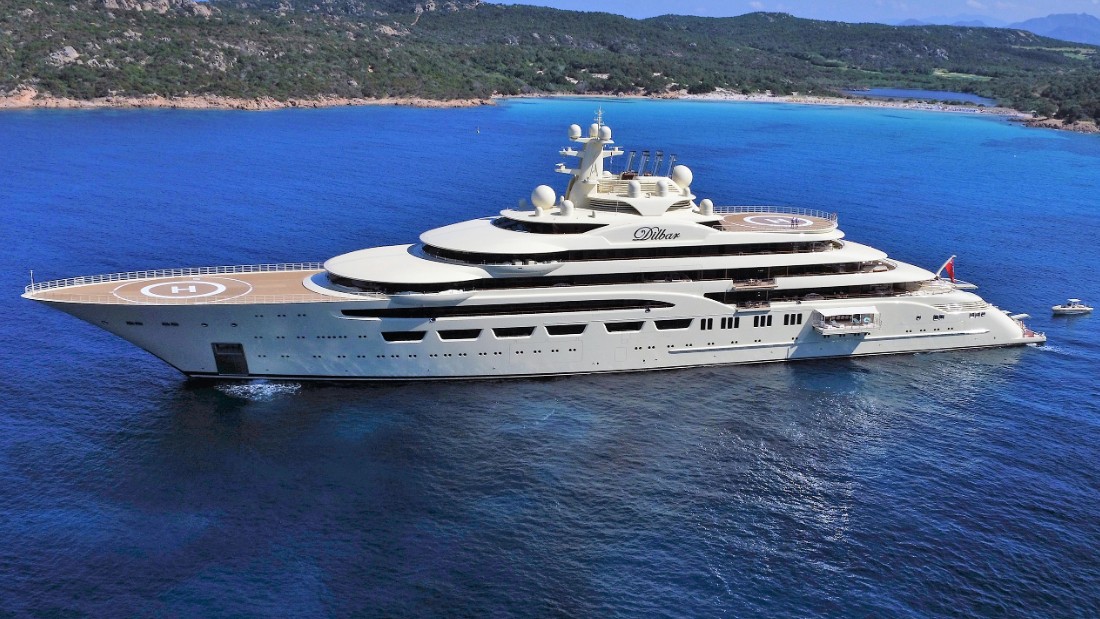 (CNN)It's the world's biggest superyacht by volume, with the biggest indoor swimming pool, but the deluxe Dilbar ranks only fourth in a prestigious Top 101 list of luxury leviathans.
Delivered to Russian oligarch Alisher Usmanov this year, Dilbar is the highest new entry on the list with a length of 156 meters (511 feet), including a 25-meter indoor pool.
But it trails in the size stakes behind the 180-meter (590-foot) mega-yacht Azzam, which launched in 2013, reportedly for United Arab Emirates President Khalifa bin Zayed Al Nahyan, at a cost of about $600 million.
Roman Abramovich's Eclipse (162.5 meters/533 feet) is the second biggest ahead of Sheikh Maktoum's Dubai (162 meters/531 feet) in
Boat International's
annual list of the biggest superyachts on the planet, ranked by length.
How does a superyacht leave its berth? Slowly, that's how. But even Saint Nicolas is dwarfed by Ona, the runabout of Russian oligarch Alisher Usmanov. Just another Sunday in Porto Cervo. #portocervo #swanrolexcup #portocervo #sardinia #boats #yacht #yachting #rolex #maxiyachtrolexcup #yccs_portocervo #maxiyacht #arsenal #superyacht
Built by German manufacturer Lurssen, the boat can maintain a constant speed of 22.5 knots from a 30,000 kW diesel electric power plant. It houses two helipads and can accommodate a seven-ton Airbus H175 helicopter.
"Dilbar is a mammoth project," Boat International editor Steward Campbell said. "She's often in Antibes and dwarfs everything in the harbor.
"She joins some incredible new yachts in the Top 101 this year, but it's 2017 that has us most excited, with up to 12 new superyachts joining the ranks of the world's biggest boats."
Dilmar replaces a yacht formerly of the same name — now called Ona (110 meters/377 feet) — as Usmanov's largest vessel.
Russia features 19 owners on the Top 101 list, followed by the US with 17 and Saudi Arabia with nine, says Boat International.
A record number of 52 yachts exceeding 250 feet in length are in the pipeline to be built, according to industry figures.
Read more: www.cnn.com