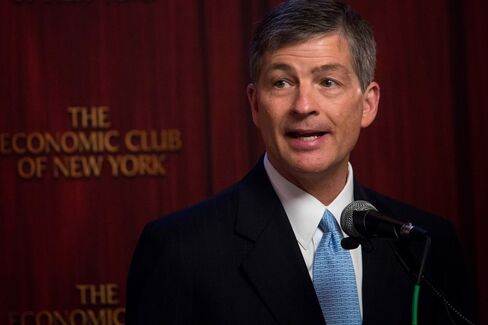 A top House Republican wants to cut a deal with U.S. banks: Raise several hundred billions of dollars in additional capital and Washington will let you break free from a litany of burdensome rules.
House Financial Services Committee Chairman Jeb Hensarling has made the idea a key provision of his long-shot proposal for scrapping the Dodd-Frank Act. The plan, which Hensarling outlined Tuesday, also would get rid of Volcker Rule limits on banks trading with their own capital and change the Consumer Financial Protection Bureaus structure to make the agencys director less powerful.
QuickTake Q&A: How Dodd-Frank Could Be on the Ballot This Fall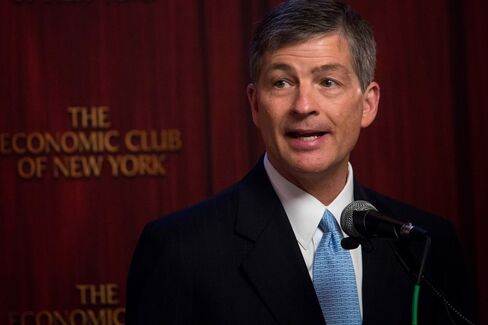 Our reform plan allows banks to opt-in to an alternative regime that replaces growth-strangling regulation with reliable accountability, Hensarling said in a speech at the Economic Club of New York. It stops investors from betting with taxpayer money. Think of it as a market-based, equity-financed Dodd-Frank off-ramp.
Striking Balance
While the proposals have almost no chance of becoming law this year, lawmakers could turn to them as an option for replacing the 2010 financial regulation law if Donald Trump wins the White House and Republicans keep control of Congress in November elections. Both political parties are loath to be seen as doing favors for Wall Street, and Hensarling aims to strike a balance in dumping regulations while still making life difficult for the biggest banks.
Trump has said he will deliver his own plan for overhauling Dodd-Frank. The Republican presidential candidate and Hensarling were scheduled to meet Tuesday in New York to discuss efforts to revise the law, according to Hensarlings spokeswoman Sarah Rozier.
Wet Kiss
Hensarlings plan drew immediate criticism from Democrats with Massachusetts Senator Elizabeth Warren, a frequent scourge of banks, saying it should be called the Wet Kiss for Wall Street Act. Ohio Senator Sherrod Brown, the top Democrat on the Senate Banking Committee, said the proposal shows the collective amnesia of many in Congress and on Wall Street about how devastating the financial crisis was for an entire generation of working and middle-class Americans.
Hensarlings idea to exempt banks from rules focuses on whats known as the leverage ratio — a figure meant to show how safe a lender is by measuring the amount of equity capital it has in relation to total assets. The higher the ratio, the bigger the buffer for losses before a bank goes bust.
Citigroup Inc. had a ratio of 7.1 percent at the end last year, while Wells Fargo & Co.s was 7.8 percent. Hensarling demands that to qualify for regulatory relief banks have leverage ratios of at least 10 percent. For the biggest Wall Street firms, that probably would require raising several hundred billion dollars in new equity, he said.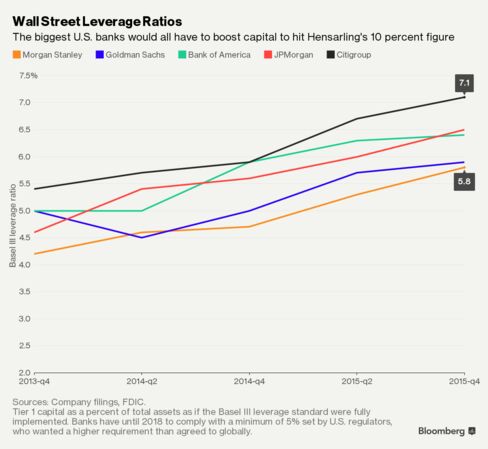 There are all sorts of reasons why a bank wouldnt want to sell additional stock, including that it dilutes existing shareholders and could turn off potential investors by lowering return on equity. Languishing share prices also hurt bank executives because a big chunk of their pay is typically tied to stock performance.
But if a bank agrees to boost its leverage ratio, Hensarling said his bill would make the lender functionally exempt from Dodd-Frank, global capital and liquidity standards set by the Basel Committee on Banking Supervision, and many rules imposed before the 2008 financial crisis.
Hensarlings broad plan for replacing Dodd-Frank seeks to rein in government agencies and policies that he says have stifled lending and are strangling the U.S. economy.
He said the Volcker Rule — approved by Congress to restrict the ability of banks with taxpayer-backed deposits to bet on markets — has spurred dramatic bond market illiquidity that could cause the next financial panic. He called the CFPB, which regulates mortgages and credit cards, arguably the most powerful and least accountable federal agency. Hensarling wants the bureau to be overseen by a commission with members from both political parties instead of being led by a single director.
Dodd-Frank has failed, he said. In a phrase, we need economic growth for all and bank bailouts for none. This is the foundation of the Republican plan.
Read more: www.bloomberg.com