Hundreds gather in Harvard Square as protesters call for better wages and healthcare, prompting plans for a student walkout in solidarity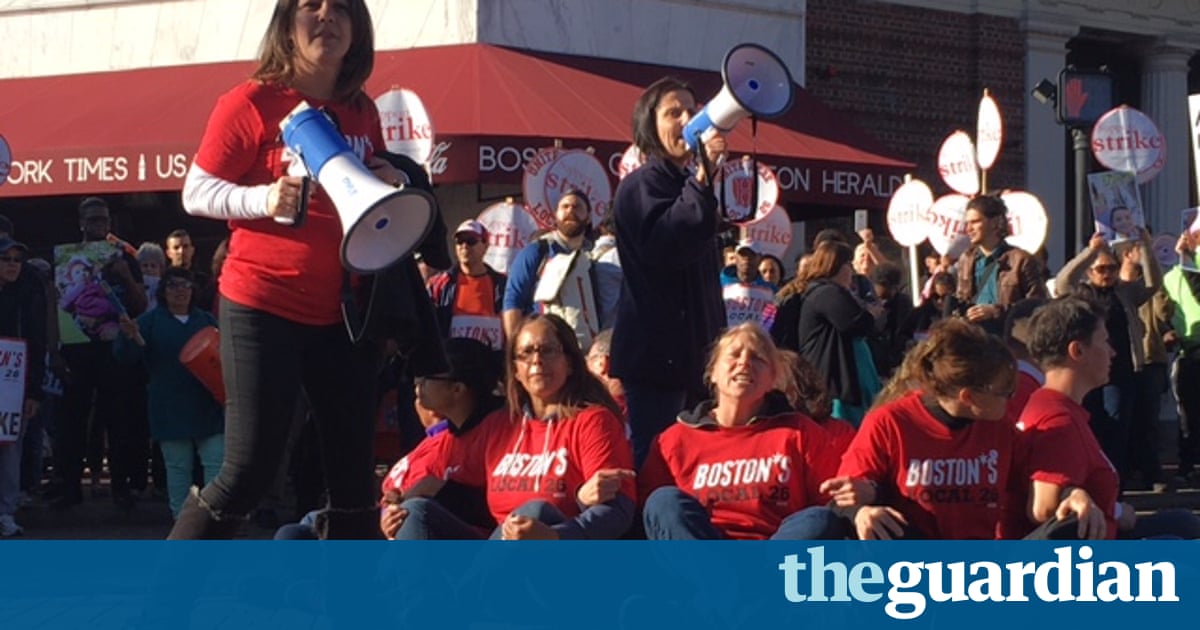 Four hundred people gathered in Harvard Square on Friday, cheering as 11 protesting dining hall workers and union officials were arrested for allegedly blocking traffic.
Seven hundred and fifty members of the Unite Here Local 26 union began their strike after four months of negotiations over wages and healthcare. More protests are planned for Monday. Students plan a class walk-out.
Harvard has an endowment of $37.6bn, the largest in the US. Last week, the school announced a $10m study, funded by a family foundation, which will in part go toward researching poverty.
Most of the striking employees work eight months of the year because of student recesses, making an average hourly wage of $21.89, or $33,839 a year, according to the university. The union says workers are paid closer to $20 per hour, and that employees who work all year should receive $35,000.
The irony of the situation is not lost. More than a thousand alumni have signed a pledge that until workers settle a fair contract, we withhold all gifts to Harvard University and affiliates.
Food delivery worker Any Montoya was one of the 11 protesters arrested. She said she acted for the healthcare. It will affect me on everything. Kecia Pugh, a general service worker who has spent 14 years at Harvard and suffers from chronic diabetes, said: Were fighting for our healthcare to be left alone.
A university spokeswoman, Tania deLuzuriaga, said due to rising healthcare costs across the US, the university has proposed modest changes to health insurance that would shift the balance of expense between paying through premiums and point of service. Preventative care would still be free.
Co-payments for doctor visits, she said, would rise from $15 to $20 and emergency room visits would rise from $40 to $100, matching the unions insurance plan. Union officials said doctor visit co-payments would actually be $25, a 66% increase.
Read more: www.theguardian.com