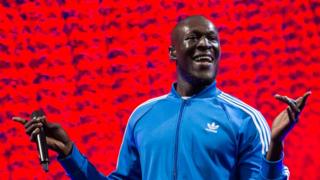 Stormzy will be Glastonbury's first grime headliner, with a Pyramid Stage slot confirmed for 2019.
The news first transgressed via a poster in an Oxfam shop in Streatham – close to the star's childhood home – and one in Glastonbury.
Stormzy corroborated the news via a post on Instagram.
He headlined this summer's Wireless Festival and has played Glastonbury festival twice before in the Sonic Tent in 2016 and the Other Stage in 2017.
Brit Awards 2018: Stormzy scoops Ed Sheeran to win top prizes Brit Awards 2018: Stormzy explains why he spoke out about Grenfell Stormzy launchings Cambridge scholarship for black students Stormzy to help young authors get published with Penguin Image caption Katy Perry and Chris Martin were among the stars who watched Stormzy's 2017 Glastonbury set