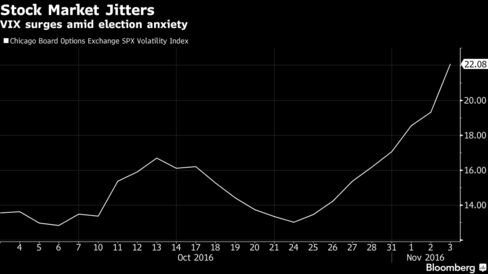 Stocks declined with the dollar amid heightened anxiety before the U.S. presidential election. The pound rallied after the Bank of England said its no longer expecting to cut interest rates this year.
The S&P 500 Index capped its longest run of losses since 2008 as the greenback weakened for a fifth straight day. Mexicos peso — a barometer of pre-vote sentiment — climbed after two polls had Democrat Hillary Clinton leading Republican Donald Trump in the race for the White House. Sterling also rose after a court ruled the U.K. must hold a vote in Parliament before starting the countdown to Brexit. Oil sank amid concern the glut is expanding.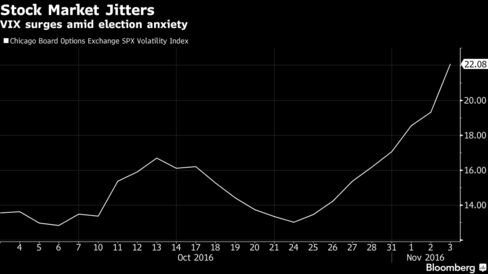 Opinion polls indicating a narrower lead for Clinton jolted U.S. equities out of their tightest trading range since 2006, amid uncertainty over the implications of a Trump presidency. Clinton has seen her odds of victory in the Nov. 8 vote reduced after the Federal Bureau of Investigation re-opened a probe into an unauthorized e-mail server. A Bank of America Corp. gauge tracking volatility expectations in global stocks, bonds, currencies and commodities has climbed for seven straight days, its longest rising streak since December 2013.
Politics is clearly asserting itself as the biggest driver in global markets, said Alan Ruskin, global co-head of foreign-exchange research in New York at Deutsche Bank AG. Its extraordinary how much the narrative has shifted.
A New York Times/CBS poll found Clinton ahead 45 percent to Trumps 42 percent among likely voters, down from a nine-point lead in the same poll in mid-October. A Washington Post/ABC News tracking poll found Clinton ahead within the margin of error, 47 percent to 45 percent, having lost ground to Trump since last week.
Stocks
The 2016 election has confounded pundits and upended precedent, spurring unusual patterns in the U.S. equity market. To wit: stocks almost always rise in the days before the country picks a president. This year, theyre falling.
The S&P 500 has advanced in the five days before the vote in 20 of the past 22 cycles, according to data compiled by Bloomberg and Bespoke Investment Group LLC. While the gauge has climbed an average 1.9 percent in the run-up to elections going back to 1928, its down 1.8 percent since Monday, with two trading days left until polls open.
The U.S. benchmark fell 0.4 percent to 2,088.66 as of 4 p.m. in New York, falling for an eighth straight day. During that time span, the CBOE Volatility Index has surged about 70 percent.
The election campaigns influence on equity market sentiment has increased, though earnings season continues to have some sway.
Facebook Inc. sank 5.6 percent after executives indicated late Wednesday that the company will see slower revenue growth and higher costs. American International Group Inc. dropped after posting a profit that fell short of estimates, while Marathon Oil Corp. jumped after reporting a narrower-than-predicted loss and production that exceeded forecasts.
Until a week ago, the market calculated Hillary would win, but now the race seems to be on again, said Christian Zogg, head of equity and fixed income at LLB Asset Management in Vaduz, Liechtenstein. Nobody knows really what to expect from Trump, so the market is bound to get nervous. In addition, there is always the Fed hovering over the market.
European stocks suffered in a late selloff, but still managed to halt their longest losing streak in two years. Better-than-estimated earnings drove Societe Generale SA and ING Groep NV to gains, while Credit Suisse Group AG fell as its surprise profit was fueled by one-time gains.
Futures on most Asian indexes signaled more declines for Friday, with contracts on benchmarks in Australia, South Korea and China down at least 0.1 percent, while those on Hong Kong indexes were little changed. Yen-denominated futures on Japans Nikkei 225 Stock Average slipped 0.3 percent with trading in Tokyo to resume Friday following a holiday.
Currencies
The Bloomberg Dollar Spot Index, a gauge of the greenback against 10 major peers, fell 0.4 percent in a fifth day of losses, its longest slide since July. The dollar lost 0.1 percent to 1.1105 per euro, and declined 0.3 percent to 102.98 yen.
The British pound climbed against all of its 16 major peers, trimming its plunge versus the dollar in 2016 to 15 percent, still the worst performance among major currencies. The pound jumped 1.3 percent to $1.2461.
Theres finally some good news for the pound, said Kathleen Brooks, a research director at brokerage City Index in London. The market has rapidly priced out the prospect of a rate cut, given the much more hawkish-than-expected inflation report, while the court ruling brought a good type of uncertainty as it may delay the triggering of Brexit, she said.
Mexicos peso halted a two-day slide against the dollar, gaining 1 percent to 19.1749 per dollar. The currency tends to strengthen when Trump loses momentum as he has pledged to renegotiate the North American Free Trade Agreement and to build a wall along the U.S. border with Mexico to keep immigrants out.
Bonds
European bonds fell as investors cleared the decks for a wave of new supply and focused on the prospect of a winding back of stimulus globally. The BOEs announcement pushed the eventual end of the European Central Banks quantitative-easing program to the forefront of traders minds. Spain and France both sold debt, with mixed results.
The BOE is sending a hawkish signal, said Marius Daheim, a senior rates strategist at SEB AB in Frankfurt. This is clearly bond-market negative.
Yields on Germanys 10-year bund, the euro zones benchmark government security, rose three basis points, or 0.03 percentage point, to 0.16 percent. Theyre approaching the level of 0.22 percent reached on Oct. 28, which was the highest level since May. Italian yields climbed three basis points to 1.69 percent.
Ten-year U.S. Treasury yields added one basis point to 1.81 percent Thursday, according to Bloomberg Bond Trader data.
Commodities
Oil dropped to its lowest point since September, with data compiled by Bloomberg showing North Sea producers will ship the most oil in more than four years in December. West Texas Intermediate for December delivery dropped 1.5 percent to settle at $44.66 a barrel on the New York Mercantile Exchange, while Brent for January settlement declined 1.1 percent to $46.35 a barrel in London.
Prices tumbled Wednesday after the U.S. Energy Information Administration said its stockpiles rose by a record 14.4 million barrels last week. OPEC members who are claiming exemption from an agreement to limit supplies helped boost the groups output to an all-time high last month.
If youre a bull you have to be disappointed, said Kyle Cooper, director of research with IAF Advisors in Houston. The market ignored bullish inventory reports in recent weeks and then collapsed after yesterdays bearish data. Dissension is growing in OPEC and theres a growing suspicion that nothing worthwhile will come from the upcoming meeting.
Gold for immediate delivery climbed for a sixth straight day, gaining 0.5 percent to $1,302.70 an ounce, its highest closing price in a month.
Read more: www.bloomberg.com