Stocks in Asia traded near decade highs, while the euro held gains spurred by Catalonia's president stepping back from an immediate declaration of independence from Spain.
Japan's Topix index fluctuated after closing at the highest in 10 years on Tuesday, weighed down in part by a collapse in Kobe Steel Ltd. Stocks were higher in Sydney, Seoul and Hong Kong. The Dow Jones Industrial Average set a fresh record high, and the largest exchange-traded fund tracking Spanish equities advanced. The dollar retreated from recent highs thanks to waning optimism over the Trump administration's tax-cut plans. Australian bonds rose as the market easily digested a record auction of government debt.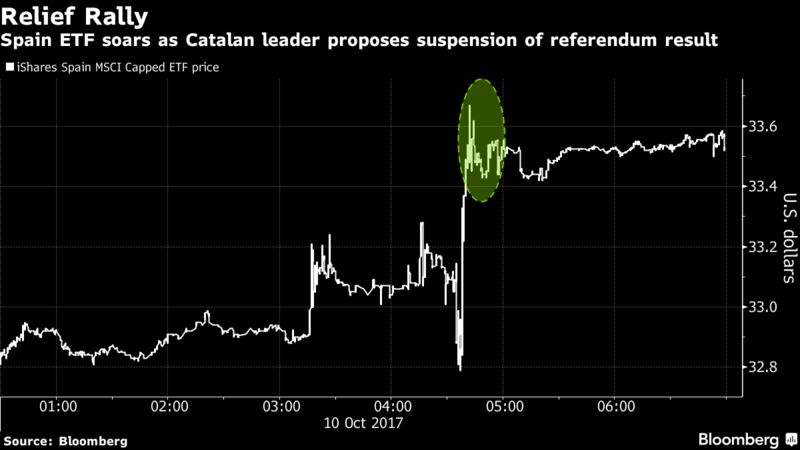 China's exchange rate is in focus after recent volatility in the yuan spurred some speculation policy makers could widen the trading band. Though mostly a symbolic step, it would add to the impression China remains directed toward giving market demand a greater role. People's Bank of China Governor Zhou Xiaochuan this week argued in favor of further reforms in a magazine interview ahead of next week's Communist Party leadership gathering.
The euro hit the highest level in almost two weeks after Catalan President Carles Puigdemont said that while an Oct. 1 referendum had given him the mandate to pursue independence, he would "suspend" the result for a period of some weeks for dialogue with Prime Minister Mariano Rajoy's administration. He suggested that the European Union should be involved in the talks, and sought to reassure companies fleeing the region.
The pound remained about 2 cents higher than its recent lows after U.K. Prime Minister Theresa May won public support from Brexit hardliners in her cabinet for outlining contingency plans for leaving the European Union without a deal.
Ten-year U.S. Treasury yields were below their recent highs of 2.40 percent, amid a feud between President Donald Trump and high-ranking Republican Senator Bob Corker that's put the tax-reform agenda in question. Trump said he'll tweak his tax plan within a few weeks and dismissed fears that the dispute with Corker will hurt its chances.
Terminal subscribers can read more in our Markets Live blog.
What's coming up this week:
Minutes from the most recent Federal Reserve meeting are due Wednesday.
API and EIA crude data are delayed to Wednesday and Thursday, respectively, because of Monday's U.S. holiday.
Earnings season begins for major U.S. banks, led by JPMorgan Chase & Co., Citigroup Inc., Bank of America Corp. and Wells Fargo & Co. Also reporting will be BlackRock Inc., Domino's Pizza Inc., Samsung Electronics Co., German container company Gerresheimer AG, U.K. grocery wholesaler Booker Group Plc, and Sky Plc.
The active Atlantic hurricane season will probably figure prominently in U.S. data on retail sales and consumer prices.
Here are the main moves in markets:
Stocks
Japan's Topix index was little changed as of 10:35 a.m. in Tokyo. Australia's S&P/ASX 200 Index rose 0.6 percent and South Korea's Kospi index added 0.7 percent.
The Hang Seng Index in Hong Kong rose 0.3 percent, while China's benchmark was steady. Taiwan's TWSE Index rose 1 percent.
Futures on the S&P 500 Index were little changed. The underlying gauge rose 0.2 percent. The Dow gained 0.3 percent to a record.
Wal-Mart Stores Inc. surged 4.5 percent after saying it expects U.S. e-commerce sales to surge 40 percent in the next fiscal year as its online investments allow the retail giant to play catch-up with Amazon.com Inc.
The iShares MSCI Spain Capped ETF rose 1.6 percent, with trading volume nearing 700 percent of the 90-day average on optimism that a deal between Catalonia and Madrid will be reached.
The MSCI Asia Pacific Index added 0.2 percent to the highest since December 2007.
The MSCI Emerging Market Index rose 1.1 percent on Tuesday.
Currencies
The Bloomberg Dollar Spot Index was flat after dropping 0.3 percent on Tuesday.
The euro was at $1.1814 after climbing 0.6 percent in the prior session.
The yen was at 112.42 per dollar after gaining 0.2 percent on Tuesday.
The Turkish lira was little changed. It reversed gains against the dollar on Tuesday amid fresh developments in the strained relations between the U.S. and Turkey.
The Aussie bought 77.90 U.S. cents.
Bonds
The yield on 10-year Treasuries held at 2.36 percent.
Australia's 10-year bond yield was steady at 2.82 percent after the government sold a record A$3.5 billion ($2.7 billion) of new bonds maturing in 2022.
Spain's 10-year yield rose two basis points to 1.70 percent Tuesday.
Commodities
West Texas Intermediate crude climbed above $51 a barrel after rising 2.7 percent on Tuesday.
Gold was little changed at $1,288.49 an ounce.
Read more: www.bloomberg.com