The Long Read: Bees have become a billion-dollar business. But who would try to steal them?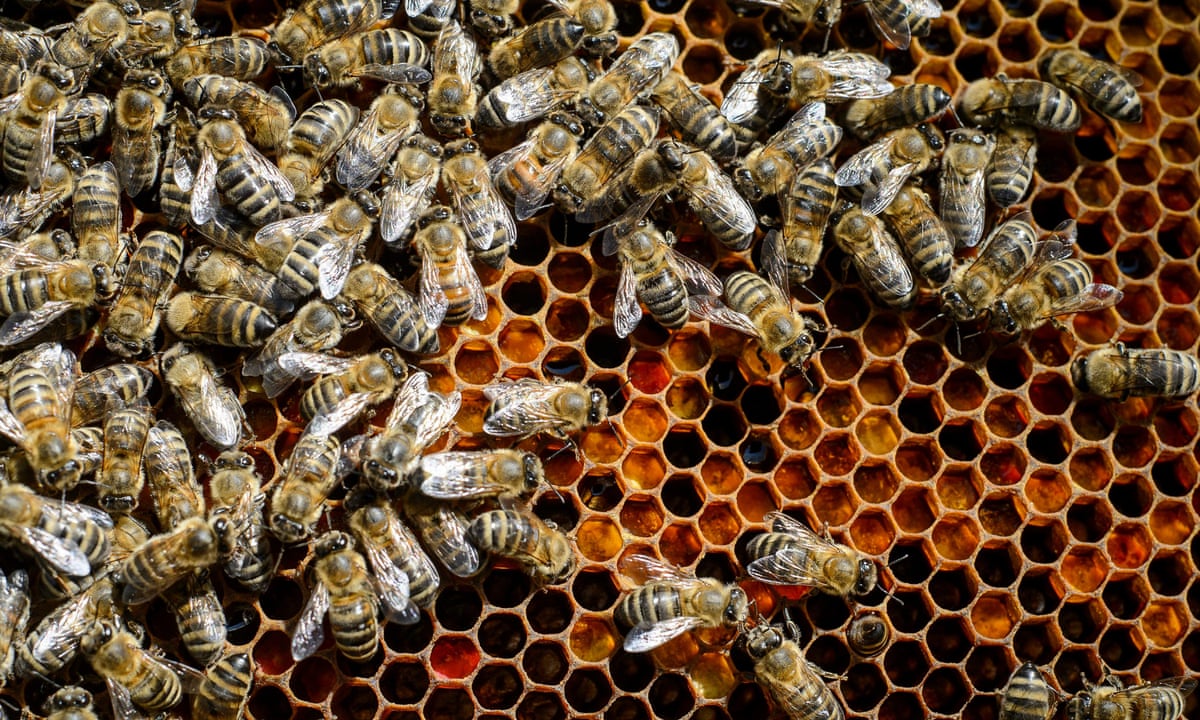 The bees crawled up the thiefs arms while he dragged their hive over a patch of grass and through a slit in the wire fence he had clipped minutes earlier. In the pitch dark, his face, which was not covered with a protective veil, hovered inches from the low hum of some 30,000 bees.
The thief squatted low and heaved the 30kg hive, about the size of a large office printer, up and on to the bed of his white GMC truck. He had been planning his crime for days. He knew bees how to work them, how to move them, and most importantly, how to turn them into cash.
He ducked back through the fence to drag out a second box, Johnson Apiaries branded over the white paint. Then he went back for another. And another.
The Diablo Grande foothills edge the western side of Californias vast Central Valley. During the day you can see rolling pastures and an endless quilt of farmland. But at night, it is so dark that you are lucky to see your hand in front of your face. The thief thought there was almost no chance that a motorist would pass by, let alone one who would notice him.
Jerry Phillips, a night manager for the areas water provider, spends his nights zooming between pump stations in the foothills. He knows every farmer and cowboy on the hills eight-mile stretch, including a local beekeeper named Orin Johnson. Johnson, who had been hit by bee thieves before, liked to alert potential witnesses. If you see anybody in there in the middle of the night, he had told Phillips, it aint me.
Sure enough, Phillips saw someone on his way down the parkway that night. He quickly phoned the nearby golf resort, which has its own roving security detail on the hill.
After the thief loaded the ninth hive, he sat behind the wheel, with the drivers-side door open. The truck was far from full, and there were almost 100 more boxes behind the fence for him to choose from. That meant a lot of money. The exact value of a hive is not standard it depends what you do with them but nine hives can bring in about $5,000 in just one year. And they are worth considerably more in the hands of a capable beekeeper who can maintain them season after season.
Suddenly, a wall of white light hit the thief from behind. He froze.
A security guard stood next to his patrol cars spotlight, keeping his distance. The guard, whose name was Dre Castano, inched forward, wary of being ambushed. He thought there was no way just one guy had got all of those big boxes into the truck on his own.
The thief climbed out of the car and turned into the light. He stood there alone, his eyes glazed over and sullen. Maybe a drunk driver, Castano thought. He asked for the mans ID.
Pedro Villafan, 5ft 2in tall, and 46 years old. He lived 20 minutes south, in Newman, another little town at the base of the foothills. He looked flushed, half-asleep. But he kept calm and answered Castanos questions. Yes, those were bees. No, they were not his. No, he did not work for Orin Johnson. Yes, he was stealing them.
Castano, surprised by Villafans immediate confession, put him in ziptie handcuffs and walked him to the backseat of his patrol car. Less than 45 minutes later, at about 3.40am, Johnson pulled up to the scene, now lit red and blue. A sheriffs deputy had just arrived, as well. He asked Johnson to identify the bees and sign an affidavit committing to press charges.
The suspect wants to talk to you, the deputy said to Johnson, motioning to his cruiser. Do you want to talk to him?
Johnson walked over and poked his head through the window.
I made a huge mistake, Villafan started.
Of course you did, Johnson interrupted, trying his best to remain composed.
I shouldnt have done this, the thief said. All my bees died.
---
These are strange times for the American beekeeper. In California, the centre of the industry, members of this tight-knit community find themselves enjoying an economic boom while trying to cope with environmental turmoil. And now theyre dealing with a new kind of criminal: the bee rustler. Every year, at the height of pollination season in the spring, dozens of nighttime thieves nobody knows exactly how many break into bee yards all over California to steal hives.
Farmers depend on bees, but they do not keep their own it is too costly, too time-consuming and too painful. So, they lease their pollinators from the commercial beekeeping industry, a fast-growing, national trade that underpins American agriculture.
About a third of the countrys beekeeping operations, known as apiaries, are in California, more than the next four states combined. It is a $1.8bn trade nationwide, driven by roughly 1,500 apiaries, which own 95% of the countrys bees. (About 60,000 hobbyists keep the other 5%.)
It was only recently that beekeeping became big business. For most of the 20th century, American beekeepers were primarily honey manufacturers. In order to manufacture good honey, they sought out open space where their bees could forage. Johnsons father knocked on farmers doors all over Stanislaus County for decades, often with his son in tow, looking for land away from humans and other bees. His proposition: my bees pollinate your crops, your crops feed my bees. They squared the deal with a handshake and a case of honey.
So it went for decades. But little by little, high-value crops such as pistachios, walnuts and mandarin oranges began to take up larger swaths of land all over Central Valley. The beekeepers realised that there was money to be made in pollination growers needed bees and were willing to pay rental fees, as if investing in airborne fertiliser. Once crops bloom, bees scatter skyward in a mushroom-cloud formation before darting for nectar in the open buds; grocery shopping, as one beekeeper described it. As they fly around, each bee grabs pollen from one tree and sheds it at another, exponentially boosting the number of leaves, flowers and nuts.
Read more: www.theguardian.com